Enrichment Requirement

CRUISE ITINERARY



REQUIREMENT

Enrichment Speaker



An experienced WORLD AFFAIRS SPEAKER is required who can deliver a series of presentations during the cruise, usually on sea days.
No of presentations generally required is between 4-7 different presentations depending on lecture type, itinerary and amount of sea days.
Bring a guest free of charge.
Please read the GUEST SPEAKER OFFER PDF for full details about the generous conditions offered by Crystal.
A Booking Admin Fee of GBP £150 (about USD $185) will be applicable for a successful placement.
A round-trip airfare is provided for the Guest Speaker.
Please provide your list of presentations along with your application including a title with short synopsis for each presentation offered.

CRUISE ITINERARY DETAILS
CRUISE ITINERARY - CSY-014-231206 Australia & New Zealand
Embarkation:
Perth (Fremantle) Australia
Date: Wednesday, December 6, 2023
Disembarkation:
Auckland NZ
Date: Wednesday, December 20, 2023
No of Nights:
14

CRUISE LINE WEBSITE ITINERARY LINK
Click the link below to visit the Cruise Line website to view more about this itinerary (this page will open in a seperate window).
CLICK THIS LINK >>
Australia & New Zealand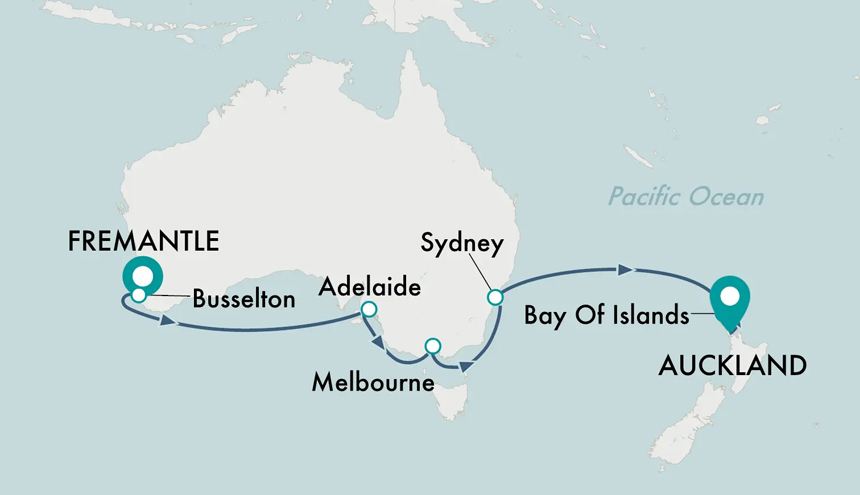 DISCLAIMER
This itinerary information has been compiled from various sources. Whilst every effort has been made to provide accurate information, the cruise lines can and do change their itineraries. Cruise Ship Speakers cannot be held liable for any inaccuracies that these programs may contain. Please refer to the up-to-date information provided by the cruise lines themselves. Please notify the Web Administrator if there are any inaccuracies.