Enrichment Requirement

CRUISE ITINERARY



REQUIREMENT

Enrichment Speaker



Only speakers with lectures focusing on History and who can relate their talks to the itinerary being visited during the cruise should apply.

Ideally you should list 9 destination relevant lecture titles and brief details with your application.
You can bring a guest over 21 years of age to share your cabin complimentary.
A round-trip airfare will be provided for the speaker. If your assignment is more than 18 days onboard, Viking will also provide a complimentary round-trip airfare for your guest.
Onboard gratuities will be covered by Viking.

CRUISE ITINERARY DETAILS
CRUISE ITINERARY - ST240301 Panama Canal & Pacific Coast
Embarkation:
Los Angeles, California USA
Date: Friday, March 1, 2024
Disembarkation:
Fort Lauderdale, Florida USA
Date: Monday, March 18, 2024
No of Nights:
17

IMPORTANT NOTE ABOUT THE VIKING CRUISES RESIDENT HISTORIAN ICONIC LECTURES FOR THIS CRUISE
This cruise will have a Viking Resident Historian onboard who will be delivering a series of Iconic Lectures.
When you submit your proposed talks you should check that you are not offering similar talks to these Iconic Lectures.
Click the link below to visit the Viking Cruises website to check the list of Iconic Lectures for this cruise (this page will open in a seperate window).
When you are on the Viking itinerary page scroll down to the bottom to see the list of Iconic lectures.
CLICK THIS LINK >>
Panama Canal & Pacific Coast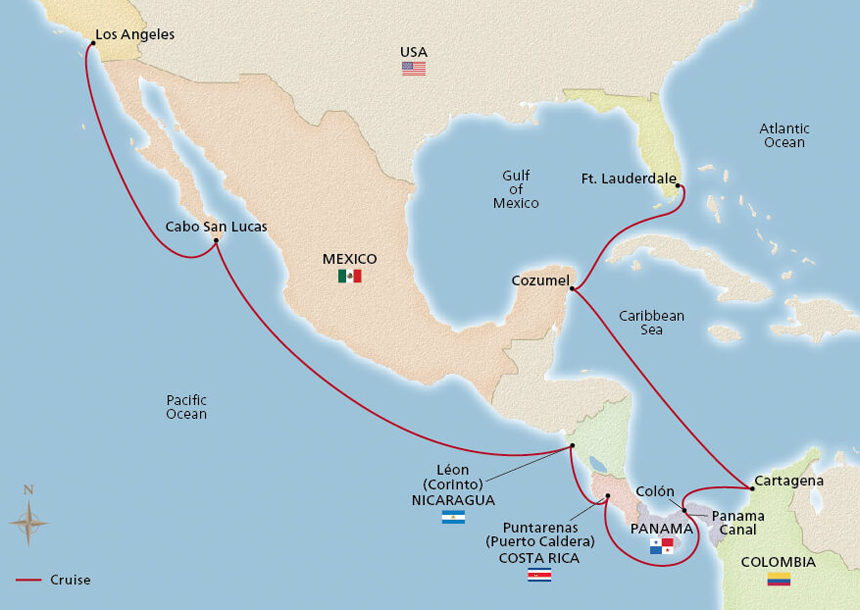 DISCLAIMER
This itinerary information has been compiled from various sources. Whilst every effort has been made to provide accurate information, the cruise lines can and do change their itineraries. Cruise Ship Speakers cannot be held liable for any inaccuracies that these programs may contain. Please refer to the up-to-date information provided by the cruise lines themselves. Please notify the Web Administrator if there are any inaccuracies.