Enrichment Requirement

Cruise Itinerary


CRUISE ITINERARY - MO201208015 South America Cruise
Embarkation:
Lima (from Callao) Peru
Date: Tuesday, December 8, 2020
Disembarkation:
Fort Lauderdale, Florida USA
Date: Wednesday, December 23, 2020
No of Nights:
15

An experienced DESTINATION LECTURER is required who has a good knowledge of the ports being visited during the cruise.
The Destination Lecturer is expected to cover all the ports of call. Some smaller ports of call can be combined in one lecture if necessary.
PLEASE NOTE: The successful applicant will be required to use the Silversea Powerpoint template for their presentations. This template will be provided.
This is a SpeaknSave offer meaning that a small Administration Booking Fee will be applicable to the successful applicant.
A standard GUEST cabin will be provided and these cabins are randomly assigned by the Inventory Department. Special requests cannot be granted.
Roundtrip ECONOMY class flight for the Guest Lecturer will be provided.
Please submit your proposed lectures along with your registration.
The ENRICHMENT SPEAKER position for this cruise has already been filled.
| | | |
| --- | --- | --- |
| Day 1 | EMBARK Lima (from Callao) Peru | |
| Day 2 | Lima (from Callao) Peru | |
| Day 3 | Salaverry Peru | |
| Day 4 | At sea | |
| Day 5 | Manta Ecuador | |
| Day 6 | At sea | |
| Day 7 | Fuerte Amador Panama | |
| Day 8 | Transit the Panama Canal | |
| Day 9 | Puerto Limon Costa Rica | |
| Day 10 | At sea | |
| Day 11 | Roatan Island Honduras | |
| Day 12 | Santo Tomás de Castilla Guatemala | |
| Day 13 | Belize City Belize | |
| Day 14 | Cozumel Mexico | |
| Day 15 | At sea | |
| Day 16 | DISEMBARK Fort Lauderdale, Florida USA | |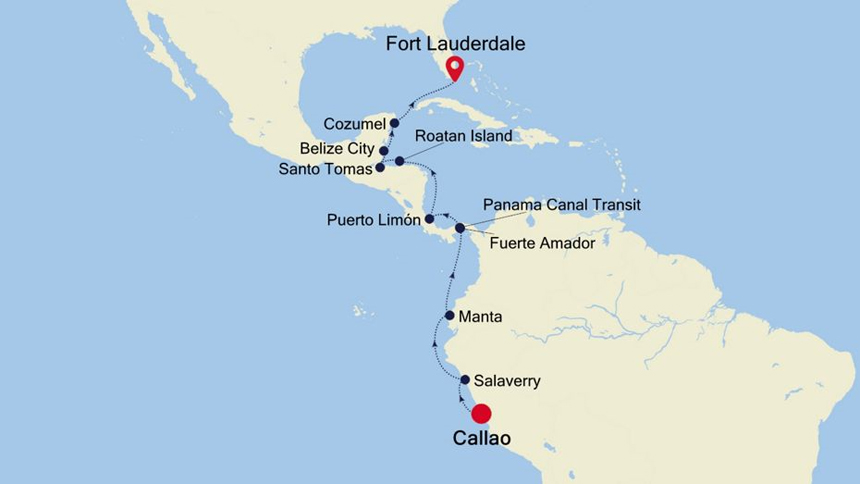 DISCLAIMER
This information has been compiled from various sources. Whilst every effort has been made to provide accurate information, the cruise lines can and do change their itineraries. Cruise Ship Speakers cannot be held liable for any inaccuracies that these programs may contain. Please refer to the up-to-date information provided by the cruise lines themselves. Please notify the Web Administrator if there are any inaccuracies.

Available Candidates
Click on the photo or name for full profile details.

The following people have indicated their availability for this cruise or sectors of this cruise.
The list is in ORDER by General Discipline (ie. Art Instructors, Bridge Directors, Craft Instructors, Destination Lecturers, Enrichment Speakers, etc).
Please contact the candidates directly if you would like to engage any of them. There are NO fees to do this.
Alternatively, we can arrange the bookings on your behalf. Please advise us of your choice(s) for this cruise.

Nitza Lowenstein
Radio Personality, Journalist, Historian & Speaker
BA, MA, MBA



Coming from:
Killara, Sydney, NSW Australia

Nitza, who has an incredible career, is a radio personality, journalist, historian & dynamic Public Speaker. With her topics that are tailored to the cruise itinerary & demographics, she aims to enhance the cruise experience for the passengers. Her specialty is the history, culture, geography & politics of the destinations we visit, with practical information, gems and insight of the places in the itinerary. In addition to her extensive range of destination topics, Nitza has a fascinating series on nostalgic Hollywood golden Age & Rock 'n' Roll era. Her other strong interest is the Digital Age Revolution & Social Media.


Gillian Walnes Perry MBE
Social History & Destinations
Was CEO of the Anne Frank Trust UK for 26 years



Coming from:
Beckenham, Kent UK

Gillian was the CEO of the Anne Frank Trust UK for 26 years and is well known internationally for this. She retired from running the charity in 2016 and now lectures on the 'Life and Inspiring Legacy of Anne Frank', as well as other social history topics. Gillian has travelled extensively around the UK and internationally as a speaker and setting up educational projects and campaigns. She has met Presidents, Prime Ministers, royalty and people who actually knew Anne and have shared first hand recollections about her. She uses her engaging presentation skills to lecture on a range of popular social history topics, geared to the cruise destinations.


John Douglas Chapman
WW2 Historian & Bletchley Park Expert
Welcome Host Gold : Tourism Marketing



Coming from:
Halesowen, West Midlands UK

Since 1992, John became a volunteer at Bletchley Park, the World War 2 home of the Code-Breakers, and founded the world famous Bletchley Park Post Office. John has been a Senior Tour Guide at Bletchley Park since 1998, entertaining thousands of visitors with anecdotes and revealing stories. As a member of the Guild of Battlefield Tour Guides, John assists the War Research Society with the Centenary Commemorative Tours in Belgium and France. His many lectures include WW2 Code-Breaking activities, Alan Turing, Winston Churchill, Women at War, Spies and Espionage and Ian Fleming.


Angel Rafael Colon
Art History, History of Science
MA, MD, PhD



Coming from:
Bonita Springs, Florida USA

Angel Rafael Colón is professor emeritus and adjunct professor at Georgetown University where he lectures on the history of western science / medicine and art iconography. He holds graduate degrees in science, medicine and art history and is a member of the Medieval Society, the American Association for the History of Medicine and Knights of St. Gregory. Over 35 years he has delivered humanities and science lectures at universities internationally on six continents and has served as chairman of the NIH Literature Committee. For the past seven years, he has also provided enrichment talks for many cruise lines.


Ricky Deutsch
Adventure Traveler and Author
BS, MS, MBA



Coming from:
San Jose, California USA

An avid outdoor adventurer, Rick Deutsch has explored the seven continents from Antarctica to Egypt. His talks present the geology, history, and culture of prominent "bucket list" places. He covers popular destinations, such as Venice, Barcelona and Galapagos, but also gives presentations on unusual but fascinating topics to round out his offerings. Rarely touched by other special interest speakers are his lectures on UFO's, The Space Age, and the History of the World. As member of the National Speakers Association, he regularly gives presentations to organizations, museums, associations, and companies.


Dr. Robert Donaldson
Political Science & World Affairs
Ph.D., Russian and American Foreign Policy



Coming from:
Tulsa, Oklahoma USA

Robert ("Bob") Donaldson retired after 45 years of College teaching in Political Science, specializing on Russian and American Foreign Policy and World Politics. At the University of Tulsa, where he was President in the 1990s, he was chosen "Faculty Member of the Year" in 2013. Dr. Donaldson has three degrees from Harvard and is author or co-author of 6 books and two dozen articles and book chapters. In addition to teaching at 4 universities, he has spoken to Foreign Relations Committees in 25 cities has lectured for the U.S. State Department in Europe and the Indian Sub-continent.


Simon Fris
Sciences, Energy & Ship Technology
MSc, MIMarE



Coming from:
's-Hertogenbosch, NBrabant Netherlands

Simon is fascinated by the decisive role of energy in every person's life, from personal comfort up to society's economic development and world spanning environmental effects. He graduated in power generation and subsequently spent over 40 years in major energy related companies. Next to Dutch, he is fluent in English and German, speaks French and some Spanish. Although new to cruise ship speaking, he is a regular speaker at professional seminars, and is known for his unconventional approach and humor to arouse and hold the interest of the audience.


Dr Stuart Hendin
United Nations, Peacekeeping & World Affairs




Coming from:
Ottawa, Ontario Canada

Dr. Hendin is a highly respected academic and legal analyst with specialties in International Criminal Law, the Law of Armed Conflict, International Human Rights, United Nations Peace Operations and related international subject areas. He holds an M.A., an LL.B., an LL.M. (National University of Ireland) and then LL.D. (Ballsbridge University). Stuart was appointed Queen's Counsel (Q.C.) by the Government of Canada and was also awarded the 'Canada 125 Medal' for service to Canada. In addition he is appointed a full professor in the faculty of Law at Ballsbridge University and an Advisor/Fellow at the United Nations Institute for Training and Research (UNITAR).


| | | |
| --- | --- | --- |
| | | Dr. Gary Koverman is a forensic scientist and has worked for over 30 years in forensic laboratories in Ohio, Colorado and New Mexico. He has examined many world class crimes and is still working in his own private business in New Mexico. His expertise in a wide variety of forensic fields gives depth and understanding to many forms of physical evidence. Gary has lectured various law enforcement police agencies in the area of forensic science and has taught at universities in Ohio, Colorado, and New Mexico. He is also a great student of history and enjoys seeking out relevant historical events with a fresh forensic perspective for his talks. |


| | | |
| --- | --- | --- |
| | | Jennipher has been a 'healthy eating guru' and 'inspirational cook' for many years. She has been Chairman of the Microwave Technologies Association since 2003. Her work promoting healthy eating and environmentally friendly cooking methods prompted a nomination for 'Business Woman of the Year', and regular cooking programmes on BBC radio also provide frequent invitations to give cooking shows around the UK. |


Roy Short
Hollywood and Genealogy




Coming from:
Brentwood, California USA

Roy Short is a retired Senior Manager of Deloitte Consulting who has spent the past thirty years studying and teaching genealogy. Upon retirement from corporate consulting he launched "Short On Time", a Professional Genealogy practice and has conducted seminars and workshops on a wide range of family search topics. Since then, his passion for motion pictures has prompted him to create a portfolio of "Tribute" modules which explore and explain different aspects of movie making, stars and genres. He now spends most of his time entertaining and educating cruise passengers in both Hollywood and Genealogy.


Dr Karen Woodman
Destination History & Culture
B.Sc., M.A., Ph.D.



Coming from:
Brisbane, Queensland Australia

Dr Karen Woodman is a retired university professor, who is an entertaining cruise enrichment speaker on topics such as history, education, street art, culture, dance, language, and food as they relate to cruise destinations. Karen is also an avid social dancer who enjoys sharing her love of dance, the benefits of social dance, and the mind-body connection. She has traveled extensively, including North and South America, the South Pacific, Australia and New Zealand, the Caribbean, Cuba, Europe, Scandinavia, and South-East Asia.