Enrichment Requirement

Cruise Itinerary


CRUISE ITINERARY - CS200720 Venice, Turkey & Greek Islands
Embarkation:
Venice Italy
Date: Monday, July 20, 2020
Disembarkation:
Venice Italy
Date: Thursday, July 30, 2020
No of Nights:
10

An experienced DESTINATION EXPERT is required who can cover the specific ports being visited during the cruise.
This is a SpeaknSave cruise offer meaning that a small booking administration fee will apply for the successful applicant.
Cabin provided will be a standard stateroom.
Bring a guest FREE OF CHARGE, twin share basis. Your guest will be required to pay the daily gratuity fee and their own travel expenses.
The successful applicant and their guest will be provided full passenger status including applicable bar discounts and free internet.
Roundtrip airfare for the speaker is provided within reason. Celebrity will not generally cover airfares between Australia and Europe for example.
Please submit your proposed talks along with your application.
| | | |
| --- | --- | --- |
| Day 1 | EMBARK Venice Italy | |
| Day 2 | At sea | |
| Day 3 | Katakolon (for Olympia) Greece | |
| Day 4 | Santorini, Thíra Greece | |
| Day 5 | Kusadasi (for Ephesus) Turkey | |
| Day 6 | Mykonos Greece | |
| Day 7 | Piraeus (Athens) Greece | |
| Day 8 | Chania, Crete Greece | |
| Day 9 | Corfu Town, Corfu Greece | |
| Day 10 | At sea | |
| Day 11 | DISEMBARK Venice Italy | |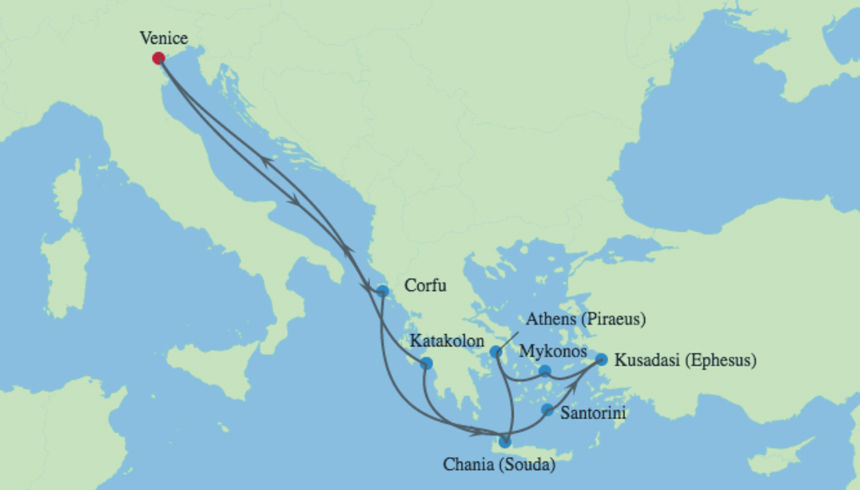 DISCLAIMER
This information has been compiled from various sources. Whilst every effort has been made to provide accurate information, the cruise lines can and do change their itineraries. Cruise Ship Speakers cannot be held liable for any inaccuracies that these programs may contain. Please refer to the up-to-date information provided by the cruise lines themselves. Please notify the Web Administrator if there are any inaccuracies.

Available Candidates
Click on the photo or name for full profile details.

The following people have indicated their availability for this cruise or sectors of this cruise.
The list is in ORDER by General Discipline (ie. Art Instructors, Bridge Directors, Craft Instructors, Destination Lecturers, Enrichment Speakers, etc).
Please contact the candidates directly if you would like to engage any of them. There are NO fees to do this.
Alternatively, we can arrange the bookings on your behalf. Please advise us of your choice(s) for this cruise.

| | | |
| --- | --- | --- |
| | | Daniel Rossall Valentine is an expert communicator, an experienced, imaginative and humorous speaker and a published historian with a focus on local history, who is experienced in talking to diverse groups about local history, cultural history, and architecture. Daniel studied at the Universities of Oxford, St. Andrews, and King's College London. He is a Member of the Royal Historical Society and a Fellow of the Royal Geographical Society. Daniel's talks are carefully designed to engage with all levels of audience understanding and motivation. His presentations are rich with visual and intellectual stimuli. |


Judith Cranswick
Crime Writer, History & Destination Speaker




Coming from:
Swindon, - UK

Judith has three great passions – history, travel and writing. Her love of ancient civilizations and cultures have taken her throughout Europe, the Middle East, Asia, China, Indochina, Japan, India, South America, Mexico and Central America. History & travel have inspired her writing. An award-winning novelist, she is the author of two Travel Mystery series and several standalone psychological thrillers. Judith is an experienced destinations and enrichment lecturer and has also run writing workshops for several cruise lines.