Enrichment Requirement

Cruise Itinerary


CRUISE ITINERARY - CS201031 Spain & Azores Transatlantic Cruise
Embarkation:
Barcelona Spain
Date: Saturday, October 31, 2020
Disembarkation:
Tampa, Florida USA
Date: Saturday, November 14, 2020
No of Nights:
14

An experienced DESTINATION EXPERT is required who can cover the specific ports being visited during the cruise.
This is a SpeaknSave cruise offer meaning that a small booking administration fee will apply for the successful applicant.
Cabin provided will be a standard stateroom.
Bring a guest FREE OF CHARGE, twin share basis. Your guest will be required to pay the daily gratuity fee and their own travel expenses.
The successful applicant and their guest will be provided full passenger status including applicable bar discounts and free internet.
Roundtrip airfare for the speaker is provided within reason. Celebrity will not generally cover airfares between Australia and Europe for example.
Please submit your proposed talks along with your application.
| | | |
| --- | --- | --- |
| Day 1 | EMBARK Barcelona Spain | |
| Day 2 | Cartagena Spain | |
| Day 3 | Malaga (Granada) Spain | |
| Day 4 | Cádiz (Seville) Spain | |
| Day 5 | Lisbon Portugal | |
| Day 6 | At sea | |
| Day 7 | Ponta Delgada Azores | |
| Day 8 | At sea | |
| Day 9 | At sea | |
| Day 10 | At sea | |
| Day 11 | At sea | |
| Day 12 | At sea | |
| Day 13 | At sea | |
| Day 14 | At sea | |
| Day 15 | DISEMBARK Tampa, Florida USA | |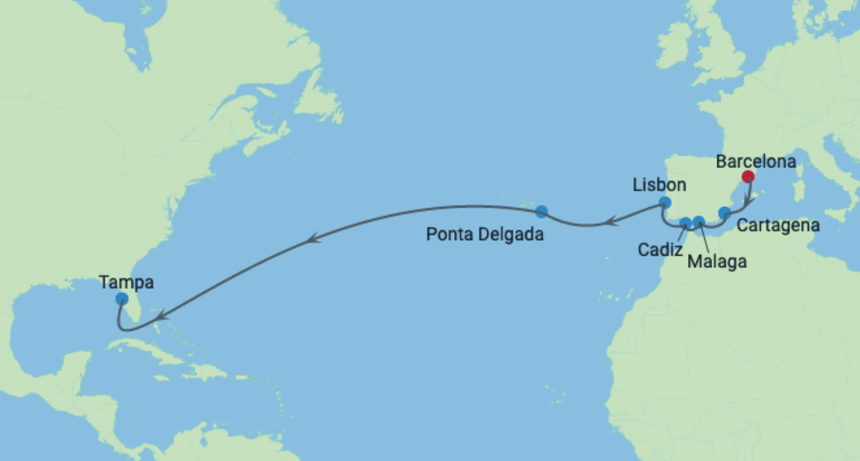 DISCLAIMER
This information has been compiled from various sources. Whilst every effort has been made to provide accurate information, the cruise lines can and do change their itineraries. Cruise Ship Speakers cannot be held liable for any inaccuracies that these programs may contain. Please refer to the up-to-date information provided by the cruise lines themselves. Please notify the Web Administrator if there are any inaccuracies.

Available Candidates
Click on the photo or name for full profile details.

The following people have indicated their availability for this cruise or sectors of this cruise.
The list is in ORDER by General Discipline (ie. Art Instructors, Bridge Directors, Craft Instructors, Destination Lecturers, Enrichment Speakers, etc).
Please contact the candidates directly if you would like to engage any of them. There are NO fees to do this.
Alternatively, we can arrange the bookings on your behalf. Please advise us of your choice(s) for this cruise.

Deborah Ayres
Destination Expert & Art Instructor
Degree Asian History, Politics, Pacific Language & Culture



Coming from:
Tanjung Bungah, Penang Malaysia

Deborah is Australian and whilst she loves her country, she also loves to travel. She has lived more than half her life overseas and whilst her travels have taken her all over the world, she has spent most of this time in Asia and the South Pacific. She holds an Asian Studies Degree in History, Politics and Bahasa Indonesia and Malay. She is also an accomplished painter and glass artist. Deborah combines her great love of spending time at sea with a chance to share her knowledge and enthusiasm for the Asia Pacific region and mentoring others whilst they enjoy creating artworks of their own.


Captain Paul Golden
Maritime History, Security and Environmental Protection




Coming from:
Bluffton, South Carolina USA

Captain Paul Golden is a retired Coast Guard Officer with forty-five years of maritime safety, security and counter-terrorism experience throughout the world. He was a port and shipping safety expert, and a senior inspector for cruise ships, supertankers offshore oil platforms, and port terminals. After he retired from the Coast Guard, Paul joined FEMA as a disaster response coordinator. He was an assistant operations officer and watch stander at Disaster Field Offices, including hurricane Floyd in the Carolinas, hurricane Katrina, and Ground Zero in New York City after 9/11.


Keith Jones
Trains and Boats and Planes




Coming from:
Berlin, Germany

Keith is a British citizen but has lived in Germany since 1986. He has worked most of his career in the aero industry, lastly as an engineer for Rolls-Royce in Berlin. As a boy Keith was an avid trainspotter and over his lifetime has had a model railway layout. Keith has travelled around the world on Queen Elizabeth, Queen Victoria and Queen Mary 2 over the last five years. He recently in 2019 on a cruise with QM2 was invited by the Assistant Entertainment Director to present one of his talks to the passengers. Keith is now keen to broaden his experience as a cruise ship speaker talking on his favopurite topic, "Trains and Boats and Planes".


| | | |
| --- | --- | --- |
| | | Dr. Gary Koverman is a forensic scientist and has worked for over 30 years in forensic laboratories in Ohio, Colorado and New Mexico. He has examined many world class crimes and is still working in his own private business in New Mexico. His expertise in a wide variety of forensic fields gives depth and understanding to many forms of physical evidence. Gary has lectured various law enforcement police agencies in the area of forensic science and has taught at universities in Ohio, Colorado, and New Mexico. He is also a great student of history and enjoys seeking out relevant historical events with a fresh forensic perspective for his talks. |


Brendan Lally
Crime, Destinations & Famous People




Coming from:
Sheffield, South Yorkshire UK

Brendan Lally retired as a Chief Superintendent following 30 years police service culminating in a three year secondment as Staff Officer to HM Chief Inspector of Constabulary at the Home Office, London. His service included very senior positions in police training and in race and community relations. Brendan has travelled the World extensively and also gives destination talks. He is an experienced public speaker and helps train others in this field of interest. He is an experienced cruise lecturer on a variety of topics and gave as many as 21 presentations on a six week 2018 cruise.


Professor Thomas Mazour
Enrichment Speaker
World Affairs / Destinations / History / Travel / Sciences



Coming from:
Wallace, NC USA

Professor Mazour was a member of the International Atomic Energy Agency (IAEA) team that won the Nobel Peace Prize in 2005. In his 20 years with the IAEA in Vienna, Austria he worked in 36 countries on every continent but Antarctica, and collaborated with colleagues from over 90 different countries. After retirement from the IAEA, he joined the faculty of an online university whose mission is to help those in the workforce to receive suitable credit for their work experience and training, and to then complete courses needed to earn relevant degrees. He teaches online courses in leadership, communication and nuclear engineering.


David McCaddon
Crime Author & Law Enforcement IT specialist
Crime and Technology



Coming from:
Congleton, Cheshire UK

David is an award winning playwright and author of modern Crime thriller novels. Before retiring in 2017 David was an IT systems consultant who had worked in computing for over 46 years specialising in Police and Prison systems worldwide. His work has involved him working in many Police major incident rooms worldwide and he has been responsible for developing investigative systems throughout a large number of the UK's Police forces and worldwide. He now devotes most of his time as an entertaining guest speaker lecturing worldwide on a range of subjects including crime and technology related topics.


Geoff Peters
Maritime Explorers and Adventurers




Coming from:
Southampton, Hampshire UK

Edu-tainment is the best way to describe Geoff's speaking style, providing educational, entertaining and authoritative presentations whilst also injecting humour and personal experiences documenting his time at sea. Recently retired, Geoff and his wife Leanne have purchased a boat in the UK, cruised across the English Channel and now spend much of each year cruising the rivers, canals, and coastlines of Europe, creating their own adventures.


Linda Saboe
Intelligence & Espionage




Coming from:
Port Charlotte, Florida USA

Lynn Saboe is an engineer, and has a Masters degree and PhD. She spent 33 years in the CIA, and is an accomplished cruise presenter. She is one of the only people worldwide who knows, and is approved to give talks on, the CIA, history of intelligence, spy technology, both OSS and CIA museums, and a virtual tour of CIA. Lynn was named one of the "most outstanding women of the CIA". She received two CIA medals, a Director of National Intelligence Meritorious Unit Citation, and 25 awards throughout her career including having started the CIA Mentoring Program of the Year in 2014 and being nominated as CIA Mentor of the Year five times.


Elisha Saffer
Maritime History, Oceanography, History, Culture




Coming from:
West Palm Beach, Florida USA

Al's background is a mixture of science, economics, technology and education. Al was an electronics instructor while in the U.S. Air Force, a Programing Instructor at New York University, and a Computer Systems Engineer and Instructor at IBM. Over a period of 10 summers Al has given a variety of enrichment lectures at Sunrise Senior College which is associated with the University of Maine. He has provided enrichment lectures on nine different cruises for four different cruise lines and his penchant for research enables him to give presentations across a wide range of subjects.


Franz Schneider
Enrichment Speaker on Maritime Subjects
Ocean Racing, Navigation, Classic Ocean Liners



Coming from:
Cambridge, Massachusetts USA

Franz Schneider enjoys giving talks on cruise ships because of his love of the sea. A sailor all his life, Franz became active in ocean racing as a teenager. He sailed many thousands of miles with Ted Turner, starting with races from Bermuda to Copenhagen in 1966, and from California to Honolulu in 1967. In the 1970s, Franz was Turner's navigator in many ocean races including the classic Newport to Bermuda, and Miami to Montego Bay races. He was also the founder of Landfall Navigation, a firm that offers navigational supplies and services. Franz talks about ocean racing, as well as several about navigation, including celestial navigation.


Dr Karen Woodman
Destination History & Culture
B.Sc., M.A., Ph.D.



Coming from:
Brisbane, Queensland Australia

Dr Karen Woodman is a retired university professor, who is an entertaining cruise enrichment speaker on topics such as history, education, street art, culture, dance, language, and food as they relate to cruise destinations. Karen is also an avid social dancer who enjoys sharing her love of dance, the benefits of social dance, and the mind-body connection. She has traveled extensively, including North and South America, the South Pacific, Australia and New Zealand, the Caribbean, Cuba, Europe, Scandinavia, and South-East Asia.