Enrichment Requirement

Cruise Itinerary


CRUISE ITINERARY - CS201031 Spain & Azores Transatlantic Cruise
Embarkation:
Barcelona Spain
Date: Saturday, October 31, 2020
Disembarkation:
Tampa, Florida USA
Date: Saturday, November 14, 2020
No of Nights:
14

Speakers and Instructors who are available for this cruise should register their interest. No specific topics indicated.
| | | |
| --- | --- | --- |
| Day 1 | EMBARK Barcelona Spain | |
| Day 2 | Cartagena Spain | |
| Day 3 | Malaga (Granada) Spain | |
| Day 4 | Cádiz (Seville) Spain | |
| Day 5 | Lisbon Portugal | |
| Day 6 | At sea | |
| Day 7 | Ponta Delgada Azores | |
| Day 8 | At sea | |
| Day 9 | At sea | |
| Day 10 | At sea | |
| Day 11 | At sea | |
| Day 12 | At sea | |
| Day 13 | At sea | |
| Day 14 | At sea | |
| Day 15 | DISEMBARK Tampa, Florida USA | |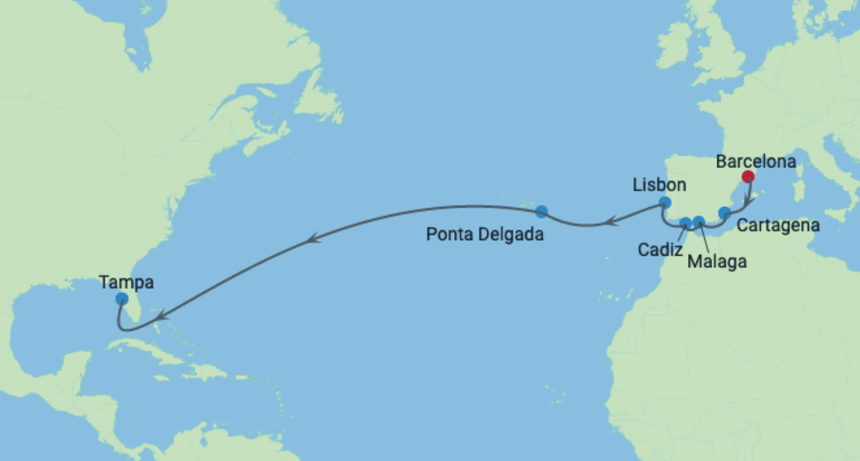 DISCLAIMER
This information has been compiled from various sources. Whilst every effort has been made to provide accurate information, the cruise lines can and do change their itineraries. Cruise Ship Speakers cannot be held liable for any inaccuracies that these programs may contain. Please refer to the up-to-date information provided by the cruise lines themselves. Please notify the Web Administrator if there are any inaccuracies.

Available Candidates
Click on the photo or name for full profile details.

The following people have indicated their availability for this cruise or sectors of this cruise.
The list is in ORDER by General Discipline (ie. Art Instructors, Bridge Directors, Craft Instructors, Destination Lecturers, Enrichment Speakers, etc).
Please contact the candidates directly if you would like to engage any of them. There are NO fees to do this.
Alternatively, we can arrange the bookings on your behalf. Please advise us of your choice(s) for this cruise.

Deborah Ayres
Destination Expert & Art Instructor
Degree Asian History, Politics, Pacific Language & Culture



Coming from:
Tanjung Bungah, Penang Malaysia

Deborah is Australian and whilst she loves her country, she also loves to travel. She has lived more than half her life overseas and whilst her travels have taken her all over the world, she has spent most of this time in Asia and the South Pacific. She holds an Asian Studies Degree in History, Politics and Bahasa Indonesia and Malay. She is also an accomplished painter and glass artist. Deborah combines her great love of spending time at sea with a chance to share her knowledge and enthusiasm for the Asia Pacific region and mentoring others whilst they enjoy creating artworks of their own.


Captain Paul Golden
Maritime History, Security and Environmental Protection




Coming from:
Bluffton, South Carolina USA

Captain Paul Golden is a retired Coast Guard Officer with forty-five years of maritime safety, security and counter-terrorism experience throughout the world. He was a port and shipping safety expert, and a senior inspector for cruise ships, supertankers offshore oil platforms, and port terminals. After he retired from the Coast Guard, Paul joined FEMA as a disaster response coordinator. He was an assistant operations officer and watch stander at Disaster Field Offices, including hurricane Floyd in the Carolinas, hurricane Katrina, and Ground Zero in New York City after 9/11.


Professor Thomas Mazour
Enrichment Speaker
World Affairs / Destinations / History / Travel / Sciences



Coming from:
Wallace, NC USA

Professor Mazour was a member of the International Atomic Energy Agency (IAEA) team that won the Nobel Peace Prize in 2005. In his 20 years with the IAEA in Vienna, Austria he worked in 36 countries on every continent but Antarctica, and collaborated with colleagues from over 90 different countries. After retirement from the IAEA, he joined the faculty of an online university whose mission is to help those in the workforce to receive suitable credit for their work experience and training, and to then complete courses needed to earn relevant degrees. He teaches online courses in leadership, communication and nuclear engineering.


Geoff Peters
Maritime Explorers and Adventurers




Coming from:
Southampton, Hampshire UK

Edu-tainment is the best way to describe Geoff's speaking style, providing educational, entertaining and authoritative presentations whilst also injecting humour and personal experiences documenting his time at sea. Recently retired, Geoff and his wife Leanne have purchased a boat in the UK, cruised across the English Channel and now spend much of each year cruising the rivers, canals, and coastlines of Europe, creating their own adventures.