Enrichment Requirement

Cruise Itinerary


CRUISE ITINERARY - ML200510 Japan & Bering Sea Transpacific
Embarkation:
Tokyo Japan
Date: Sunday, May 10, 2020
Disembarkation:
Vancouver Canada
Date: Friday, May 22, 2020
No of Nights:
13

An experienced SPECIAL INTEREST SPEAKER is required who can provide 9 - 10 Powerpoint presentations during the cruise.
This is a SpeaknSave cruise offer meaning that a small booking administration fee will apply for the successful applicant.
Cabin provided will be a standard stateroom.
Bring a guest FREE OF CHARGE, twin share basis. Your guest will be required to pay the daily gratuity fee and their own travel expenses.
The successful applicant and their guest will be provided full passenger status including applicable bar discounts and free internet.
Roundtrip airfare for the speaker is provided within reason. Celebrity will not generally cover airfares between Australia and Europe for example.
Please submit your proposed talks along with your application.
| | | |
| --- | --- | --- |
| Day 1 | EMBARK Tokyo Japan | |
| Day 2 | At sea | |
| Day 3 | Hakodate, Hokkaido Japan | |
| Day 4 | At sea | |
| Day 5 | At sea | |
| Day 6 | Petropavlovsk Russia | |
| Day 7 | At sea | |
| Day 7 | Crossing the International Dateline | |
| Day 8 | At sea | |
| Day 9 | At sea | |
| Day 10 | At sea | |
| Day 11 | At sea | |
| Day 12 | At sea | |
| Day 13 | DISEMBARK Vancouver Canada | |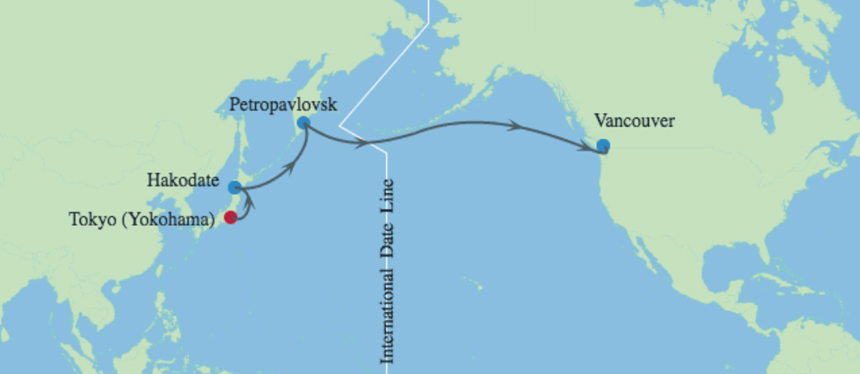 DISCLAIMER
This information has been compiled from various sources. Whilst every effort has been made to provide accurate information, the cruise lines can and do change their itineraries. Cruise Ship Speakers cannot be held liable for any inaccuracies that these programs may contain. Please refer to the up-to-date information provided by the cruise lines themselves. Please notify the Web Administrator if there are any inaccuracies.

Available Candidates
Click on the photo or name for full profile details.

The following people have indicated their availability for this cruise or sectors of this cruise.
The list is in ORDER by General Discipline (ie. Art Instructors, Bridge Directors, Craft Instructors, Destination Lecturers, Enrichment Speakers, etc).
Please contact the candidates directly if you would like to engage any of them. There are NO fees to do this.
Alternatively, we can arrange the bookings on your behalf. Please advise us of your choice(s) for this cruise.

| | | |
| --- | --- | --- |
| | | Michael Chriss has spent a lifetime in teaching and popularizing science through public lectures and planetarium programs. He was Professor of Astronomy and Humanities at the College of San Mateo, and its Planetarium Director. He received his degrees in astronomy at the University of Arizona with further studies in History of Art and Science at Berkeley, Stanford, and Oxford University. Since 1985, when Halley's Comet appeared in the skies, he has lectured aboard cruise ships on astronomy and other topics. He currently is Associate Lecturer in Astronomy at the University of Arizona.University of Arizona. |


| | | |
| --- | --- | --- |
| | | Dr. Gary Koverman is a forensic scientist and has worked for over 30 years in forensic laboratories in Ohio, Colorado and New Mexico. He has examined many world class crimes and is still working in his own private business in New Mexico. His expertise in a wide variety of forensic fields gives depth and understanding to many forms of physical evidence. Gary has lectured various law enforcement police agencies in the area of forensic science and has taught at universities in Ohio, Colorado, and New Mexico. He is also a great student of history and enjoys seeking out relevant historical events with a fresh forensic perspective for his talks. |


Struan Stevenson
Global History
International Lecturer and Broadcaster.



Coming from:
Girvan, Ayrshire UK

STRUAN STEVENSON served three terms as a UK Member of the European Parliament from 1999 to 2014. He is an award-winning author, lecturer, newspaper feature writer and broadcaster. 'The Course of History - Ten Meals That Changed The World' is his fifth book and reflects his fascination with global history and the way major decisions are often taken over the dinner table, assisted by generous quantities of food and wine.


John Thomas
Motion Pictures and Television
Producer/Director/Professor; Feature Films, Documentaries, Celebs



Coming from:
Houston, Texas USA

John has worked 45 years in Hollywood, including the production of nearly 40 documentaries, commercials and 7 feature films as producer/director/writer and editor. He has worked at the major Hollywood studios, and directed many well-known stars. As a stand up comedian, John peppers his movie presentations with his trademark, easy-going and unassuming observational humor. Unlike other speakers who just talk about movies, John is an actual movie maker who can authoritatively answer audience questions, and provide honest answers along with real world illustrations and examples.


Dr Karen Woodman
Destination History & Culture
B.Sc., M.A., Ph.D.



Coming from:
Brisbane, Queensland Australia

Dr Karen Woodman is a retired university professor, who is an entertaining cruise enrichment speaker on topics such as history, education, street art, culture, dance, language, and food as they relate to cruise destinations. Karen is also an avid social dancer who enjoys sharing her love of dance, the benefits of social dance, and the mind-body connection. She has traveled extensively, including North and South America, the South Pacific, Australia and New Zealand, the Caribbean, Cuba, Europe, Scandinavia, and South-East Asia.