Enrichment Requirement

Cruise Itinerary


CRUISE ITINERARY - CS200604 Venice, Florence & Montenegro
Embarkation:
Venice Italy
Date: Thursday, June 4, 2020
Disembarkation:
Civitavecchia (for Rome) Italy
Date: Friday, June 12, 2020
No of Nights:
8

An experienced DESTINATION/PORT EXPERT is required who can cover the specific ports being visited during the cruise.
This is a SpeaknSave cruise offer meaning that a small booking administration fee will apply for the successful applicant.
Cabin provided will be a standard stateroom.
Bring a guest FREE OF CHARGE, twin share basis. Your guest will be required to pay the daily gratuity fee and their own travel expenses.
The successful applicant(s) and their guest will be provided full passenger status including applicable bar discounts and free internet.
Roundtrip airfare for the speaker is provided within reason. Celebrity will not generally cover airfares between Australia and Europe for example.
Please submit your proposed talks along with your application.
| | | |
| --- | --- | --- |
| Day 1 | EMBARK Venice Italy | |
| Day 2 | Venice Italy | |
| Day 3 | Kotor Montenegro | |
| Day 4 | At sea | |
| Day 5 | Messina Strait Italy | |
| Day 6 | Naples Italy | |
| Day 7 | At sea | |
| Day 8 | La Spezia Italy | |
| Day 9 | DISEMBARK Civitavecchia (for Rome) Italy | |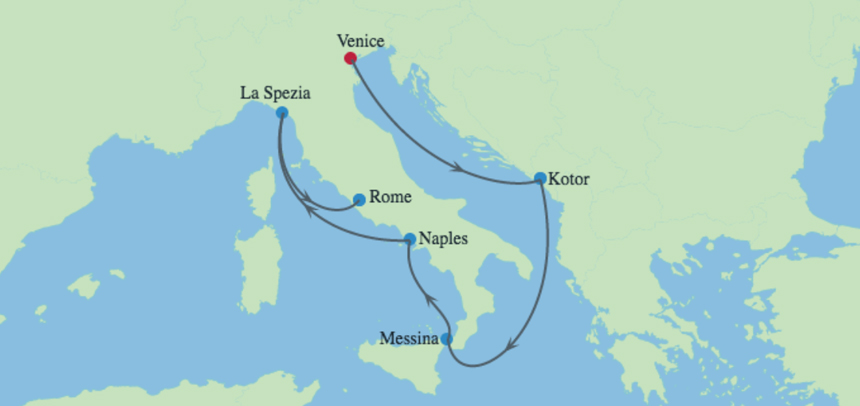 DISCLAIMER
This information has been compiled from various sources. Whilst every effort has been made to provide accurate information, the cruise lines can and do change their itineraries. Cruise Ship Speakers cannot be held liable for any inaccuracies that these programs may contain. Please refer to the up-to-date information provided by the cruise lines themselves. Please notify the Web Administrator if there are any inaccuracies.

Available Candidates
Click on the photo or name for full profile details.

The following people have indicated their availability for this cruise or sectors of this cruise.
The list is in ORDER by General Discipline (ie. Art Instructors, Bridge Directors, Craft Instructors, Destination Lecturers, Enrichment Speakers, etc).
Please contact the candidates directly if you would like to engage any of them. There are NO fees to do this.
Alternatively, we can arrange the bookings on your behalf. Please advise us of your choice(s) for this cruise.

Armida Bordi
Destinations & Enrichment Lecturer




Coming from:
Genoa, Italy

Dr Armida Bordi, a former professor of literature and the history of civilisations, lives in Genoa, Italy. After gaining 2 degrees from Genoa University she was the recipient of several British Council grants to British universities and a three time Fulbright scholar to the US. She is now teaching lifelong learning programs offering adult learners courses combining history and art with foreign languages. As a long-time lecturer for many cruise lines, Armida has travelled extensively in different continents. She likes exploring new places and she can communicate in Italian, English, Spanish, French, Greek and Portuguese.


Vickie Bowne
Destinations




Coming from:
Sydney Mines, Nova Scotia Canada

With a passion for travel and exploring the world, not only by seeing the sites but experiencing the people and the culture of a place, Vickie is able to provided a wealth of knowledge to assist the guests in getting a true feel of the places we will visit. Vickie's experience as a port lecturer, giving presentation on the ports that the ship visits, and providing detailed information about history, the people, food and drink, sites to see or basic practical information that every guest would find helpful is valuable. As an Enrichment Lecturer she makes the ports come alive with stories of the people, the music and dance, wildlife and history of the ports.


Sonia Collins
Destinations and Cultural History




Coming from:
Denhams Beach, NSW Australia

Sonia was born in Oxford England and now lives in the beautiful coastal town of Batemans Bay, Australia. After studying history and sociology at the Australian National University Sonia had a career in the Australian public service. Sonia has traveled extensively around the world including many cruises. She has experience as a Destination Speaker and is passionate about sharing her knowledge of the ship's ports of call to enrich shore visits for the ship's guests.


| | | |
| --- | --- | --- |
| | | Jeremy has spent the last 25 years as an IT Training Consultant working on Microsoft Office products and large Finance/ERP systems. He was born in Accra, Ghana and spent the first ten years of his life there, in South Africa, Nigeria and Kenya where his father was in the Colonial Services. He has travelled extensively throughout the world having visited over 70 countries. Jeremy has recently completed a 3 day Destination Speaker Course in the UK and is building his destination presentation portfolio. |


Bill Powell
Travel & Music
South East Asia, the USA and contemporary music.



Coming from:
Chester, Cheshire UK

Bill was an accountant with BT and joined Marks and Spencer to head their Customer Services Division. He subsequently became Chairman of the Consumer Credit Trade Association. He took early retirement and embarked on a completely different career path as a Tour Manager, escorting groups of travellers to worldwide destinations. He specialises in the USA, Borneo and China. Bill's talks largely reflect his experiences during his ten years as a Tour Manager, mixing personal high (and low!) lights with amusing anecdotes about his journeys around the world.


Dr Karen Woodman
Destination History & Culture
B.Sc., M.A., Ph.D.



Coming from:
Brisbane, Queensland Australia

Dr Karen Woodman is a retired university professor, who is an entertaining cruise enrichment speaker on topics such as history, education, street art, culture, dance, language, and food as they relate to cruise destinations. Karen is also an avid social dancer who enjoys sharing her love of dance, the benefits of social dance, and the mind-body connection. She has traveled extensively, including North and South America, the South Pacific, Australia and New Zealand, the Caribbean, Cuba, Europe, Scandinavia, and South-East Asia.