Enrichment Requirement

Cruise Itinerary


CRUISE ITINERARY - CS200102 Best Of India & South East Asia
Embarkation:
Dubai UAE
Date: Thursday, January 2, 2020
Disembarkation:
Singapore
Date: Friday, January 17, 2020
No of Nights:
15

An experienced SPECIAL INTEREST SPEAKER is required who can provide 7 Powerpoint presentations.
This is a SpeaknSave cruise offer meaning that a small booking administration fee will apply for the successful applicant.
Cabin provided will be a standard stateroom.
Bring a guest FREE OF CHARGE, twin share basis. Your guest will be required to pay the daily gratuity fee and their own travel expenses.
The successful applicant and their guest will be provided full passenger status including applicable bar discounts and free internet.
Roundtrip airfare for the speaker is provided within reason. Celebrity will not generally cover airfares between Australia and Europe for example.
Please submit your proposed talks along with your application.
| | | |
| --- | --- | --- |
| Day 1 | EMBARK Dubai UAE | |
| Day 2 | Dubai UAE | |
| Day 3 | Muscat Oman | |
| Day 4 | At sea | |
| Day 5 | At sea | |
| Day 6 | Mumbai India | |
| Day 7 | Mumbai India | |
| Day 8 | Goa India | |
| Day 9 | At sea | |
| Day 10 | Cochin India | |
| Day 11 | Colombo Sri Lanka | |
| Day 12 | At sea | |
| Day 13 | At sea | |
| Day 14 | Phuket Thailand | |
| Day 15 | At sea | |
| Day 16 | Singapore | |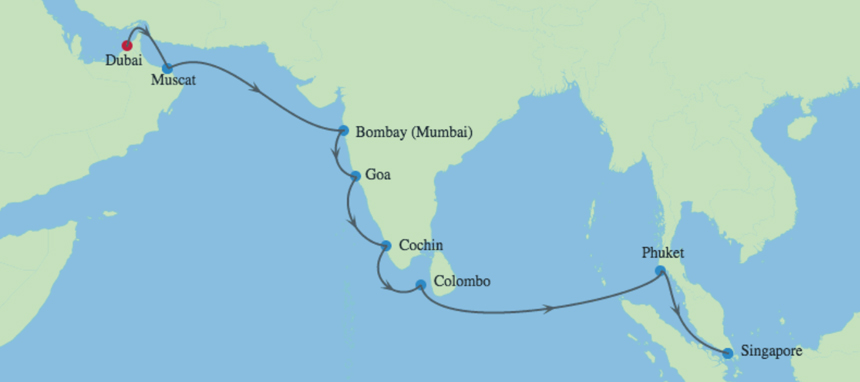 DISCLAIMER
This information has been compiled from various sources. Whilst every effort has been made to provide accurate information, the cruise lines can and do change their itineraries. Cruise Ship Speakers cannot be held liable for any inaccuracies that these programs may contain. Please refer to the up-to-date information provided by the cruise lines themselves. Please notify the Web Administrator if there are any inaccuracies.

Available Candidates
Click on the photo or name for full profile details.

The following people have indicated their availability for this cruise or sectors of this cruise.
The list is in ORDER by General Discipline (ie. Art Instructors, Bridge Directors, Craft Instructors, Destination Lecturers, Enrichment Speakers, etc).
Please contact the candidates directly if you would like to engage any of them. There are NO fees to do this.
Alternatively, we can arrange the bookings on your behalf. Please advise us of your choice(s) for this cruise.

| | | |
| --- | --- | --- |
| | | Jeremy has spent the last 25 years as an IT Training Consultant working on Microsoft Office products and large Finance/ERP systems. He was born in Accra, Ghana and spent the first ten years of his life there, in South Africa, Nigeria and Kenya where his father was in the Colonial Services. He has travelled extensively throughout the world having visited over 70 countries. Jeremy has recently completed a 3 day Destination Speaker Course in the UK and is building his destination presentation portfolio. |


Kulvir Chima
Health and Wellness Workshops
Mindfulness, Meditation & Ancient Breathing Interactive Talks



Coming from:
Solihull, West Midlands UK

Kulvir's area of specialism is health and wellbeing focusing on "staying healthy naturally". Stress is now recognised as a major cause of modern day illness such as heart disease and cancer. In order to reduce stress she teaches powerful yoga breathing techniques, pressure points, Indian head massage and facial massage which can help to calm, relax and de-stress the mind and body. She also works as an Acupuncturist and as a Health and Wellbeing Coach.


| | | |
| --- | --- | --- |
| | | Dr. Gary Koverman is a forensic scientist and has worked for over 30 years in forensic laboratories in Ohio, Colorado and New Mexico. He has examined many world class crimes and is still working in his own private business in New Mexico. His expertise in a wide variety of forensic fields gives depth and understanding to many forms of physical evidence. Gary has lectured various law enforcement police agencies in the area of forensic science and has taught at universities in Ohio, Colorado, and New Mexico. He is also a great student of history and enjoys seeking out relevant historical events with a fresh forensic perspective for his talks. |


Lennart Resenbro
Science, Navigation and History
Scandinavia, Baltic & Arctic Regions



Coming from:
Vallensbaek Strand, Denmark

Lennart has sailed the seven seas as an officer before becoming a Naval Architect. He is now educating future officers of the Royal Danish Navy in their role as navigators. Believing that learning should be fun he is more of a performer than a traditional lecturer, and always wants his audiences to take part or gain some hands-on experience from his talks. Topics would be on Navigation combined with Astronomy, Arctic navigation in combination with great Arctic explorers, modern Ship construction and Naval History especially in the North Sea and Baltic region.


Dr Chris Stringer
Archaeology, Human Evolution & Earth Sciences




Coming from:
London, UK

Professor Chris Stringer has worked at The Natural History Museum London since 1973, and is now Research Leader in Human Origins and a Fellow of the Royal Society. His early research was on the relationship of Neanderthals and early modern humans in Europe, but through his work on the 'Recent African Origin' theory of modern human origins, he now collaborates with archaeologists, dating specialists, and geneticists in attempting to reconstruct the evolution of modern humans globally. He has excavated at sites in Britain and abroad, and he is currently co-directing the Pathways to Ancient Britain project, funded by the Calleva Foundation.


Dr James Teslow
Space Science, Astronomy & Engineering
PhD Rockets, Star-gazing



Coming from:
Camano Island, Washington USA

Dr. James Teslow is an educator who also practiced aerospace engineering for 30 years. He obtained his undergraduate degree at the University of Washington, and two Masters degrees and a PhD at the University of Colorado. His engineering positions included work in the areas of liquid and solid rocket propulsion system analysis and design, launch support, new technology research, and business development. James has taught several classroom and online courses in educational technology, research methods, and instructional development as an adjunct professor.


John Thomas
Motion Pictures and Television
Producer/Director/Professor; Feature Films, Documentaries, Celebs



Coming from:
Houston, Texas USA

John has worked 45 years in Hollywood, including the production of nearly 40 documentaries, commercials and 7 feature films as producer/director/writer and editor. He has worked at the major Hollywood studios, and directed many well-known stars. As a stand up comedian, John peppers his movie presentations with his trademark, easy-going and unassuming observational humor. Unlike other speakers who just talk about movies, John is an actual movie maker who can authoritatively answer audience questions, and provide honest answers along with real world illustrations and examples.


Don Wales
Land Speed Record Breaker & After Dinner Speaker




Coming from:
Addlestone, Surrey UK

Born in 1960, Don is the grandson of Sir Malcolm Campbell MBE and the nephew of Donald Campbell CBE the famous father and son World speed record breakers in their famous 'Bluebird' vehicles. He left school at the age of 17 to work in photography, which is where he still earns his main income specialising in advertising, fashion and lifestyle work. World record breaking is still in his blood and he has continued the family tradition! He started breaking records in 1998 with his first UK Land Speed Record for an Electric car in 'Bluebird Electric', and went on to break a further 7 UK records which he held for over 12 years.


Sidney Wartel
World Affairs, International Law, Engineering & Technology,




Coming from:
Delray Beach, Florida USA

Sidney Wartel is an attorney and a registered Professional Engineer with engineering and management degrees. He was an Adjunct Professor for over 20 years, a Law School Lecturer, and a frequent guest speaker worldwide; speaking at such diverse venues as the World Trade institute, Chinese education centers, a Turkish University and an Israeli Engineering Society conference as well as U.S. professional and social venues. Sidney provides a series of talks on the history of laws and treaties for destinations as well as science and engineering subjects related to destinations.


Dr Karen Woodman
Destination History & Culture
B.Sc., M.A., Ph.D.



Coming from:
Brisbane, Queensland Australia

Dr Karen Woodman is a retired university professor, who is an entertaining cruise enrichment speaker on topics such as history, education, street art, culture, dance, language, and food as they relate to cruise destinations. Karen is also an avid social dancer who enjoys sharing her love of dance, the benefits of social dance, and the mind-body connection. She has traveled extensively, including North and South America, the South Pacific, Australia and New Zealand, the Caribbean, Cuba, Europe, Scandinavia, and South-East Asia.