Enrichment Requirement

Cruise Itinerary


CRUISE ITINERARY - 3033 Mediterranean & Greek Isles
Embarkation:
Southampton UK
Date: Friday, November 6, 2020
Disembarkation:
Southampton UK
Date: Monday, November 23, 2020
No of Nights:
17

An Enrichment Speaker is required who can provide 10 Powerpoint presentations, preferably related to the history of the ports and/or the region being visited during the cruise.
This is a SpeaknSave cruise offer meaning that a small booking administration fee will apply for the successful applicant.
Cabin provided will be an Officer (Fleet) Cabin located in a crew area with either bunk beds or a double bed depending upon availability at time of sailing (to be advised).
Bring a guest FREE OF CHARGE, twin share basis. Your guest will be required to pay a daily gratuity fee of USD$14.50.
The successful applicant and their guest will be provided full passenger status.
Read the GUEST PRESENTER MANUAL for full details relating to this offer and what Princess Cruises will provide.
NO TRAVEL IS PROVIDED. You and your guest if you bring one will need to pay your own travel costs to meet the cruise.
Please submit your proposed talks along with your registration.
| | | |
| --- | --- | --- |
| Day 1 | EMBARK Southampton UK | |
| Day 2 | At sea | |
| Day 3 | At sea | |
| Day 4 | Cádiz (Seville) Spain | |
| Day 5 | At sea | |
| Day 6 | At sea | |
| Day 7 | Valletta Malta | |
| Day 8 | At sea | |
| Day 9 | Mykonos Greece | |
| Day 10 | Kusadasi (for Ephesus) Turkey | |
| Day 11 | Santorini, Thíra Greece | |
| Day 12 | At sea | |
| Day 13 | At sea | |
| Day 14 | Cartagena Spain | |
| Day 15 | At sea | |
| Day 16 | At sea | |
| Day 17 | At sea | |
| Day 18 | DISEMBARK Southampton UK | |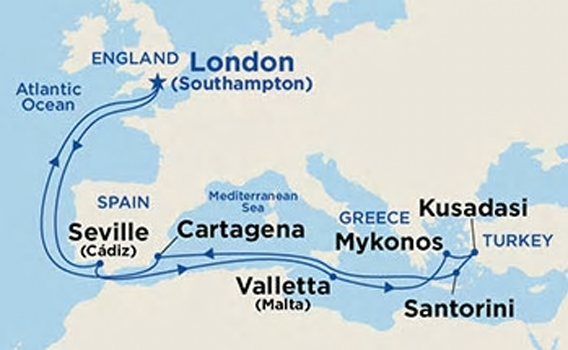 DISCLAIMER
This information has been compiled from various sources. Whilst every effort has been made to provide accurate information, the cruise lines can and do change their itineraries. Cruise Ship Speakers cannot be held liable for any inaccuracies that these programs may contain. Please refer to the up-to-date information provided by the cruise lines themselves. Please notify the Web Administrator if there are any inaccuracies.

Available Candidates
Click on the photo or name for full profile details.

The following people have indicated their availability for this cruise or sectors of this cruise.
The list is in ORDER by General Discipline (ie. Art Instructors, Bridge Directors, Craft Instructors, Destination Lecturers, Enrichment Speakers, etc).
Please contact the candidates directly if you would like to engage any of them. There are NO fees to do this.
Alternatively, we can arrange the bookings on your behalf. Please advise us of your choice(s) for this cruise.

Vickie Bowne
Destinations




Coming from:
Sydney Mines, Nova Scotia Canada

With a passion for travel and exploring the world, not only by seeing the sites but experiencing the people and the culture of a place, Vickie is able to provided a wealth of knowledge to assist the guests in getting a true feel of the places we will visit. Vickie's experience as a port lecturer, giving presentation on the ports that the ship visits, and providing detailed information about history, the people, food and drink, sites to see or basic practical information that every guest would find helpful is valuable. As an Enrichment Lecturer she makes the ports come alive with stories of the people, the music and dance, wildlife and history of the ports.


Michael Anderson
Marine Historian
BSc (Nautical Studies)



Coming from:
Haywards Heath., West Sussex UK

Michael first joined the merchant navy as a Deck Officer for both tankers and dry cargo ships before gaining his nautical studies degree. He went on to have a long career in Shipping Industry. On finally retiring he became involved with the Wey & Arun Canal Trust where he became treasurer as well as training skipper for the trip boats. Michael presents a series of lectures on maritime and merchant ship history.


Judith Cranswick
Crime Writer, Tutor & Destination Speaker




Coming from:
Swindon, - UK

Judith has two great passions – writing and travel. She has travelled extensively throughout Europe, China, Indochina and Japan, Asia, India, Africa and Central and South America. Judith is an award-winning novelist and author of the Fiona Mason Mysteries and several stand-alone psychological thrillers. Travel has always been the inspiration for Judith's novels. Judith is an experienced speaker and in addition to writing her novels, she now works part time teaching Tai Chi and cruise ship lecturing.


Mike Curtis
Maritime, Naval & World History
Life in a Submarine



Coming from:
Havant, Hampshire UK

Mike is an ex Royal Navy Officer who served for 22 years in both the surface and sub-surface Fleet. Mike joined from school as an Electrical Engineer Artificer Apprentice eventually specialising in Sonar and Gunnery systems. Following the Navy, Mike carried on his career in the Commercial World of manufacturing and Defence Research. He provides Guest Speaker services to the cruise industry and other interested shore based groups talking about all aspects of;submarines, maritime history, and geographical history of the planets oceans and surrounding countries.


Jean Fullerton
Social History & Creative Writing
MSc



Coming from:
Bedford, Bedfordshire UK

Jean was born and raised within the sound of Bow Bell's in East London where her family have been for almost two hundred years. She has spent most of her working life as a nurse in the East End of London, first as a Sister in charge of a team, and then as a District Nurse tutor. She started writing ten years ago and enjoys all eras of history but is fascinated by the 18th and 19th century and many of her books have been set in this period.


Roy Short
Hollywood and Genealogy




Coming from:
Brentwood, California USA

Roy Short is a retired Senior Manager of Deloitte Consulting who has spent the past thirty years studying and teaching genealogy. Upon retirement from corporate consulting he launched "Short On Time", a Professional Genealogy practice and has conducted seminars and workshops on a wide range of family search topics. Since then, his passion for motion pictures has prompted him to create a portfolio of "Tribute" modules which explore and explain different aspects of movie making, stars and genres. He now spends most of his time entertaining and educating cruise passengers in both Hollywood and Genealogy.