Enrichment Requirement

Cruise Itinerary


CRUISE ITINERARY - 3029 Canary Islands
Embarkation:
Southampton UK
Date: Saturday, September 26, 2020
Disembarkation:
Southampton UK
Date: Wednesday, October 7, 2020
No of Nights:
11

Speakers and Instructors who are available for this cruise should register their interest. No specific topics indicated.
| | | |
| --- | --- | --- |
| Day 1 | EMBARK Southampton UK | |
| Day 2 | At sea | |
| Day 3 | At sea | |
| Day 4 | At sea | |
| Day 5 | Las Palmas, Gran Canaria Spain | |
| Day 6 | Santa Cruz de Tenerife, Canary Islands Spain | |
| Day 7 | Arrecife, Lanzarote Spain | |
| Day 8 | Funchal Madeira | |
| Day 9 | At sea | |
| Day 10 | Vigo Spain | |
| Day 11 | At sea | |
| Day 12 | DISEMBARK Southampton UK | |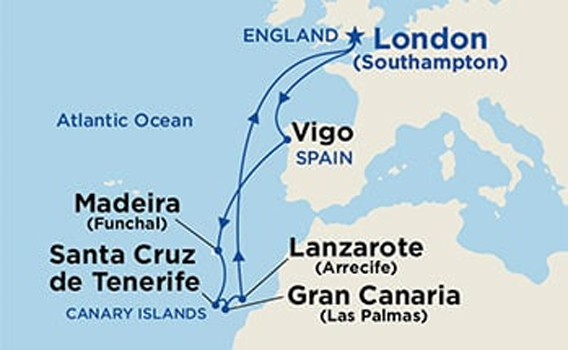 DISCLAIMER
This information has been compiled from various sources. Whilst every effort has been made to provide accurate information, the cruise lines can and do change their itineraries. Cruise Ship Speakers cannot be held liable for any inaccuracies that these programs may contain. Please refer to the up-to-date information provided by the cruise lines themselves. Please notify the Web Administrator if there are any inaccuracies.

Available Candidates
Click on the photo or name for full profile details.

The following people have indicated their availability for this cruise or sectors of this cruise.
The list is in ORDER by General Discipline (ie. Art Instructors, Bridge Directors, Craft Instructors, Destination Lecturers, Enrichment Speakers, etc).
Please contact the candidates directly if you would like to engage any of them. There are NO fees to do this.
Alternatively, we can arrange the bookings on your behalf. Please advise us of your choice(s) for this cruise.

John Douglas Chapman
WW2 Historian & Bletchley Park Expert
Welcome Host Gold : Tourism Marketing



Coming from:
Halesowen, West Midlands UK

Since 1992, John became a volunteer at Bletchley Park, the World War 2 home of the Code-Breakers, and founded the world famous Bletchley Park Post Office. John has been a Senior Tour Guide at Bletchley Park since 1998, entertaining thousands of visitors with anecdotes and revealing stories. As a member of the Guild of Battlefield Tour Guides, John assists the War Research Society with the Centenary Commemorative Tours in Belgium and France. His many lectures include WW2 Code-Breaking activities, Alan Turing, Winston Churchill, Women at War, Spies and Espionage and Ian Fleming.


Matt Costello
Novelist, Scriptwriter, Game Designer




Coming from:
Ossining, NY USA

Matthew Costello is an American horror, Gothic, and science fiction writer. His articles have appeared in publications including the Los Angeles Times and Sports Illustrated. He scripted Trilobyte's bestselling CD-ROM interactive dramas "The 7th Guest" and its sequel "The 11th Hour", as well as many other videogames. His innovative work includes ground-breaking and award-winning games, online destinations, novels, and television.


Paul Howard
Photography Tuition & Editing
B.F.P.



Coming from:
Fosters Booth, Northamptonshire UK

Whether guests use a mobile phone camera, or a semi professional camera, Paul has been helping improve their photography over more than a decade. He does this in a very down to earth, easy to understand way. With the use of Powerpoint displays or slide shows, Paul inspires the photographer's eye and mind to look at the ports that they are to encounter in a more artistic angle. Over his 36 years as a photographer he relates his Press experience in other talks that are of general interest to those that are not so much "into" photography they include Royalty, Pop stars & Politicians.


Patrick Keen
Explorer & Adventurer




Coming from:
Cowes, Isle of Wight UK

Patrick joined the Royal Hampshire Regiment (The Tigers) and so began his life of Exploration and Adventure. His first posting was to Georgetown Guyana, in 1961, where his platoon helped quell the riots on Black Friday. Following this Patrick lead an expedition through the unexplored Amazon Rain Forest and was the first team to reach the 800 ft. King George VI Falls over land, then thought to be the highest in the world. after leaving the Army he travelled worldwide demonstrating the Singlepoint gun sight. In his series of talks Patrick recounts his adventures.


Dr Tim Kimber
Medicine & Lifestyle




Coming from:
East Preston, West Sussex UK

A medical professional with more than three decades of experience working as a family Doctor, providing cradle to grave care, senior partner in a long established practiced in West Sussex on the South Coast of England. Now semi-retired, outside work, Tim spends much of his spare time cycling on the South downs in the UK or around the mountain ranges of Europe. He has a wide experience of public speaking. His series of lectures encompass a completely up to date and evidence-based appraisal of the most common medical conditions, debunking the myths and misconceptions often created by modern media.


Michael Lister
Naval Historian
Cert Ed, B.Ed(Hons) MA(Dunelm)



Coming from:
Hartlepool, Cleveland UK

Living close to the sea led Michael to develop a lifelong interest in all topics related to the sea. He is currently the Educational link with the trustees of H.M.S. Trincomalee the second oldest ship afloat which is berthed in Hartlepool. He has been an historian for over 40 years with wide ranging teaching experience in a number of educational establishments. A natural communicator Michael enjoys a wide variety of interests and gives a series of talks on naval history.


Robert Milne
Forensic Science & Celebrated Historical Cases
Former Scotland Yard Forensics Expert



Coming from:
Rayleigh, Essex UK

Robert Milne is a Forensic Expert with over 40 years' experience at Scotland Yard in the roles of Fingerprint Expert, Crime Scene Examiner (CSI), Crime Scene Coordinator (serious crime), Forensic Intelligence Manager (Head of Forensic Intelligence MIB). Currently he lectures on forensic science and works in Fire Investigation, dealing with Crown Court case reviews, cold case reviews, insurance casework and litigation casework. Since 2012, he has been an enrichment lecturer, presenting on the topics of forensic science and historical celebrated cases. He has a friendly style as a presenter and likes to build a rapport with audiences.


Michael Kerry White
Film Actor, Author, Singer, International business




Coming from:
High Wycombe, Bucks UK

Michael was born outside Cardiff in the UK but now lives near London. For 30 years his working life was as a highly successful International Sales Director and CEO travelling the world presenting, working in and visiting many diverse countries and cultures. At the end of 2011 he decided to hand in his Frequent flyer cards and retire. This didn't last very long because by a series of accidents and good fortune he has become a multi-award winning character and comedic actor and author. Michael is highly sought after and accomplished speaker and presenter, who is enjoyed by audiences from all around the world.