Enrichment Requirement

Cruise Itinerary


CRUISE ITINERARY - 3022 Baltic Heritage
Embarkation:
Southampton UK
Date: Saturday, July 11, 2020
Disembarkation:
Southampton UK
Date: Saturday, July 25, 2020
No of Nights:
14

An Enrichment Speaker is required who can provide 4 Powerpoint presentations, preferably related to the history of the ports and/or the region being visited during the cruise.
This is a SpeaknSave cruise offer meaning that a small booking administration fee will apply for the successful applicant.
Cabin provided will be an Officer (Fleet) Cabin located in a crew area with either bunk beds or a double bed depending upon availability at time of sailing (to be advised).
Bring a guest FREE OF CHARGE, twin share basis. Your guest will be required to pay a daily gratuity fee of USD$14.50.
The successful applicant and their guest will be provided full passenger status.
Read the GUEST PRESENTER MANUAL for full details relating to this offer and what Princess Cruises will provide.
NO TRAVEL IS PROVIDED. You and your guest if you bring one will need to pay your own travel costs to meet the cruise.
Please submit your proposed talks along with your registration.
| | | |
| --- | --- | --- |
| Day 1 | EMBARK Southampton UK | |
| Day 2 | At sea | |
| Day 3 | At sea | |
| Day 4 | Gdansk Poland | |
| Day 5 | Visby Sweden | |
| Day 6 | Stockholm Sweden | |
| Day 7 | Tallinn Estonia | |
| Day 8 | St Petersburg Russia | |
| Day 9 | St Petersburg Russia | |
| Day 10 | Helsinki Finland | |
| Day 11 | At sea | |
| Day 12 | Copenhagen Denmark | |
| Day 13 | Kristiansand Norway | |
| Day 14 | At sea | |
| Day 15 | DISEMBARK Southampton UK | |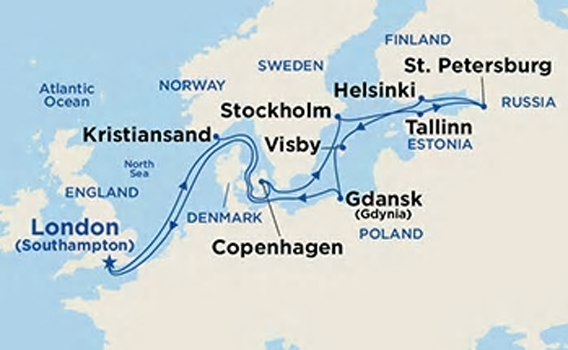 DISCLAIMER
This information has been compiled from various sources. Whilst every effort has been made to provide accurate information, the cruise lines can and do change their itineraries. Cruise Ship Speakers cannot be held liable for any inaccuracies that these programs may contain. Please refer to the up-to-date information provided by the cruise lines themselves. Please notify the Web Administrator if there are any inaccuracies.

Available Candidates
Click on the photo or name for full profile details.

The following people have indicated their availability for this cruise or sectors of this cruise.
The list is in ORDER by General Discipline (ie. Art Instructors, Bridge Directors, Craft Instructors, Destination Lecturers, Enrichment Speakers, etc).
Please contact the candidates directly if you would like to engage any of them. There are NO fees to do this.
Alternatively, we can arrange the bookings on your behalf. Please advise us of your choice(s) for this cruise.

| | | |
| --- | --- | --- |
| | | Jeremy has spent the last 25 years as an IT Training Consultant working on Microsoft Office products and large Finance/ERP systems. He was born in Accra, Ghana and spent the first ten years of his life there, in South Africa, Nigeria and Kenya where his father was in the Colonial Services. He has travelled extensively throughout the world having visited over 70 countries. Jeremy has recently completed a 3 day Destination Speaker Course in the UK and is building his destination presentation portfolio. |


Judith Cranswick
Crime Writer, Tutor & Destination Speaker




Coming from:
Swindon, - UK

Judith has two great passions – writing and travel. She has travelled extensively throughout Europe, China, Indochina and Japan, Asia, India, Africa and Central and South America. Judith is an award-winning novelist and author of the Fiona Mason Mysteries and several stand-alone psychological thrillers. Travel has always been the inspiration for Judith's novels. Judith is an experienced speaker and in addition to writing her novels, she now works part time teaching Tai Chi and cruise ship lecturing.


Simon Fris
Sciences, Energy & Ship Technology
MSc, MIMarE



Coming from:
's-Hertogenbosch, NBrabant Netherlands

Simon is fascinated by the decisive role of energy in every person's life, from personal comfort up to society's economic development and world spanning environmental effects. He graduated in power generation and subsequently spent over 40 years in major energy related companies. Next to Dutch, he is fluent in English and German, speaks French and some Spanish. Although new to cruise ship speaking, he is a regular speaker at professional seminars, and is known for his unconventional approach and humor to arouse and hold the interest of the audience.


Lennart Resenbro
Science, Navigation and History
Scandinavia, Baltic & Arctic Regions



Coming from:
Vallensbaek Strand, Denmark

Lennart has sailed the seven seas as an officer before becoming a Naval Architect. He is now educating future officers of the Royal Danish Navy in their role as navigators. Believing that learning should be fun he is more of a performer than a traditional lecturer, and always wants his audiences to take part or gain some hands-on experience from his talks. Topics would be on Navigation combined with Astronomy, Arctic navigation in combination with great Arctic explorers, modern Ship construction and Naval History especially in the North Sea and Baltic region.


Roy Short
Hollywood and Genealogy




Coming from:
Brentwood, California USA

Roy Short is a retired Senior Manager of Deloitte Consulting who has spent the past thirty years studying and teaching genealogy. Upon retirement from corporate consulting he launched "Short On Time", a Professional Genealogy practice and has conducted seminars and workshops on a wide range of family search topics. Since then, his passion for motion pictures has prompted him to create a portfolio of "Tribute" modules which explore and explain different aspects of movie making, stars and genres. He now spends most of his time entertaining and educating cruise passengers in both Hollywood and Genealogy.


David Sibbald
British & American Entertainment




Coming from:
2 Leeds Road, Harrogate UK

A Scot from Edinburgh, David started his career in the Newsroom at Radio Clyde in Glasgow after university, but the lure of teaching Spanish, Russian, Portuguese and French was too great to resist. He later owned his own restaurant in Harrogate, but returned to teaching until his retirement. Since then David has worked on local radio and the internet, providing programmes on music from the 40s, 50s, 60s, 70s and a recent interest – country music. David loves meeting people from all walks of life and is frequently invited to talk to groups locally and on cruises.


Rina Tillinger
Anglo-American History
Serious with a Splash of Humour



Coming from:
Mickle Trafford, Chester UK

From the Midwest US and the Northwest UK, Rina Tillinger speaks on Anglo-American history with a dash of culture-clash comedy. She is the female Bill Bryson! Rina wrote a weekly humour column called Yankee Doodles about amusing differences between America and Britain in The Chester Chronicle. An accomplished paper and fabric cutter, she also makes unique cards, coasters, pictures, earrings, mounts and scarves. Rina regularly gives talks to the Cheshire Women's Institute, U3A, Rotary Club, Inner Wheel and Probus Club.


Michael Tribe
Science & Sports History
BSc., PhD, PGCE, C.Biol. FRSB



Coming from:
Eastbourne, East Sussex UK

Mike Tribe attended both Durham & Cambridge universities as a student, followed by 3 years as Head of Biology at a London school, before taking up a Lectureship at Sussex University. Mike has always enjoyed the challenges of teaching, especially communicating difficult scientific ideas in ways understandable to non-scientists. He was elected a Fellow of the Royal Society of Biology in 1978 and given an award for Excellence in Teaching by Sussex Alumni Society in 1999. He loves talking about most sports and was a County athlete and Cambridge Blue in his youth.


Sidney Wartel
World Affairs, International Law, Engineering & Technology,




Coming from:
Delray Beach, Florida USA

Sidney Wartel is an attorney and a registered Professional Engineer with engineering and management degrees. He was an Adjunct Professor for over 20 years, a Law School Lecturer, and a frequent guest speaker worldwide; speaking at such diverse venues as the World Trade institute, Chinese education centers, a Turkish University and an Israeli Engineering Society conference as well as U.S. professional and social venues. Sidney provides a series of talks on the history of laws and treaties for destinations as well as science and engineering subjects related to destinations.