Enrichment Requirement

Cruise Itinerary


CRUISE ITINERARY - 3019 Land of the Midnight Sun
Embarkation:
Southampton UK
Date: Saturday, June 13, 2020
Disembarkation:
Southampton UK
Date: Saturday, June 27, 2020
No of Nights:
14

An Enrichment Speaker is required who can provide 4 Powerpoint presentations, preferably related to the history of the ports and/or the region being visited during the cruise.
This is a SpeaknSave cruise offer meaning that a small booking administration fee will apply for the successful applicant.
Cabin provided will be an Officer (Fleet) Cabin located in a crew area with either bunk beds or a double bed depending upon availability at time of sailing (to be advised).
Bring a guest FREE OF CHARGE, twin share basis. Your guest will be required to pay a daily gratuity fee of USD$14.50.
The successful applicant and their guest will be provided full passenger status.
Read the GUEST PRESENTER MANUAL for full details relating to this offer and what Princess Cruises will provide.
NO TRAVEL IS PROVIDED. You and your guest if you bring one will need to pay your own travel costs to meet the cruise.
Please submit your proposed talks along with your registration.
| | | |
| --- | --- | --- |
| Day 1 | EMBARK Southampton UK | |
| Day 2 | At sea | |
| Day 3 | Stavanger Norway | |
| Day 4 | Flåm Norway | |
| Day 5 | Olden Norway | |
| Day 6 | Trondheim Norway | |
| Day 7 | At sea | |
| Day 8 | Honningsvag Norway | |
| Day 9 | Tromsø Norway | |
| Day 10 | Lofoten Islands Norway | |
| Day 11 | At sea | |
| Day 12 | Åndalsnes Norway | |
| Day 13 | Bergen Norway | |
| Day 14 | At sea | |
| Day 15 | DISEMBARK Southampton UK | |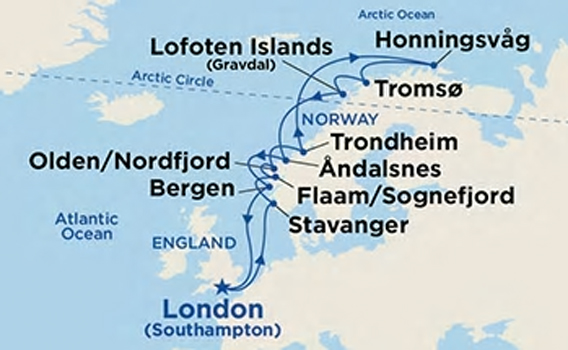 DISCLAIMER
This information has been compiled from various sources. Whilst every effort has been made to provide accurate information, the cruise lines can and do change their itineraries. Cruise Ship Speakers cannot be held liable for any inaccuracies that these programs may contain. Please refer to the up-to-date information provided by the cruise lines themselves. Please notify the Web Administrator if there are any inaccuracies.

Available Candidates
Click on the photo or name for full profile details.

The following people have indicated their availability for this cruise or sectors of this cruise.
The list is in ORDER by General Discipline (ie. Art Instructors, Bridge Directors, Craft Instructors, Destination Lecturers, Enrichment Speakers, etc).
Please contact the candidates directly if you would like to engage any of them. There are NO fees to do this.
Alternatively, we can arrange the bookings on your behalf. Please advise us of your choice(s) for this cruise.

| | | |
| --- | --- | --- |
| | | Kathy gained a Doctorate in Agricultural History & Ecological Management, from Imperial College London, in 2004. She has many year's experience both as a civil servant and in private consultancy, organising lectures, activity workshops and study trips in England. Kathy is a member of the Speakers Club of Great Britain and is also an experienced destination lecturer. She has a passion for travel, meeting new people and seeing new places. Kathy has a range of Presentations on; Destinations, British traditions, and the countryside, which can be tailored to destinations or seasons as required. |


Anthony Babb
International Guest Speaker & Author
WW1, Royal Navy, Norway, Wildlife, Photograpy, Author



Coming from:
Romsey, Hampshire UK

Tony served for 23 years in the Royal Navy as a weapons systems engineer and is a 1982 Falkland's veteran. The award of the British Empire Medal in the 1988 New Year's Honours List for services to the Royal Navy was the pinnacle of his career. His seagoing service saw him on 6 different warships including HMS Sheffield. His stories about life in the Royal Navy use many of his own photographs, along with memories from a varied career, to give a personal insight into the Royal Navy. These include details about the loss of HMS Sheffield, Captain Salt's return to the Falklands on HMS Southampton and weapons systems performance in the war.


Sue Baic
Nutrition Scientist and Dietitian
MSc RD. Nutritionist & Dietitian. Author of Nutrition For Dummies



Coming from:
Bristol, Avon UK

Sue is an experienced cruise enrichment speaker in nutrition and health with over 30 years' work experience in the NHS, Public Health and teaching at the University of Bristol. She is noted for her lively, interactive and entertaining lecturing which brings the local world of food and nutrition on board. Sue has worked as a guest speaker in the US, the Caribbean, Scandinavia, the Mediterranean, the Far East and Australia. She can provide a tailored enrichment programme with broad appeal to those interested in nutrition, health and positive ageing to enhance passenger experience.


Jeff Chandler
Military Historian
C.Eng



Coming from:
Swindon, Wiltshire UK

Jeff trained as a Mechanical Engineer and qualified as a Chartered Engineer. He initially served in the RAF and later spent 23 years teaching at the Defence Academy where he developed a passion for WW2 having met many senior military commanders. On retirement he became a Battlefield Tour Guide for two leading tour operators escorting groups to Normandy, Arnhem and the sites of the Dambuster Raid. Since retirement he regularly gives well informed and well balanced talks on WW2.


John Douglas Chapman
WW2 Historian & Bletchley Park Expert
Welcome Host Gold : Tourism Marketing



Coming from:
Halesowen, West Midlands UK

Since 1992, John became a volunteer at Bletchley Park, the World War 2 home of the Code-Breakers, and founded the world famous Bletchley Park Post Office. John has been a Senior Tour Guide at Bletchley Park since 1998, entertaining thousands of visitors with anecdotes and revealing stories. As a member of the Guild of Battlefield Tour Guides, John assists the War Research Society with the Centenary Commemorative Tours in Belgium and France. His many lectures include WW2 Code-Breaking activities, Alan Turing, Winston Churchill, Women at War, Spies and Espionage and Ian Fleming.


| | | |
| --- | --- | --- |
| | | Michael Chriss has spent a lifetime in teaching and popularizing science through public lectures and planetarium programs. He was Professor of Astronomy and Humanities at the College of San Mateo, and its Planetarium Director. He received his degrees in astronomy at the University of Arizona with further studies in History of Art and Science at Berkeley, Stanford, and Oxford University. Since 1985, when Halley's Comet appeared in the skies, he has lectured aboard cruise ships on astronomy and other topics. He currently is Associate Lecturer in Astronomy at the University of Arizona.University of Arizona. |


Judith Cranswick
Crime Writer, Tutor & Destination Speaker




Coming from:
Swindon, - UK

Judith has two great passions – writing and travel. She has travelled extensively throughout Europe, China, Indochina and Japan, Asia, India, Africa and Central and South America. Judith is an award-winning novelist and author of the Fiona Mason Mysteries and several stand-alone psychological thrillers. Travel has always been the inspiration for Judith's novels. Judith is an experienced speaker and in addition to writing her novels, she now works part time teaching Tai Chi and cruise ship lecturing.


Simon Fris
Sciences, Energy & Ship Technology
MSc, MIMarE



Coming from:
's-Hertogenbosch, NBrabant Netherlands

Simon is fascinated by the decisive role of energy in every person's life, from personal comfort up to society's economic development and world spanning environmental effects. He graduated in power generation and subsequently spent over 40 years in major energy related companies. Next to Dutch, he is fluent in English and German, speaks French and some Spanish. Although new to cruise ship speaking, he is a regular speaker at professional seminars, and is known for his unconventional approach and humor to arouse and hold the interest of the audience.


Lennart Resenbro
Science, Navigation and History
Scandinavia, Baltic & Arctic Regions



Coming from:
Vallensbaek Strand, Denmark

Lennart has sailed the seven seas as an officer before becoming a Naval Architect. He is now educating future officers of the Royal Danish Navy in their role as navigators. Believing that learning should be fun he is more of a performer than a traditional lecturer, and always wants his audiences to take part or gain some hands-on experience from his talks. Topics would be on Navigation combined with Astronomy, Arctic navigation in combination with great Arctic explorers, modern Ship construction and Naval History especially in the North Sea and Baltic region.


Dr John Robson
Dental Forensics, General Forensics, Historical True Crime




Coming from:
Evercreech, Somerset UK

Dr John Robson is one of the most experienced forensic odontologists in the world. He began his career in dental practice, then obtained Forensic Dentistry & Forensic Human Identification diplomas and specialised in disaster management. He is still active, working as a consultant for police, coroners, lawyers and other agencies as an investigator and is past President of the British Association for Forensic Dentistry. John has appeared on the Crimewatch TV program and lectures both in UK and abroad to many different specialities including criminologists, anthropologists and to lay groups on forensic science and historical true crime.