Enrichment Requirement

Cruise Itinerary


CRUISE ITINERARY - 3010 Spanish Passage
Embarkation:
Fort Lauderdale, Florida USA
Date: Thursday, March 26, 2020
Disembarkation:
Barcelona Spain
Date: Saturday, April 11, 2020
No of Nights:
16

An Enrichment Speaker is required who can provide 9 Powerpoint presentations, preferably some related to the itinerary.
This is a SpeaknSave cruise offer meaning that a small booking administration fee will apply for the successful applicant.
Cabin provided will be an Officer (Fleet) Cabin located in a crew area with either bunk beds or a double bed depending upon availability at time of sailing (to be advised).
Bring a guest FREE OF CHARGE, twin share basis. Your guest will be required to pay a daily gratuity fee of USD$14.50.
The successful applicant and their guest will be provided full passenger status.
Read the GUEST PRESENTER MANUAL for full details relating to this offer and what Princess Cruises will provide.
NO TRAVEL IS PROVIDED. You and your guest if you bring one will need to pay your own travel costs to meet the cruise.
Please submit your proposed talks along with your registration.
| | | |
| --- | --- | --- |
| Day 1 | EMBARK Fort Lauderdale, Florida USA | |
| Day 2 | At sea | |
| Day 3 | At sea | |
| Day 4 | At sea | |
| Day 5 | At sea | |
| Day 6 | At sea | |
| Day 7 | At sea | |
| Day 8 | Ponta Delgada Azores | |
| Day 9 | At sea | |
| Day 10 | At sea | |
| Day 11 | Casablanca Morocco | |
| Day 12 | Cádiz (Seville) Spain | |
| Day 13 | Gibraltar | |
| Day 14 | Malaga (Granada) Spain | |
| Day 15 | At sea | |
| Day 16 | Palma, Majorca Spain | |
| Day 17 | DISEMBARK Barcelona Spain | |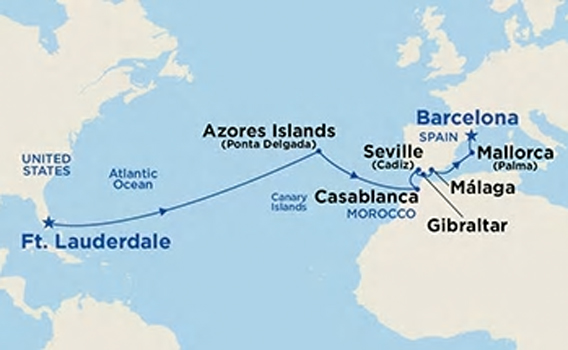 DISCLAIMER
This information has been compiled from various sources. Whilst every effort has been made to provide accurate information, the cruise lines can and do change their itineraries. Cruise Ship Speakers cannot be held liable for any inaccuracies that these programs may contain. Please refer to the up-to-date information provided by the cruise lines themselves. Please notify the Web Administrator if there are any inaccuracies.

Available Candidates
Click on the photo or name for full profile details.

The following people have indicated their availability for this cruise or sectors of this cruise.
The list is in ORDER by General Discipline (ie. Art Instructors, Bridge Directors, Craft Instructors, Destination Lecturers, Enrichment Speakers, etc).
Please contact the candidates directly if you would like to engage any of them. There are NO fees to do this.
Alternatively, we can arrange the bookings on your behalf. Please advise us of your choice(s) for this cruise.

Nitza Lowenstein
Radio Personality, Journalist, Historian & Speaker
BA, MA, MBA



Coming from:
Killara, Sydney, NSW Australia

Nitza who has an incredible career, is a radio personality, journalist, historian & dynamic Public Speaker. With her topics that are tailored to the cruise itinerary & demographics she aims to enhance the cruise experience for the passengers. Her specialty is nostalgic Hollywood golden Age & Rock 'n' Roll era. Her other strong interest & forte is the Digital Age Revolution & Social Media. As an historian & avid traveller she enjoys sharing her wealth of knowledge about destinations & ports..


Bob Collins
Materials, Science, Maritime History




Coming from:
Preston, Lancashire UK

Bob Collins (B.SC, MBA) is a graduate metallurgist and businessman with over thirty years professional experience working in the UK and internationally. Bob has developed his portfolio of entertaining and informative talks based on a deep interest in both maritime history and the influence of materials on the world of today. Bob is also an adult fan of LEGO and uses this to add character, a little humour and discussion topics to a relaxed and note free style of presentation.


Matt Costello
Novelist, Scriptwriter, Game Designer




Coming from:
Ossining, NY USA

Matthew Costello is an American horror, Gothic, and science fiction writer. His articles have appeared in publications including the Los Angeles Times and Sports Illustrated. He scripted Trilobyte's bestselling CD-ROM interactive dramas "The 7th Guest" and its sequel "The 11th Hour", as well as many other videogames. His innovative work includes ground-breaking and award-winning games, online destinations, novels, and television.


| | | |
| --- | --- | --- |
| | | Dr. Gary Koverman is a forensic scientist and has worked for over 30 years in forensic laboratories in Ohio, Colorado and New Mexico. He has examined many world class crimes and is still working in his own private business in New Mexico. His expertise in a wide variety of forensic fields gives depth and understanding to many forms of physical evidence. Gary has lectured various law enforcement police agencies in the area of forensic science and has taught at universities in Ohio, Colorado, and New Mexico. He is also a great student of history and enjoys seeking out relevant historical events with a fresh forensic perspective for his talks. |


Michael Lister
Naval Historian
Cert Ed, B.Ed(Hons) MA(Dunelm)



Coming from:
Hartlepool, Cleveland UK

Living close to the sea led Michael to develop a lifelong interest in all topics related to the sea. He is currently the Educational link with the trustees of H.M.S. Trincomalee the second oldest ship afloat which is berthed in Hartlepool. He has been an historian for over 40 years with wide ranging teaching experience in a number of educational establishments. A natural communicator Michael enjoys a wide variety of interests and gives a series of talks on naval history.


Elisha Saffer
Maritime History, Oceanography, History, Culture




Coming from:
West Palm Beach, Florida USA

Al's background is a mixture of science, economics, technology and education. Al was an electronics instructor while in the U.S. Air Force, a Programing Instructor at New York University, and a Computer Systems Engineer and Instructor at IBM. Over a period of 10 summers Al has given a variety of enrichment lectures at Sunrise Senior College which is associated with the University of Maine. He has provided enrichment lectures on nine different cruises for four different cruise lines and his penchant for research enables him to give presentations across a wide range of subjects.


John Thomas
Motion Pictures and Television
Producer/Director/Professor; Feature Films, Documentaries, Celebs



Coming from:
Houston, Texas USA

John has worked 45 years in Hollywood, including the production of nearly 40 documentaries, commercials and 7 feature films as producer/director/writer and editor. He has worked at the major Hollywood studios, and directed many well-known stars. As a stand up comedian, John peppers his movie presentations with his trademark, easy-going and unassuming observational humor. Unlike other speakers who just talk about movies, John is an actual movie maker who can authoritatively answer audience questions, and provide honest answers along with real world illustrations and examples.


David Wiemers
Hollywood Expert; Destination Lectures




Coming from:
Fort Lauderdale, Florida USA

Emmy award-winning writer, producer, and voice director, David Wiemers had a grand career in Hollywood spanning more than 3 decades. As a professional member of the National Speakers Association and Distinguished Toastmaster, the highest honor given by the organization, Wiemers has regaled audiences throughout the US, Canada, the United Kingdom, and Europe. As a comedy writer, he knows how to engage and entertain an audience. Wiemers' career gave him the opportunity to travel the world. Now audiences get to see the world and it's unique destinations through the eyes of a Hollywood professional: What is the destination's story? What is its character? What makes it tick?


Dr Karen Woodman
Destination History & Culture
B.Sc., M.A., Ph.D.



Coming from:
Brisbane, Queensland Australia

Dr Karen Woodman is a retired university professor, who is an entertaining cruise enrichment speaker on topics such as history, education, street art, culture, dance, language, and food as they relate to cruise destinations. Karen is also an avid social dancer who enjoys sharing her love of dance, the benefits of social dance, and the mind-body connection. She has traveled extensively, including North and South America, the South Pacific, Australia and New Zealand, the Caribbean, Cuba, Europe, Scandinavia, and South-East Asia.