Enrichment Requirement

Cruise Itinerary


CRUISE ITINERARY - 3924 British Isles (with Liverpool) Cruise
Embarkation:
Southampton UK
Date: Tuesday, September 10, 2019
Disembarkation:
Southampton UK
Date: Sunday, September 22, 2019
No of Nights:
12

An Enrichment Speaker is required who can provide 4 Powerpoint presentations, preferably related to the itinerary. Preference will be given to speakers who can speak on topics such as the Titanic, The Beatles, Celtic & UK History, The Royals, etc.
This is a SpeaknSave cruise offer meaning that a small booking administration fee will apply for the successful applicant.
Cabin provided will be an Officer (Fleet) Cabin located in a crew area with either bunk beds or a double bed depending upon availability at time of sailing (to be advised).
Bring a guest FREE OF CHARGE, twin share basis. Your guest will be required to pay a daily gratuity fee of USD$13.50.
The successful applicant and their guest will be provided full passenger status.
Read the GUEST PRESENTER MANUAL for full details relating to this offer and what Princess Cruises will provide.
Please submit your proposed talks along with your registration.
| | | |
| --- | --- | --- |
| Day 1 | EMBARK Southampton UK | |
| Day 2 | St Peter Port Guernsey | |
| Day 3 | Cork (from Cobh) Ireland | |
| Day 4 | Dublin Ireland | |
| Day 5 | Liverpool UK | |
| Day 6 | Belfast, Northern Ireland UK | |
| Day 7 | Greenock (Glasgow), Scotland UK | |
| Day 8 | At sea | |
| Day 9 | Invergordon, Scotland UK | |
| Day 10 | Edinburgh (from South Queensferry) UK | |
| Day 11 | At sea | |
| Day 12 | Le Havre France | |
| Day 13 | DISEMBARK Southampton UK | |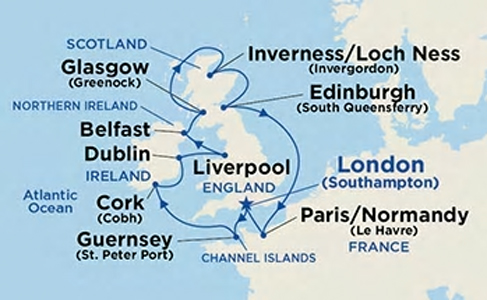 DISCLAIMER
This information has been compiled from various sources. Whilst every effort has been made to provide accurate information, the cruise lines can and do change their itineraries. Cruise Ship Speakers cannot be held liable for any inaccuracies that these programs may contain. Please refer to the up-to-date information provided by the cruise lines themselves. Please notify the Web Administrator if there are any inaccuracies.

Available Candidates
Click on the photo or name for full profile details.

The following people have indicated their availability for this cruise or sectors of this cruise.
The list is in ORDER by General Discipline (ie. Art Instructors, Bridge Directors, Craft Instructors, Destination Lecturers, Enrichment Speakers, etc).
Please contact the candidates directly if you would like to engage any of them. There are NO fees to do this.
Alternatively, we can arrange the bookings on your behalf. Please advise us of your choice(s) for this cruise.

Patrick Cherry
Destination & Enrichment Lecturer
Former Marketing Director, Page & Moy



Coming from:
Mansfield, Nottinghamshire UK

Patrick spent 15 years with Page & Moy, latterly as their Marketing Director responsible for developing their land-based holidays. In 1992 he became deeply involved in establishing their Cruise business, which developed into a major part of the Group's activity. Widely travelled, he has visited all major continents with the exception of Antarctica, and is particularly familiar with Scandinavia, the Baltic, UK/Ireland, the Far East and the Mediterranean/Atlantic Islands. An accomplished and experienced presenter, he delivers well constructed, professional 'Powerpoint' presentations embelished with his own photographs.


Paul Brown
Maritime Historian & Author




Coming from:
Welford, Northamptonshire UK

Dr Paul Brown is a maritime history author and speaker. He is a consultant to National Historic Ships, the UK's authority on the preservation of historic ships and boats, and a maritime photographer. A member of the Society for Nautical Research, he was until recently a university lecturer and senior university manager, and has also lectured at the National Maritime Museum, Greenwich.


Edward Butler
History, Genealogy, Law & Travel
Award winning author of history/genealogy/family history books



Coming from:
San Antonio, Texas USA

Judge Ed Butler was a Ford Foundation Scholar at Vanderbilt University School of Law, where he graduated with honors. For many years he was a Board Certified Civil Trial Attorney by both the Texas and National Boards. He is a retired federal judge; retired Naval Intelligence Commander; & former law school professor. His honors include the DAR Medal of Honor, SAR Gold Good Citizenship Medal, and he was selected to the Texas Genealogical Hall of Fame. He's listed in Who's Who in America & Who's Who in the World. He is a world traveler who has visited over 200 countries.


John Douglas Chapman
WW2 Historian & Bletchley Park Expert
Welcome Host Gold : Tourism Marketing



Coming from:
Halesowen, West Midlands UK

Since 1992, John became a volunteer at Bletchley Park, the World War 2 home of the Code-Breakers, and founded the world famous Bletchley Park Post Office. John has been a Senior Tour Guide at Bletchley Park since 1998, entertaining thousands of visitors with anecdotes and revealing stories. As a member of the Guild of Battlefield Tour Guides, John assists the War Research Society with the Centenary Commemorative Tours in Belgium and France. His many lectures include WW2 Code-Breaking activities, Alan Turing, Winston Churchill, Women at War, Spies and Espionage and Ian Fleming.


Matt Costello
Novelist, Scriptwriter, Game Designer




Coming from:
Ossining, NY USA

To be provided


Mike Curtis
Maritime, Naval & World History
Life in a Submarine



Coming from:
Havant, Hampshire UK

Mike is an ex Royal Navy Officer who served for 22 years in both the surface and sub-surface Fleet. Mike joined from school as an Electrical Engineer Artificer Apprentice eventually specialising in Sonar and Gunnery systems. Following the Navy, Mike carried on his career in the Commercial World of manufacturing and Defence Research. He provides Guest Speaker services to the cruise industry and other interested shore based groups talking about all aspects of;submarines, maritime history, and geographical history of the planets oceans and surrounding countries.


Graham Hoyle
Murder Mystery Events Organiser




Coming from:
Ringwood, Hampshire UK

After retiring from a long career in the police force, Graham wanted to start a new career that was both entertaining and enjoyable, so "Catch the Killer" was born. Graham has written over eighteen original story lines that can be adapted to specific ships, cruise companies, captains or even specific passengers. The event is interactive, engaging and a lot of fun for the passengers who will find that working in small teams helps their thinking and leads to creating new friendships and contacts on board the ship.


Roy Short
Hollywood and Genealogy




Coming from:
Brentwood, California USA

Roy Short is a retired Senior Manager of Deloitte Consulting who has spent the past thirty years studying and teaching genealogy. Upon retirement from corporate consulting he launched "Short On Time", a Professional Genealogy practice and has conducted seminars and workshops on a wide range of family search topics. Since then, his passion for motion pictures has prompted him to create a portfolio of "Tribute" modules which explore and explain different aspects of movie making, stars and genres. He now spends most of his time entertaining and educating cruise passengers in both Hollywood and Genealogy.


Ken Verderame
Astronomy & Space Travel




Coming from:
Indialantic, Florida USA

Col Verderame is currently the Director of the Joint STARS Combined Test Force at Patrick Air Force Base. He is a graduate of the US Air Force Test Pilot School and has flown in 56 different aircraft. While on active duty he was a NASA flight control & propulsion astronaut instructor, teaching astronauts to fly the Space Shuttle. While new to cruise ship enrichment lecturing, Col Verderame has been public speaking for over 25 years to a diverse group of audiences from Astronauts to students and community groups with a down-to-earth, engaging style that takes complex subjects and makes them easily understandable to anyone.


Michael Kerry White
Film Actor, Author, Singer, International business




Coming from:
High Wycombe, Bucks UK

Michael was born outside Cardiff in the UK but now lives near London. For 30 years his working life was as a highly successful International Sales Director and CEO travelling the world presenting, working in and visiting many diverse countries and cultures. At the end of 2011 he decided to hand in his Frequent flyer cards and retire. This didn't last very long because by a series of accidents and good fortune he has become a multi-award winning character and comedic actor and author. Michael is highly sought after and accomplished speaker and presenter, who is enjoyed by audiences from all around the world.


John Wilcock
Archaeology, History, Science & Computing
MA(Oxon), BSc, PhD, CEng, FIET, FBCS, CITP



Coming from:
Stafford, Staffordshire UK

Dr John Wilcock read Physics at Oxford University then worked for 7 years as an Engineer in the computer industry (1st and 2nd generations), before entering academia in 1969. He was one of the first world practitioners in Computer Archaeology (the application of computers to archaeological research). Categories include Archaeology, Egyptology, History, Computing, Espionage, Codes & ciphers, Science, Geology and Music. See full profile for suggested list of stand-alone and destination-based topics.