Enrichment Requirement

Cruise Itinerary


CRUISE ITINERARY - JU201108 Southern Atlantic Crossing
Embarkation:
Barcelona Spain
Date: Sunday, November 8, 2020
Disembarkation:
Buenos Aires Argentina
Date: Sunday, November 29, 2020
No of Nights:
21

Only Speakers focusing on History who can relate their talks to the itinerary and ports of call should register their interest.
Please submit your proposed lecture topics for consideration. Ideally you should list 4 talks including a title and short synopsis.
| | | |
| --- | --- | --- |
| Day 1 | EMBARK Barcelona Spain | |
| Day 2 | Barcelona Spain | |
| Day 3 | At sea | |
| Day 4 | Malaga (Granada) Spain | |
| Day 5 | Casablanca Morocco | |
| Day 6 | At sea | |
| Day 7 | At sea | |
| Day 8 | At sea | |
| Day 9 | Dakar Senegal | |
| Day 10 | At sea | |
| Day 11 | At sea | |
| Day 12 | At sea | |
| Day 13 | At sea | |
| Day 14 | Recife Brazil | |
| Day 15 | At sea | |
| Day 16 | At sea | |
| Day 17 | Rio de Janeiro Brazil | |
| Day 18 | At sea | |
| Day 19 | At sea | |
| Day 20 | Montevideo Uruguay | |
| Day 21 | Buenos Aires Argentina | |
| Day 22 | DISEMBARK Buenos Aires Argentina | |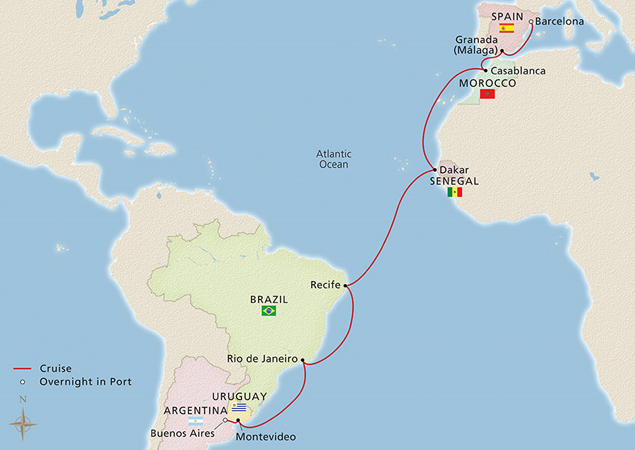 DISCLAIMER
This information has been compiled from various sources. Whilst every effort has been made to provide accurate information, the cruise lines can and do change their itineraries. Cruise Ship Speakers cannot be held liable for any inaccuracies that these programs may contain. Please refer to the up-to-date information provided by the cruise lines themselves. Please notify the Web Administrator if there are any inaccuracies.

Available Candidates
Click on the photo or name for full profile details.

The following people have indicated their availability for this cruise or sectors of this cruise.
The list is in ORDER by General Discipline (ie. Art Instructors, Bridge Directors, Craft Instructors, Destination Lecturers, Enrichment Speakers, etc).
Please contact the candidates directly if you would like to engage any of them. There are NO fees to do this.
Alternatively, we can arrange the bookings on your behalf. Please advise us of your choice(s) for this cruise.

Dr Carin Bondar
Nature, Wildlife & Biology




Coming from:
Chilliwack, British Columbia Canada

Dr. Carin Bondar is a biologist, author, TV host and public speaker from British Columbia Canada. She is an accomplished science storyteller, with a number of television credits including National Geographic, The Discovery Channel and The Science Channel. Dr. Bondar is writer and host of the online smash hit series 'Wild Sex', which has amassed over 100,000,000 views. In addition to her media work, Bondar is also an adventurer and naturalist. This allows her to craft lecture performances that are specific to any region of the world, any ecosystem or any specific port destination.


Bob Collins
Maritime History, Science & Destinations




Coming from:
Preston, Lancashire UK

Bob Collins (B.SC, MBA) is a graduate metallurgist and businessman with over thirty years professional experience working in the UK and internationally. Bob has developed his portfolio of entertaining and informative talks based on a deep interest in both maritime history and the influence of materials on the world of today. Bob is also an adult fan of LEGO and uses this to add character, a little humour and discussion topics to a relaxed and note free style of presentation.


Graham Hoyle
Murder Mystery Events Organiser




Coming from:
Ringwood, Hampshire UK

After retiring from a long career in the police force, Graham wanted to start a new career that was both entertaining and enjoyable, so "Catch the Killer" was born. Graham has written over eighteen original story lines that can be adapted to specific ships, cruise companies, captains or even specific passengers. The event is interactive, engaging and a lot of fun for the passengers who will find that working in small teams helps their thinking and leads to creating new friendships and contacts on board the ship.


John Maclean
Astronomy & Astrophysics
FRAS (Fellow of the Royal Astronomical Society)



Coming from:
Exeter, Devon UK

John is an experienced Science Communicator in the fields of Astronomy and Astrophysics and is an award winning Astro Photographer. He has a special interest in Cometary science and is a member of the UK Meteor Monitoring Network as well as participating as a communicator for NASA and ESA space missions. John is an experienced presenter with an engaging and humorous style accompanied with extremely professional graphic and audio presentations. John has the ability to communicate scientific concepts in a way that the audience both enjoys and understands. He is also able to provide "Stargazing" nights on board and can lead Aurora expeditions.


| | | |
| --- | --- | --- |
| | | Emma has a passion for marine wildlife, especially cetaceans (whales, dolphins & porpoises) and seabirds. From 2006 to 2010, she worked as a wildlife officer and wildlife guide for MARINElife on the P&O ferry Pride of Bilbao as well as leading specific wildlife watching cruises. Currently she works as an island ranger on the Orkney islands. Her speciality is marine mammals and sea birds, but also talks about other marine wildlife as well as terrestrial wildlife. Emma is a very experienced and enthusiastic speaker with a wide range of subjects related to marine wildlife and the natural world and loves being able to share the experience of seeing whales & dolphins in the wild with passengers. |


Dr Karen Woodman
Destination History & Culture
B.Sc., M.A., Ph.D.



Coming from:
Brisbane, Queensland Australia

Dr Karen Woodman is a retired university professor, who is an entertaining cruise enrichment speaker on topics such as history, education, street art, culture, dance, language, and food as they relate to cruise destinations. Karen is also an avid social dancer who enjoys sharing her love of dance, the benefits of social dance, and the mind-body connection. She has traveled extensively, including North and South America, the South Pacific, Australia and New Zealand, the Caribbean, Cuba, Europe, Scandinavia, and South-East Asia.