Enrichment Requirement

Cruise Itinerary


CRUISE ITINERARY - JU201108 Southern Atlantic Crossing
Embarkation:
Barcelona Spain
Date: Sunday, November 8, 2020
Disembarkation:
Buenos Aires Argentina
Date: Sunday, November 29, 2020
No of Nights:
21

Only Speakers focusing on the Arts, Science or Extraordinary Lives who can relate their talks to the itinerary and ports of call should register their interest.
Please submit your proposed lecture topics for consideration.
| | | |
| --- | --- | --- |
| Day 1 | EMBARK Barcelona Spain | |
| Day 2 | Barcelona Spain | |
| Day 3 | At sea | |
| Day 4 | Malaga (Granada) Spain | |
| Day 5 | Casablanca Morocco | |
| Day 6 | At sea | |
| Day 7 | At sea | |
| Day 8 | At sea | |
| Day 9 | Dakar Senegal | |
| Day 10 | At sea | |
| Day 11 | At sea | |
| Day 12 | At sea | |
| Day 13 | At sea | |
| Day 14 | Recife Brazil | |
| Day 15 | At sea | |
| Day 16 | At sea | |
| Day 17 | Rio de Janeiro Brazil | |
| Day 18 | At sea | |
| Day 19 | At sea | |
| Day 20 | Montevideo Uruguay | |
| Day 21 | Buenos Aires Argentina | |
| Day 22 | DISEMBARK Buenos Aires Argentina | |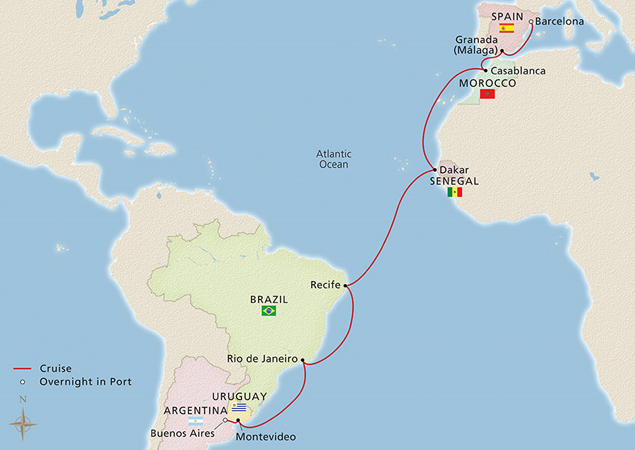 DISCLAIMER
This information has been compiled from various sources. Whilst every effort has been made to provide accurate information, the cruise lines can and do change their itineraries. Cruise Ship Speakers cannot be held liable for any inaccuracies that these programs may contain. Please refer to the up-to-date information provided by the cruise lines themselves. Please notify the Web Administrator if there are any inaccuracies.

Available Candidates
Click on the photo or name for full profile details.

The following people have indicated their availability for this cruise or sectors of this cruise.
The list is in ORDER by General Discipline (ie. Art Instructors, Bridge Directors, Craft Instructors, Destination Lecturers, Enrichment Speakers, etc).
Please contact the candidates directly if you would like to engage any of them. There are NO fees to do this.
Alternatively, we can arrange the bookings on your behalf. Please advise us of your choice(s) for this cruise.

Michael Fuller
Destination and Enrichment Lecturer
PhD, Archaeologist



Coming from:
St. Louis, Missouri MO USA

Professor Michael Fuller is an expert in the archaeological discoveries of both the Old World and New World. He has directed large excavation projects in Syria and the Republic of Macedonia, plus served as a staff member on digs in Greece, Egypt, Jordan, England and the USA. He received a PhD degree in Anthropology in 1986 and taught archaeology to thousands of students over a career of 40 years. Michael is an active field archaeologist, writer, lecturer and cruise ship speaker.


Stuart Gustafson
Destinations; Classical Music Composers




Coming from:
Boise, Idaho USA

Stuart Gustafson took early retirement from his high-technology career so that he could spend more time with his family. He's been sharing his knowledge and his experiences with cruise ship passengers since 2012, and the rave reviews he's received from guests and staff have continued to encourage him. His formal education of a B.A. in Mathematics and an MBA surprise some guests who think he was a history professor. It's just that his keen interest in helping passengers enjoy their cruise has enabled him to develop interesting talks on Destinations, the specific Ports, a few general Travel subjects, and even Classical Music Composers.


John Douglas Chapman
WW2 Historian & Bletchley Park Expert
Welcome Host Gold : Tourism Marketing



Coming from:
Halesowen, West Midlands UK

Since 1992, John became a volunteer at Bletchley Park, the World War 2 home of the Code-Breakers, and founded the world famous Bletchley Park Post Office. John has been a Senior Tour Guide at Bletchley Park since 1998, entertaining thousands of visitors with anecdotes and revealing stories. As a member of the Guild of Battlefield Tour Guides, John assists the War Research Society with the Centenary Commemorative Tours in Belgium and France. His many lectures include WW2 Code-Breaking activities, Alan Turing, Winston Churchill, Women at War, Spies and Espionage and Ian Fleming.


| | | |
| --- | --- | --- |
| | | Caroline Holmes is a garden historian of ancient, modern and contemporary places, people and plants who sifts humour from humus worldwide. She is also an international lecturer in the warmth and comfort of halls and houses as well as leading groups through inspiring sites and gardens. Not forgetting author, broadcaster and consultant designer … in all I delve into the myriad ways people and plants have historically shaped landscapes and what we can learn from them. |


Philip Hurst
Cultural History & World Affairs
M.A., LL.M., F.R.G.S.



Coming from:
Zahara de la Sierra, Cadiz Spain

Philip Hurst is a popular shipboard lecturer on world affairs, geopolitics and modern history, based in Spain. After several decades practising in the stratospheric regions of international law, his focus is now history, with a particular interest in modern states in transition, from colony to independence and from dictatorship to democracy, Imperial history, and the geopolitics of the First World War. Since retiring from legal practice, Philip devotes his time to lecturing at sea, historical research and writing; he also lectures in Spain on sherry and other Spanish wines.


Russell Lee
Science writer, humorist and storyteller
Not your average lecturer!



Coming from:
Cupertino, California USA

Russell Lee's life and career are a celebration of creativity in the art of communications and storytelling. He has experience as an entertainer, educator, lecturer, motivational speaker, cartoonist, musician, songwriter, actor and stand-up comedian. With an eclectic background in research and multimedia presentations, Russell can lecture on a wide range of topics, including cultures and geographies; history and famous historical figures; science and technology; and art and music. He believes in being entertaining as well as educational, and he uses storytelling to create memorable experiences for his audiences.


John Maclean
Astronomy & Astrophysics
FRAS (Fellow of the Royal Astronomical Society)



Coming from:
Exeter, Devon UK

John is an experienced Science Communicator in the fields of Astronomy and Astrophysics and is an award winning Astro Photographer. He has a special interest in Cometary science and is a member of the UK Meteor Monitoring Network as well as participating as a communicator for NASA and ESA space missions. John is an experienced presenter with an engaging and humorous style accompanied with extremely professional graphic and audio presentations. John has the ability to communicate scientific concepts in a way that the audience both enjoys and understands. He is also able to provide "Stargazing" nights on board and can lead Aurora expeditions.


Dr James Miller
Earth History, Volcanology & Field Geology




Coming from:
Shuniah, Ontario Canada

Dr. Jim Miller is an emeritus assistant professor of geology at the University of Minnesota. He received his Bachelor of Science degree in 1977 from the University of Illinois-Urbana and his PhD in 1986 from the University of Minnesota-Twin Cities. Throughout his professional career, Jim has also been extensively involved in public outreach, enthusiastically spreading his knowledge of local and global geology, geological processes, and Earth history. In his retirement, Jim continues to pursue his passion for telling awe-inspiring and entertaining stories about the 4.5 billion year history of Planet Earth.


Sandra Millikin
Architectural & Art History
BA (Hons), Mphil (Art History)



Coming from:
Uffington, Oxon UK

Sandra Millikin is an American who has lived in England for over 40 years. She was educated at Smith College, Northampton, Massachusetts, USA and at the Courtauld Institute in London where she studied under the famous English architectural historian Sir John Summerson. She was assistant Curator at the Royal Institute of British Architects Drawings collection, where she contributed to the catalogue of the collection which is now housed in the Victoria and Albert Museum in London. Sandra has given talks on architectural history world wide on cruise ships and particularly enjoys days at sea as she is also a keen bridge player. She has also acted as Bridge Director on cruises.


Roy Short
Hollywood and Genealogy




Coming from:
Brentwood, California USA

Roy Short is a retired Senior Manager of Deloitte Consulting who has spent the past thirty years studying and teaching genealogy. Upon retirement from corporate consulting he launched "Short On Time", a Professional Genealogy practice and has conducted seminars and workshops on a wide range of family search topics. Since then, his passion for motion pictures has prompted him to create a portfolio of "Tribute" modules which explore and explain different aspects of movie making, stars and genres. He now spends most of his time entertaining and educating cruise passengers in both Hollywood and Genealogy.


| | | |
| --- | --- | --- |
| | | Jonathan H. Ward is an astronomer, author, speaker, and space historian. Jonathan's joy of bringing the space program to life for the public began in high school, when he served as a tour guide at the Smithsonian's National Air and Space Museum during the Apollo era. Today he is a Fellow of the Royal Astronomical Society, a Solar System Ambassador for NASA's Jet Propulsion Laboratory, and a frequent speaker on astronomy and space exploration to audiences ranging from schools to retirement communities to national conferences. |


Dr Karen Woodman
Destination History & Culture
B.Sc., M.A., Ph.D.



Coming from:
Brisbane, Queensland Australia

Dr Karen Woodman is a retired university professor, who is an entertaining cruise enrichment speaker on topics such as history, education, street art, culture, dance, language, and food as they relate to cruise destinations. Karen is also an avid social dancer who enjoys sharing her love of dance, the benefits of social dance, and the mind-body connection. She has traveled extensively, including North and South America, the South Pacific, Australia and New Zealand, the Caribbean, Cuba, Europe, Scandinavia, and South-East Asia.