Enrichment Requirement

Cruise Itinerary


CRUISE ITINERARY - JU201004 Mediterranean Odyssey
Embarkation:
Barcelona Spain
Date: Sunday, October 4, 2020
Disembarkation:
Venice Italy
Date: Friday, October 16, 2020
No of Nights:
12

Only Speakers focusing on History, the Arts, Sciences, World Affairs or Extraordinary Lives who can relate their talks to the itinerary and ports of call should register their interest.
Please submit your proposed lecture topics for consideration. Ideally you should list 4 talks including a title and short synopsis.
| | | |
| --- | --- | --- |
| Day 1 | EMBARK Barcelona Spain | |
| Day 2 | Barcelona Spain | |
| Day 3 | Toulon France | |
| Day 4 | Monte Carlo Monaco | |
| Day 5 | Livorno (for Florence) Italy | |
| Day 6 | Civitavecchia (for Rome) Italy | |
| Day 7 | Naples Italy | |
| Day 8 | At sea | |
| Day 9 | Corfu Town, Corfu Greece | |
| Day 10 | Dubrovnik Croatia | |
| Day 11 | Split Croatia | |
| Day 12 | Venice Italy | |
| Day 13 | DISEMBARK Venice Italy | |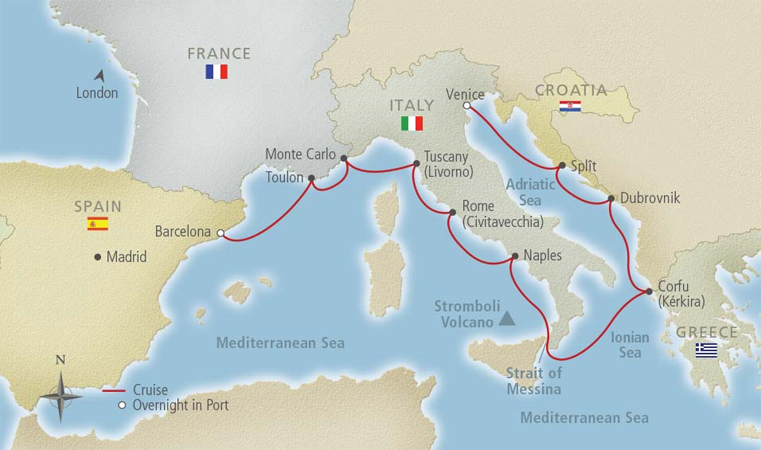 DISCLAIMER
This information has been compiled from various sources. Whilst every effort has been made to provide accurate information, the cruise lines can and do change their itineraries. Cruise Ship Speakers cannot be held liable for any inaccuracies that these programs may contain. Please refer to the up-to-date information provided by the cruise lines themselves. Please notify the Web Administrator if there are any inaccuracies.

Available Candidates
Click on the photo or name for full profile details.

The following people have indicated their availability for this cruise or sectors of this cruise.
The list is in ORDER by General Discipline (ie. Art Instructors, Bridge Directors, Craft Instructors, Destination Lecturers, Enrichment Speakers, etc).
Please contact the candidates directly if you would like to engage any of them. There are NO fees to do this.
Alternatively, we can arrange the bookings on your behalf. Please advise us of your choice(s) for this cruise.

| | | |
| --- | --- | --- |
| | | Kathy gained a Doctorate in Agricultural History & Ecological Management, from Imperial College London, in 2004. She has many year's experience both as a civil servant and in private consultancy, organising lectures, activity workshops and study trips in England. Kathy is a member of the Speakers Club of Great Britain and is also an experienced destination lecturer. She has a passion for travel, meeting new people and seeing new places. Kathy has a range of Presentations on; Destinations, British traditions, and the countryside, which can be tailored to destinations or seasons as required. |


Peter Clayton
Classical & European Archaeology and Egyptology
FCILIP, Dip.Arch, FSA, FRNS



Coming from:
Hemel Hempstead, Hertfordshire UK

Peter is an Egyptologist, archaeologist and numismatist who has excavated on sites in England and Egypt. A Fellow of the Society of Antiquities of London, he has lectured widely in England, in most of the major museums and universities, and in Europe and Australia. Peter is a best-selling author of "Chronicle of the Pharaohs" and expert Advisor for coins and antiquities to several museums.


Dr. Robert Donaldson
Political Science & World Affairs
Ph.D., Russian and American Foreign Policy



Coming from:
Tulsa, Oklahoma USA

Robert ("Bob") Donaldson retired after 45 years of College teaching in Political Science, specializing on Russian and American Foreign Policy and World Politics. At the University of Tulsa, where he was President in the 1990s, he was chosen "Faculty Member of the Year" in 2013. Dr. Donaldson has three degrees from Harvard and is author or co-author of 6 books and two dozen articles and book chapters. In addition to teaching at 4 universities, he has spoken to Foreign Relations Committees in 25 cities has lectured for the U.S. State Department in Europe and the Indian Sub-continent.


Dr. Peter Durrans
Historian (General, Exploration & Travel)
BA, MA, DPhil



Coming from:
Tyne and Wear, Sunderland UK

Dr Peter Durrans was educated at the universities of Hull (BA), Carleton, Ottawa (MA) and Oxford (DPhil). A professional historian he has been a university lecturer in the UK, Canada and the United States and was a history adviser to the UK's Council for National Academic Awards (CNAA). His last appointment was as Associate Dean at the University of Sunderland. Peter now lectures regularly on cruise ships. His aim is to both inform and entertain and he has been described in cruise reports as 'a great speaker and orator'. His specialist interests include empire, exploration and travel.


David Mercer
Sports Commentator & Journalist
The World of Tennis



Coming from:
Wendover, Buckinghamshire UK

David is a sports broadcaster specialising in tennis, badminton and rowing. From 1973 to 1984 David umpired at Wimbledon, taking charge of the Men's Doubles Final in 1983 and the Men's Singles Final, between Jimmy Connors and John McEnroe, in 1984. He umpired at numerous other tournaments and Davis Cup ties. David became a full-time broadcaster in 1984 when he joined BBC Radio Sport in London, and 2 years later he joined BBC Television. In his lectures David covers the world of tennis, past, present and future and reveals the hazards of being a sports broadcaster.


Martin John Pucci
Medical Historian
Mb ChB (Doctor of medicine) and Senior Lecturer



Coming from:
Ellon, Aberdeenshire UK

Doctor Martin John Pucci was bought up in Chesterfield Derbyshire then moved to Aberdeen to to study medicine and qualified in 1979. After surgical training he entered General Practice in Ellon from 1983 until 2009 when he retired. Has has taught medical students throughout his career and is still a clinical senior lecturer at Aberdeen University. Martin's series of talks cover the history of medicine and disease.


Justin Reay
Art & Naval History




Coming from:
Oxford, Oxfordshire UK

After officer service in the Royal Navy and a long career in business, Justin studied the History of Art at Oxford University. He is Secretary of the Colloquium of Learned Societies at Oxford, and a private tutor in art history and classical civilization. He is an Accredited Lecturer for the Arts Society, advisor to museums and collectors, and has appeared as an expert speaker in documentaries. He is a published historian, and is editing a catalogue raisonné of maritime art. In his talks Justin introduces and interprets a rich variety of art and architecture from original research.


Philip Sanders CBE
Military & European Historian
World War 2 and Post War conflicts



Coming from:
Taunton, Somerset UK

After training at the Royal Military Academy Sandhurst, Philip served 30 years in the British Army retiring in 1993 in the rank of brigadier. He commanded the 4th Royal Tank Regiment, the British Army of the Rhine's reconnaissance forces, the tri-national Berlin Relief Force and was a director of operations at the British Joint Force Headquarters during the 1st Gulf War. He attended the Army Staff College as both a student and instructor and graduated from the Royal College of Defence Studies. He was awarded the CBE in 1986. As a guest speaker he gives talks on military and modern European history.


| | | |
| --- | --- | --- |
| | | Emeritus Professor of English, Dr. C.W. Sullivan III is retired from the English Department at East Carolina University in Greenville, NC, USA. Among his honors there, he was named Distinguished Research Professor of Arts and Sciences at ECU, ECU Board of Trustees Distinguished Research Professor of English, and UNC Board of Governors Distinguished Professor for Teaching. He is also a Full Member of the Welsh Academy for his contributions to the study of medieval Welsh Celtic myth and literature, a past president of the International Association for the Fantastic in the Arts, and the former editor of the ejournal, Celtic Cultural Studies. |


Michael Kerry White
Film Actor, Author, Singer, International business




Coming from:
High Wycombe, Bucks UK

Michael was born outside Cardiff in the UK but now lives near London. For 30 years his working life was as a highly successful International Sales Director and CEO travelling the world presenting, working in and visiting many diverse countries and cultures. At the end of 2011 he decided to hand in his Frequent flyer cards and retire. This didn't last very long because by a series of accidents and good fortune he has become a multi-award winning character and comedic actor and author. Michael is highly sought after and accomplished speaker and presenter, who is enjoyed by audiences from all around the world.


Professor Jon A. Wiant
World Affairs, Intelligence & Military History
SES (Ret.), Adjunct Professor of Intelligence Studies



Coming from:
Falls Church, Virginia USA

Jon Wiant is an authority on the intelligence and international affairs. His career spanned the Cold War and the global national security challenges that followed. He served as Deputy Assistant Secretary of State for Intelligence and the NSC Director for Intelligence Policy as well as senior positions at CIA and Defense. In retirement, this recipient of the Intelligence Distinguished Service Medal has taught at Washington universities. Cruise passengers will be intrigued by his talks on intelligence and international affairs.