Enrichment Requirement

Cruise Itinerary


CRUISE ITINERARY - JU200419 Trade Routes of the Middle Ages
Embarkation:
Barcelona Spain
Date: Sunday, April 19, 2020
Disembarkation:
Bergen Norway
Date: Sunday, May 3, 2020
No of Nights:
14

Only Speakers focusing on History, the Arts, Science, World Affairs or Extraordinary Lives who can relate their talks to the itinerary and ports of call should register their interest.
Please submit your proposed lecture topics for consideration.
| | | |
| --- | --- | --- |
| Day 1 | EMBARK Barcelona Spain | |
| Day 2 | Barcelona Spain | |
| Day 3 | Cartagena Spain | |
| Day 4 | Malaga (Granada) Spain | |
| Day 5 | At sea | |
| Day 6 | Leixoes (for Oporto) Portugal | |
| Day 7 | At sea | |
| Day 8 | Falmouth UK | |
| Day 9 | Portsmouth UK | |
| Day 10 | Le Havre France | |
| Day 11 | Zeebrugge (Bruges) Belgium | |
| Day 12 | Amsterdam Netherlands | |
| Day 13 | At sea | |
| Day 14 | Bergen Norway | |
| Day 15 | DISEMBRAK Bergen Norway | |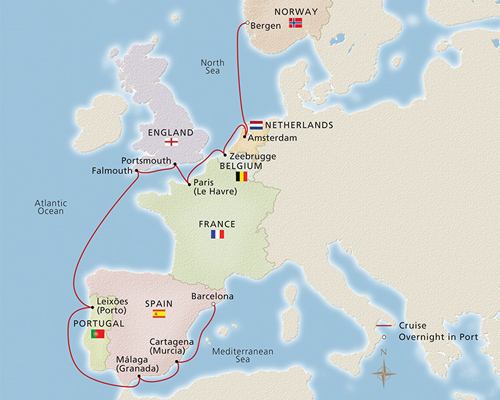 DISCLAIMER
This information has been compiled from various sources. Whilst every effort has been made to provide accurate information, the cruise lines can and do change their itineraries. Cruise Ship Speakers cannot be held liable for any inaccuracies that these programs may contain. Please refer to the up-to-date information provided by the cruise lines themselves. Please notify the Web Administrator if there are any inaccuracies.

Available Candidates
Click on the photo or name for full profile details.

The following people have indicated their availability for this cruise or sectors of this cruise.
The list is in ORDER by General Discipline (ie. Art Instructors, Bridge Directors, Craft Instructors, Destination Lecturers, Enrichment Speakers, etc).
Please contact the candidates directly if you would like to engage any of them. There are NO fees to do this.
Alternatively, we can arrange the bookings on your behalf. Please advise us of your choice(s) for this cruise.

Claudia Puma
Arts and Crafts Tutor




Coming from:
Hamburg, Michigan USA

Claudia Puma's life pursuit has been in the arts and crafts field, her love of color and design took many forms over the past 40 years. For over 38 years she participated in some of the best art fairs in Michigan, Ohio, Indiana, and Illinois. She won awards for her designs in Quilting and in jewelry design, Creative Designs was a very appropriate name for her business. Claudia began teaching on cruise ships in 1986 and has taught on Costa, Celebrity, Cunard, and Carnival, and has traveled extensively in the Mediterranean, Central American, Caribbean, and USA. Traveling the world is a passion for Claudia, teaching classes on cruise brings her two passions together.


| | | |
| --- | --- | --- |
| | | Kathy gained a Doctorate in Agricultural History & Ecological Management, from Imperial College London, in 2004. She has many year's experience both as a civil servant and in private consultancy, organising lectures, activity workshops and study trips in England. Kathy is a member of the Speakers Club of Great Britain and is also an experienced destination lecturer. She has a passion for travel, meeting new people and seeing new places. Kathy has a range of Presentations on; Destinations, British traditions, and the countryside, which can be tailored to destinations or seasons as required. |


Michael Bowman
Geology, World Energy & Geopolitics
Professor of Petroleum Geology, University of Manchester



Coming from:
Holmfirth, West Yorkshire UK

Mike Bowman retired from BP in March 2011. He has an Honorary Professorial Chair in Geology at the University of Manchester. Until late 2017 he was Chair of Petroleum Engineering at Texas A&M University Qatar. Mike is a geologist by training having completed a PhD at the University of Sheffield. During his 30 years with BP he was involved in a wide range of roles and jobs from specialist geologist to senior manager with postings around the world. Mike presents a series of illustrated talks covering the principles of Geology, route related topics and how geology impacts the world today.


John Douglas Chapman
WW2 Historian & Bletchley Park Expert
Welcome Host Gold : Tourism Marketing



Coming from:
Halesowen, West Midlands UK

Since 1992, John became a volunteer at Bletchley Park, the World War 2 home of the Code-Breakers, and founded the world famous Bletchley Park Post Office. John has been a Senior Tour Guide at Bletchley Park since 1998, entertaining thousands of visitors with anecdotes and revealing stories. As a member of the Guild of Battlefield Tour Guides, John assists the War Research Society with the Centenary Commemorative Tours in Belgium and France. His many lectures include WW2 Code-Breaking activities, Alan Turing, Winston Churchill, Women at War, Spies and Espionage and Ian Fleming.


Judith Cranswick
Crime Writer, Tutor & Destination Speaker




Coming from:
Swindon, - UK

Judith has two great passions – writing and travel. She has travelled extensively throughout Europe, China, Indochina and Japan, Asia, India, Africa and Central and South America. Judith is an award-winning novelist and author of the Fiona Mason Mysteries and several stand-alone psychological thrillers. Travel has always been the inspiration for Judith's novels. Judith is an experienced speaker and in addition to writing her novels, she now works part time teaching Tai Chi and cruise ship lecturing.


Sir David Durie
International Affairs & Geographical History
KCMG / Former Governor of Gibraltar / Scottish Heraldry



Coming from:
Richmond, Surrey UK

Sir David Durie, who has had a distinguished career in the public service, was Governor and Commander-in-Chief, Gibraltar, from 2000 to 2003. Between 1995 and 2000 he was Director General for Enterprise and Regions in the Department of Trade and Industry in London, and before that he was UK Permanent Representative to the European Union in Brussels. David's talks include the history of Gibraltar and his experiences living there, the Ottoman Empire and the Mediteranean more generally, the workings of the European Union and Scottish heraldry.


Adam Ford
Archaeologist, TV Presenter & Author
NO LONGER AVAILABLE FOR CRUISING



Coming from:
Ocean Grove, Victoria Australia

To be provided


Lindsay Murray
Science
CSci CBiol CRadPro FRSB FLS



Coming from:
Gretna, Dumfries and Galloway UK

Lindsay Murray is a graduate biologist with something in excess of 30 years professional experience both in the UK and overseas, employed variously in clinical and veterinary microbiology, radiation protection, research management, and latterly in health and safety and research ethics. He regularly lectures on a wide range of science related topics to diverse audiences, and has a particular interest in public engagement with science.


Chris Newlands
Classical History & Religion




Coming from:
Lancaster, Lancashire UK

Chris was born in West Yorkshire and his love of drama and the stage led to him going to Bristol University to study Drama and French, before his love for travel took him to Algeria, where he remained for two years, teaching English and encouraging an interest in theatre, music and the arts on behalf of the British Council. He returned to England to study Theology at Cambridge, before being ordained as an Anglican priest. In 2010 he became Vicar of Lancaster, working in the historic setting of Lancaster Priory Church. Chris presents a series of talks on classical history subjects.


Bernard Purrier
Marine Wildlife Expert




Coming from:
Bradford on Avon, Wiltshire UK

Bernard has always held a great interest in Marine life with Cetaceans being a particular favourite and he developed this in 2005 after taking early retirement from a career in Medical Microbiology. He studied with the Whale & Dolphin Conservation [WDC] an International Charity and became a UK speaker for them in 2006. Since then, he has become well known all over the UK and abroad as he is increasingly invited to speak to groups and associations, both adults and children. He has been a cruise ship speaker since 2011 for many cruise lines. When not involved in wildlife matters, he spends time on his other interests such as British Roman History and live music.


Harry M Strong
Ocean science & Meteorology
BS, MS, MPA, PSIA



Coming from:
Oak Hill, Fairfax USA

Harry M Strong worked for a nonprofit corporation for 38 years, spending the last 15 years supporting the National Oceanic and Atmospheric Administration (NOAA) in Washington, D.C., addressing a broad range of environmental issues. He is the President of HMS Consulting, LLC, has been a special interest speaker and visiting scientist on numerous cruise ships, speaking on "Our One Ocean". This series of talks is crafted to entertain, inform and educate the ship's guests on various ocean topics, emphasizing that our "global society" has but "One Ocean" and we all share in its fruits, its opportunities, its problems, its heritage and its potential.


| | | |
| --- | --- | --- |
| | | Jonathan H. Ward is an astronomer, author, speaker, and space historian. Jonathan's joy of bringing the space program to life for the public began in high school, when he served as a tour guide at the Smithsonian's National Air and Space Museum during the Apollo era. Today he is a Fellow of the Royal Astronomical Society, a Solar System Ambassador for NASA's Jet Propulsion Laboratory, and a frequent speaker on astronomy and space exploration to audiences ranging from schools to retirement communities to national conferences. |


John Wilcock
Archaeology, History, Science & Computing
MA(Oxon), BSc, PhD, CEng, FIET, FBCS, CITP



Coming from:
Stafford, Staffordshire UK

Dr John Wilcock read Physics at Oxford University then worked for 7 years as an Engineer in the computer industry (1st and 2nd generations), before entering academia in 1969. He was one of the first world practitioners in Computer Archaeology (the application of computers to archaeological research). Categories include Archaeology, Egyptology, History, Computing, Espionage, Codes & ciphers, Science, Geology and Music. See full profile for suggested list of stand-alone and destination-based topics.


Dr Karen Woodman
Destination History & Culture
B.Sc., M.A., Ph.D.



Coming from:
Brisbane, Queensland Australia

Dr Karen Woodman is a retired university professor, who is an entertaining cruise enrichment speaker on topics such as history, education, street art, culture, dance, language, and food as they relate to cruise destinations. Karen is also an avid social dancer who enjoys sharing her love of dance, the benefits of social dance, and the mind-body connection. She has traveled extensively, including North and South America, the South Pacific, Australia and New Zealand, the Caribbean, Cuba, Europe, Scandinavia, and South-East Asia.