Enrichment Requirement

Cruise Itinerary


CRUISE ITINERARY - SU200211 World Cruise 2019 - 2020 Sector 10
Embarkation:
Sydney Australia
Date: Tuesday, February 11, 2020
Disembarkation:
Hong Kong China
Date: Monday, March 9, 2020
No of Nights:
27

Only Australian/New Zealand based Speakers focusing on History, the Arts, World Affairs or Extraordinary Lives who can relate their talks to the itinerary and ports of call should register their interest.
Please submit your proposed lecture topics for consideration.
| | | |
| --- | --- | --- |
| Day 1 | EMBARK Sydney Australia | |
| Day 2 | Sydney Australia | |
| Day 3 | At sea | |
| Day 4 | Brisbane Australia | |
| Day 5 | At sea | |
| Day 6 | Hamilton Island Australia | |
| Day 7 | Cairns Australia | |
| Day 8 | At sea | |
| Day 9 | Thursday Island Australia | |
| Day 10 | At sea | |
| Day 11 | At sea | |
| Day 12 | Darwin Australia | |
| Day 13 | At sea | |
| Day 14 | Komodo Island Indonesia | |
| Day 15 | Bali Indonesia | |
| Day 16 | At sea | |
| Day 17 | Semarang Indonesia | |
| Day 18 | At sea | |
| Day 19 | At sea | |
| Day 20 | Bandar Seri, Brunei | |
| Day 21 | Kota Kinabalu Malaysia | |
| Day 22 | At sea | |
| Day 23 | Manila Philippines | |
| Day 24 | Manila Philippines | |
| Day 25 | At sea | |
| Day 26 | Xiamen China | |
| Day 27 | Hong Kong China | |
| Day 28 | DISEMBARK Hong Kong China | |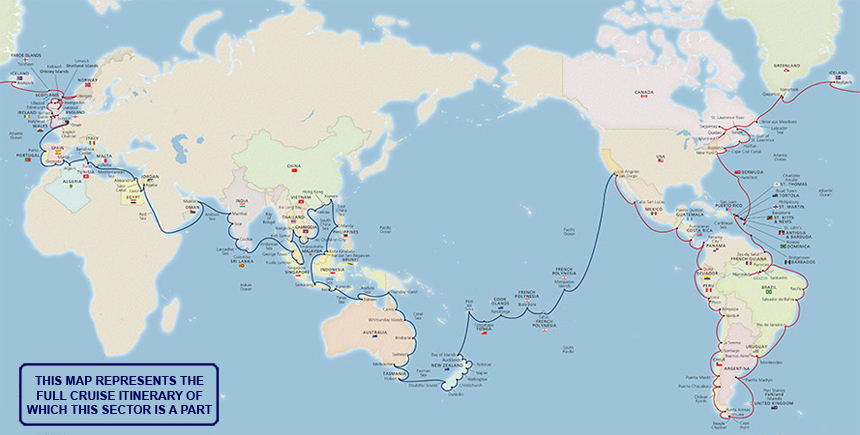 DISCLAIMER
This information has been compiled from various sources. Whilst every effort has been made to provide accurate information, the cruise lines can and do change their itineraries. Cruise Ship Speakers cannot be held liable for any inaccuracies that these programs may contain. Please refer to the up-to-date information provided by the cruise lines themselves. Please notify the Web Administrator if there are any inaccuracies.

Available Candidates
Click on the photo or name for full profile details.

The following people have indicated their availability for this cruise or sectors of this cruise.
The list is in ORDER by General Discipline (ie. Art Instructors, Bridge Directors, Craft Instructors, Destination Lecturers, Enrichment Speakers, etc).
Please contact the candidates directly if you would like to engage any of them. There are NO fees to do this.
Alternatively, we can arrange the bookings on your behalf. Please advise us of your choice(s) for this cruise.

Emily Mixon
Arts & Crafts Instructor
over 25 years experience teaching in arts & crafts



Coming from:
The Villages, Sumter County, Florida USA

Emily Bozeman Mixon has been involved in Arts and Crafts for over 40 years. She attended many crafts shows as a participant for over 15 years traveling from Tennessee to as far away as Michigan to sell her wares. She managed two craft supplies stores for a craft supply company located in Memphis, Tennessee. In 1992 Emily began teaching arts & crafts on cruise ships for Costa, Cunard, Celebrity and Holland America and has been doing so ever since. She has taught many classes with 100 or more people in attendance and others with 25-35 people in attendance.


Judith Cranswick
Crime Writer, Tutor & Destination Speaker




Coming from:
Swindon, - UK

Judith has two great passions – writing and travel. She has travelled extensively throughout Europe, China, Indochina and Japan, Asia, India, Africa and Central and South America. Judith is an award-winning novelist and author of the Fiona Mason Mysteries and several stand-alone psychological thrillers. Travel has always been the inspiration for Judith's novels. Judith is an experienced speaker and in addition to writing her novels, she now works part time teaching Tai Chi and cruise ship lecturing.


Adam Ford
Archaeologist, TV Presenter & Author
NO LONGER AVAILABLE FOR CRUISING



Coming from:
Ocean Grove, Victoria Australia

To be provided


Andrew Lambert
Military & Aviation Historian
Air Commodore, MPhil



Coming from:
Lapford, Devon UK

Air Commodore Andrew Lambert flew Phantoms and went on to run the RAF's "Top Gun"¯ school. A planner for the 1991 Gulf War, he then commanded a Tornado fighter squadron on operations over Bosnia. As an Air Commodore he commanded in the Falklands and the Iraqi Northern No Fly Zone. A Military Historian, he has also published a number of papers on the Psychological Impact of Air Power and Coercion and British Defence Policy.


Professor Thomas Mazour
Enrichment Speaker
International Affairs/Science/Travel Destinations



Coming from:
Wallace, NC USA

Professor Mazour was a member of the International Atomic Energy Agency (IAEA) team that won the Nobel Peace Prize in 2005. In his 20 years with the IAEA in Vienna, Austria he worked in 36 countries on every continent but Antarctica, and collaborated with colleagues from over 90 different countries. After retirement from the IAEA, he joined the faculty of an online university whose mission is to help those in the workforce to receive suitable credit for their work experience and training, and to then complete courses needed to earn relevant degrees. He teaches online courses in leadership, communication and nuclear engineering.


Sandra Millikin
Architectural & Art History
BA (Hons), Mphil (Art History)



Coming from:
Uffington, Oxon UK

Sandra Millikin is an American who has lived in England for over 40 years. She was educated at Smith College, Northampton, Massachusetts, USA and at the Courtauld Institute in London where she studied under the famous English architectural historian Sir John Summerson. She was assistant Curator at the Royal Institute of British Architects Drawings collection, where she contributed to the catalogue of the collection which is now housed in the Victoria and Albert Museum in London. Sandra has given talks on architectural history world wide on cruise ships and particularly enjoys days at sea as she is also a keen bridge player. She has also acted as Bridge Director on cruises.


Lindsay Murray
Science
CSci CBiol CRadPro FRSB FLS



Coming from:
Gretna, Dumfries and Galloway UK

Lindsay Murray is a graduate biologist with something in excess of 30 years professional experience both in the UK and overseas, employed variously in clinical and veterinary microbiology, radiation protection, research management, and latterly in health and safety and research ethics. He regularly lectures on a wide range of science related topics to diverse audiences, and has a particular interest in public engagement with science.


Prof. Dr. Daniel Nijensohn
Cultural Historian
Professor of Neurosurgery, MD, MS, PhD, FACS, FAANS (L)



Coming from:
Fairfield, Connecticut USA

Dr. Daniel E. Nijensohn was born and raised in Mendoza, Argentina, where he graduated in the National University of Cuyo Medical School with an MD degree. He interned at the University of Buenos Aires teaching hospitals, followed by a surgical internship at Baylor College of Medicine, Texas Medical Center. He subsequently moved to Rochester, Minnesota where he trained as a neurosurgeon at the Mayo Clinic. Dr. Nijensohn is an Honorary (Emeritus) Professor, Department of Neurosurgery, Yale University. He has lectured extensively including on about 30 ocean cruises. His interests include History, Geography, Biology, the Arts, Science, World Affairs and/or Extraordinary Lives.


Robin Petch
Naturalist & Cetaceans Expert
Whales, Dolphins & Marine Conservation



Coming from:
North Ferriby, East Yorkshire UK

Robin has been involved with the study and conservation of whales, dolphins and the marine environment for nearly 25 years. He now shares his wide knowledge and experience with cruise ship passengers in lively and informative lectures with stunning photographs and video. His experience as an educator enables him to adapt his talks to suit audiences of all types and age ranges. On some cruises, Robin's interest in Seals and Seabirds, Pirates and Privateers and Nautical Sayings and Superstitions adds an extra dimension to his talks.


Geoff Peters
Maritime Explorers and Adventurers




Coming from:
Sunshine Coast, Queensland Australia

Edu-tainment is the best way to describe Geoff's speaking style, providing educational, entertaining and authoritative presentations whilst also injecting humour and personal experiences documenting his time at sea. Recently retired, Geoff and his wife Leanne have purchased a boat in the UK, cruised across the English Channel and now spend much of each year cruising the rivers, canals, and coastlines of Europe, creating their own adventures.


Bruce Petty
Military History
WWII IN THE PACIFIC



Coming from:
New Plymouth, Taranaki NZ

Bruce Petty was born and grew up in Long Beach, California. He enlisted in the U.S. Naval Reserves at Alameda Naval Air Station in 1962, while still in high school. After graduation from high school, he served two years aboard USS Yorktown, CVS-10, as an aviation ordnanceman, and is a Vietnam War veteran. He graduated from the University of California at Santa Barbara, with a degree in history. In 1995, he moved to Saipan in the Mariana Islands, returning to California in 2000. Bruce is an accomplished author and now lives in New Zealand. Bruce is a regular speaker on cruise ships.


Roy Short
Hollywood and Genealogy




Coming from:
Brentwood, California USA

Roy Short is a retired Senior Manager of Deloitte Consulting who has spent the past thirty years studying and teaching genealogy. Upon retirement from corporate consulting he launched "Short On Time", a Professional Genealogy practice and has conducted seminars and workshops on a wide range of family search topics. Since then, his passion for motion pictures has prompted him to create a portfolio of "Tribute" modules which explore and explain different aspects of movie making, stars and genres. He now spends most of his time entertaining and educating cruise passengers in both Hollywood and Genealogy.


Dr Karen Woodman
Destination History & Culture
B.Sc., M.A., Ph.D.



Coming from:
Brisbane, Queensland Australia

Dr Karen Woodman is a retired university professor, who is an entertaining cruise enrichment speaker on topics such as history, education, street art, culture, dance, language, and food as they relate to cruise destinations. Karen is also an avid social dancer who enjoys sharing her love of dance, the benefits of social dance, and the mind-body connection. She has traveled extensively, including North and South America, the South Pacific, Australia and New Zealand, the Caribbean, Cuba, Europe, Scandinavia, and South-East Asia.