Enrichment Requirement

Cruise Itinerary


CRUISE ITINERARY - SU200128 World Cruise 2019 - 2020 Sector 9
Embarkation:
Auckland NZ
Date: Tuesday, January 28, 2020
Disembarkation:
Sydney Australia
Date: Tuesday, February 11, 2020
No of Nights:
14

Only Australian/New Zealand based Speakers focusing on History, the Arts, World Affairs or Extraordinary Lives who can relate their talks to the itinerary and ports of call should register their interest.
Please submit your proposed lecture topics for consideration.
| | | |
| --- | --- | --- |
| Day 1 | EMBARK Auckland NZ | |
| Day 2 | Auckland NZ | |
| Day 3 | Tauranga NZ | |
| Day 4 | Napier NZ | |
| Day 5 | Wellington NZ | |
| Day 6 | Christchurch (Lyttelton) NZ | |
| Day 7 | Dunedin NZ | |
| Day 8 | Cruising Dusky & Doubtful Sounds NZ | |
| Day 9 | At sea | |
| Day 10 | At sea | |
| Day 11 | Hobart Australia | |
| Day 12 | At sea | |
| Day 13 | Melbourne Australia | |
| Day 14 | At sea | |
| Day 15 | DISEMBARK Sydney Australia | |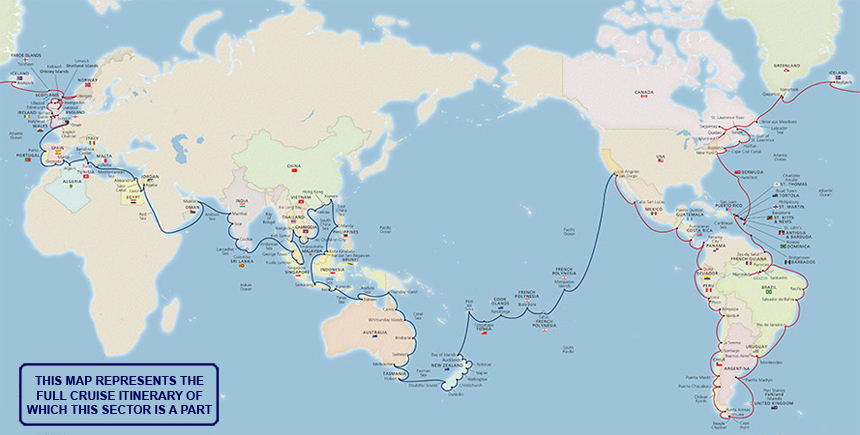 DISCLAIMER
This information has been compiled from various sources. Whilst every effort has been made to provide accurate information, the cruise lines can and do change their itineraries. Cruise Ship Speakers cannot be held liable for any inaccuracies that these programs may contain. Please refer to the up-to-date information provided by the cruise lines themselves. Please notify the Web Administrator if there are any inaccuracies.

Available Candidates
Click on the photo or name for full profile details.

The following people have indicated their availability for this cruise or sectors of this cruise.
The list is in ORDER by General Discipline (ie. Art Instructors, Bridge Directors, Craft Instructors, Destination Lecturers, Enrichment Speakers, etc).
Please contact the candidates directly if you would like to engage any of them. There are NO fees to do this.
Alternatively, we can arrange the bookings on your behalf. Please advise us of your choice(s) for this cruise.

Emily Mixon
Arts & Crafts Instructor
over 25 years experience teaching in arts & crafts



Coming from:
The Villages, Sumter County, Florida USA

Emily Bozeman Mixon has been involved in Arts and Crafts for over 40 years. She attended many crafts shows as a participant for over 15 years traveling from Tennessee to as far away as Michigan to sell her wares. She managed two craft supplies stores for a craft supply company located in Memphis, Tennessee. In 1992 Emily began teaching arts & crafts on cruise ships for Costa, Cunard, Celebrity and Holland America and has been doing so ever since. She has taught many classes with 100 or more people in attendance and others with 25-35 people in attendance.


Frosa Katsis
Medical Research, Emu Farming, Science, Craft Teacher




Coming from:
South Gisborne, VIC Australia

Frosa has a wealth of experience in Medical Research having worked for a world renowned institute based in Melbourne. Her experience has predominantly been in the field of protein & metabolism. The history of the Institute and how it all began is a great story in itself and Frosa will cover the history and development of this chemistry. It is not all about science and chemistry with Frosa being a successful business owner operating craft sessions which include macrame, jewellery, paper craft such as scrapbooking, paper roses, card making.


Steven Mayo-Smith
History & Destinations
Pacific / Australia / New Zealand / Scandinavia



Coming from:
Auckland, Auckland NZ

Steven has a very diverse and international background, of Scandinavian and English heritage, he was born in Greece, raised in Africa and educated in both the UK and United States. He now lives and works in New Zealand. A keen Scuba Diver, he maintains a strong interesting in our oceans and their future. He is also a seasoned long distance bicycle tourist who has ridden through America, New Zealand and Europe, Most recently from the top of Norway to Budapest. He regularly presents at conferences on history and technology issues throughout the Asia Pacific.


Patrick Goodness
Cultural Anthropology-Global Religion & Mythology




Coming from:
Escazu, San Jose Costa Rica

Patrick Goodness is a globally recognized thought leader in the study of ancient cultural mythologies, and brings a profound knowledge of global cultures with an engaging approach to storytelling. Patrick has traveled and lectured in more than 110 countries around the world, studying and teaching global culture. Patrick lectures frequently at universities and global conferences and is a popular enrichment speaker among discerning cruise lines. His lectures are peppered with valuable research, thoughtful observations, powerful analogies and dry comedic wit that always bring smiles.


Professor Thomas Mazour
Enrichment Speaker
World Affairs / Destinations / History / Travel / Sciences



Coming from:
Wallace, NC USA

Professor Mazour was a member of the International Atomic Energy Agency (IAEA) team that won the Nobel Peace Prize in 2005. In his 20 years with the IAEA in Vienna, Austria he worked in 36 countries on every continent but Antarctica, and collaborated with colleagues from over 90 different countries. After retirement from the IAEA, he joined the faculty of an online university whose mission is to help those in the workforce to receive suitable credit for their work experience and training, and to then complete courses needed to earn relevant degrees. He teaches online courses in leadership, communication and nuclear engineering.


Sandra Millikin
Architectural & Art History
BA (Hons), Mphil (Art History)



Coming from:
Uffington, Oxon UK

Sandra Millikin is an American who has lived in England for over 40 years. She was educated at Smith College, Northampton, Massachusetts, USA and at the Courtauld Institute in London where she studied under the famous English architectural historian Sir John Summerson. She was assistant Curator at the Royal Institute of British Architects Drawings collection, where she contributed to the catalogue of the collection which is now housed in the Victoria and Albert Museum in London. Sandra has given talks on architectural history world wide on cruise ships and particularly enjoys days at sea as she is also a keen bridge player. She has also acted as Bridge Director on cruises.


Lindsay Murray
Science
CSci CBiol CRadPro FRSB FLS



Coming from:
Gretna, Dumfries and Galloway UK

Lindsay Murray is a graduate biologist with something in excess of 30 years professional experience both in the UK and overseas, employed variously in clinical and veterinary microbiology, radiation protection, research management, and latterly in health and safety and research ethics. He regularly lectures on a wide range of science related topics to diverse audiences, and has a particular interest in public engagement with science.


Prof. Dr. Daniel Nijensohn
Cultural Historian
Professor of Neurosurgery, MD, MS, PhD, FACS, FAANS (L)



Coming from:
Fairfield, Connecticut USA

Dr. Daniel E. Nijensohn was born and raised in Mendoza, Argentina, where he graduated in the National University of Cuyo Medical School with an MD degree. He interned at the University of Buenos Aires teaching hospitals, followed by a surgical internship at Baylor College of Medicine, Texas Medical Center. He subsequently moved to Rochester, Minnesota where he trained as a neurosurgeon at the Mayo Clinic. Dr. Nijensohn is an Honorary (Emeritus) Professor, Department of Neurosurgery, Yale University. He has lectured extensively including on about 30 ocean cruises. His interests include History, Geography, Biology, the Arts, Science, World Affairs and/or Extraordinary Lives.


Robin Petch
Naturalist & Cetaceans Expert
Whales, Dolphins & Marine Conservation



Coming from:
North Ferriby, East Yorkshire UK

Robin has been involved with the study and conservation of whales, dolphins and the marine environment for nearly 25 years. He now shares his wide knowledge and experience with cruise ship passengers in lively and informative lectures with stunning photographs and video. His experience as an educator enables him to adapt his talks to suit audiences of all types and age ranges. On some cruises, Robin's interest in Seals and Seabirds, Pirates and Privateers and Nautical Sayings and Superstitions adds an extra dimension to his talks.


Melva Stone OAM
Enrichment & Special Interest Speaker
Australian Outback & The Flying Doctors Service



Coming from:
Mandurah, Western Australia Australia

Melva is a practical, entertaining and highly motivational speaker. Chosen by ABC Radio as the first story to be told on its "Story Catcher" program, Melva brings a down-to-earth and often very humorous approach on how to survive – and, in fact, thrive on rare challenges. Accredite by the National Speakers Association, Melva also won many awards during her speaker training with the Dale Carnegie Foundation. From her stories of life in very remote, Australian outback towns, Melva shares with a rare ability to engage her audience, stories of true tragedy and triumph, a remarkable career and a rare and positive outlook on life.


Dr James Teslow
Space Science, Astronomy & Engineering
PhD Rockets, Star-gazing



Coming from:
Camano Island, Washington USA

Dr. James Teslow is an educator who also practiced aerospace engineering for 30 years. He obtained his undergraduate degree at the University of Washington, and two Masters degrees and a PhD at the University of Colorado. His engineering positions included work in the areas of liquid and solid rocket propulsion system analysis and design, launch support, new technology research, and business development. James has taught several classroom and online courses in educational technology, research methods, and instructional development as an adjunct professor.


| | | |
| --- | --- | --- |
| | | A submarine specialist and chartered Marine Engineer, Stephen served for 37 years in the Royal Navy until retirement in 2006. In the course of his cold war service at sea he operated both nuclear deterrent submarines and hunter killer submarines, from the North Pole to the extreme South Atlantic. He has had a distinguished career which included service at NATO headquarters Brussel, Commander of naval forces in Gibraltar, and Naval Attache at the British Embassy in Brazil. His final appointment was as Commander of UK's naval reserve forces during the period they were deployed on operations in Iraq and Afghanistan. |


| | | |
| --- | --- | --- |
| | | Charlie Urbanowicz has traveled in the Pacific since 1970. In 1972, after research in the Kingdom of Tonga, he received the Ph.D. in Anthropology from the University of Oregon and began his teaching career at the University of Minnesota. In 1973 Charlie joined the Anthropology faculty at California State University, Chico, and retired in 2009. Since 2004 Charlie has lectured on numerous cruises throughout Polynesia, Melanesia, and Micronesia. His presentations cover a variety of subjects on the peoples and cultures of the Pacific as well as World War II in the Pacific. |


David Wiemers
Hollywood Expert; Destination Lectures




Coming from:
Fort Lauderdale, Florida USA

Emmy award-winning writer, producer, and voice director, David Wiemers had a grand career in Hollywood spanning more than 3 decades. As a professional member of the National Speakers Association and Distinguished Toastmaster, the highest honor given by the organization, Wiemers has regaled audiences throughout the US, Canada, the United Kingdom, and Europe. As a comedy writer, he knows how to engage and entertain an audience. Wiemers' career gave him the opportunity to travel the world. Now audiences get to see the world and it's unique destinations through the eyes of a Hollywood professional: What is the destination's story? What is its character? What makes it tick?