Enrichment Requirement

Cruise Itinerary


CRUISE ITINERARY - SU191209 World Cruise 2019 - 2020 Sector 7
Embarkation:
Valparaiso (for Santiago) Chile
Date: Monday, December 9, 2019
Disembarkation:
Los Angeles, California USA
Date: Saturday, January 4, 2020
No of Nights:
26

Only Speakers focusing on History who can relate their talks to the itinerary and ports of call should register their interest.
Please submit your proposed lecture topics for consideration.
| | | |
| --- | --- | --- |
| Day 1 | EMBARK Valparaiso (for Santiago) Chile | |
| Day 2 | Valparaiso (for Santiago) Chile | |
| Day 3 | Coquimbo Chile | |
| Day 4 | At sea | |
| Day 5 | Iquique, Chile | |
| Day 6 | Matarani Peru | |
| Day 7 | At sea | |
| Day 8 | General San Martin Peru | |
| Day 9 | Lima (from Callao) Peru | |
| Day 10 | At sea | |
| Day 11 | At sea | |
| Day 12 | Manta Ecuador | |
| Day 13 | At sea | |
| Day 14 | Fuerte Amador Panama | |
| Day 15 | At sea | |
| Day 16 | Punta Arenas Chile | |
| Day 17 | CHRISTMAS DAY At sea | |
| Day 18 | Puerto Quetzal Guatemala | |
| Day 19 | At sea | |
| Day 20 | At sea | |
| Day 21 | At sea | |
| Day 22 | Cabo San Lucas Mexico | |
| Day 23 | NEW YEARS EVE At sea | |
| Day 24 | At sea | |
| Day 25 | San Diego, California USA | |
| Day 26 | Los Angeles, California USA | |
| Day 27 | DISEMBARK Los Angeles, California USA | |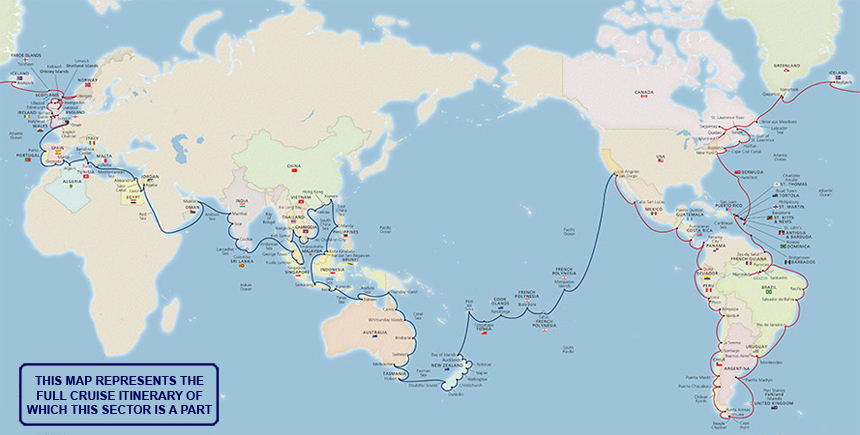 DISCLAIMER
This information has been compiled from various sources. Whilst every effort has been made to provide accurate information, the cruise lines can and do change their itineraries. Cruise Ship Speakers cannot be held liable for any inaccuracies that these programs may contain. Please refer to the up-to-date information provided by the cruise lines themselves. Please notify the Web Administrator if there are any inaccuracies.

Available Candidates
Click on the photo or name for full profile details.

The following people have indicated their availability for this cruise or sectors of this cruise.
The list is in ORDER by General Discipline (ie. Art Instructors, Bridge Directors, Craft Instructors, Destination Lecturers, Enrichment Speakers, etc).
Please contact the candidates directly if you would like to engage any of them. There are NO fees to do this.
Alternatively, we can arrange the bookings on your behalf. Please advise us of your choice(s) for this cruise.

Corey Sandler
Destination Lecturer & Special Interest Lecturer
Bestselling author, wire service correspondent, photographer



Coming from:
Nantucket, MA USA

Corey Sandler has been a storyteller all his life. Beginning as a reporter for a small-town daily paper, he covered two national Presidential campaigns and become a correspondent for The Associated Press. He has written more than 200 books on history, sports, travel, computers, and business; several titles have become national bestsellers. He has appeared as a guest on NBC's "Today" show, CNN, National Public Radio, and The Travel Channel. Sandler has worked with the world's leading luxury cruise lines for many years. His lectures blend a broad understanding of history and culture in an entertaining package of photos, music, and video.


Iain Kennedy
Geography & Economic History




Coming from:
Haslemere, Surrey UK

Iain was educated in Lytham St Annes, Lancashire and then read law at Liverpool University. He qualified as a solicitor in 1972 specialising at the outset in advocacy before moving on to corporate work. Travel in the Caribbean and Central America have added dimensions and additional material for his engrossing presentations on the construction of the Panama Canal, Liverpool and the Slave Trade, Pirates of The Caribbean and the cotton and sugar trade. Iain is also passionate about the history and people of Cuba and their long suffering.


Russell Lee
Science writer, humorist and storyteller
Not your average lecturer!



Coming from:
Cupertino, California USA

Russell Lee's life and career are a celebration of creativity in the art of communications and storytelling. He has experience as an entertainer, educator, lecturer, motivational speaker, cartoonist, musician, songwriter, actor and stand-up comedian. With an eclectic background in research and multimedia presentations, Russell can lecture on a wide range of topics, including cultures and geographies; history and famous historical figures; science and technology; and art and music. He believes in being entertaining as well as educational, and he uses storytelling to create memorable experiences for his audiences.




Bernard Purrier
Marine Wildlife Expert




Coming from:
Bradford on Avon, Wiltshire UK

Bernard has always held a great interest in Marine life with Cetaceans being a particular favourite and he developed this in 2005 after taking early retirement from a career in Medical Microbiology. He studied with the Whale & Dolphin Conservation [WDC] an International Charity and became a UK speaker for them in 2006. Since then, he has become well known all over the UK and abroad as he is increasingly invited to speak to groups and associations, both adults and children. He has been a cruise ship speaker since 2011 for many cruise lines. When not involved in wildlife matters, he spends time on his other interests such as British Roman History and live music.


Steve Simone
Music Historian - History of Soul
Singer & Songwriter



Coming from:
Strabane, Northern Ireland UK

Steve Is an established artist and music historian and give a fascinating insight into the formation of Motown in Detroit to Stax Records In Memphis, as well as exploring the artist and musician that came to make there music famous. He also give a insight into the formation of Jazz and it roots to it modern interpretation.


Michael Stone
Archaeology & History
Viking Resident Historian



Coming from:
Chippenham, Wiltshire UK

No Mini Biography provided yet.