Enrichment Requirement

Cruise Itinerary


CRUISE ITINERARY - SU191010 World Cruise 2019 - 2020 Sector 4
Embarkation:
New York USA
Date: Thursday, October 10, 2019
Disembarkation:
San Juan Puerto Rico
Date: Thursday, October 24, 2019
No of Nights:
14

Only Speakers focusing on History, the Arts, Science, World Affairs or Extraordinary Lives who can relate their talks to the itinerary and ports of call should register their interest.
Please submit your proposed lecture topics for consideration.
| | | |
| --- | --- | --- |
| Day 1 | EMBARK New York USA | |
| Day 2 | New York USA | |
| Day 3 | At sea | |
| Day 4 | Hamilton Bermuda | |
| Day 5 | Hamilton Bermuda | |
| Day 6 | At sea | |
| Day 7 | At sea | |
| Day 8 | St Johns Antigua | |
| Day 9 | Pointe-à-Pitre, Guadeloupe France | |
| Day 10 | Basseterre Saint Kitts and Nevis | |
| Day 11 | Phillipsberg Saint Maarten | |
| Day 12 | Road Town, Tortola Virgin Islands | |
| Day 13 | St Thomas, Charlotte Amalie USV | |
| Day 14 | San Juan Puerto Rico | |
| Day 15 | EMBARK San Juan Puerto Rico | |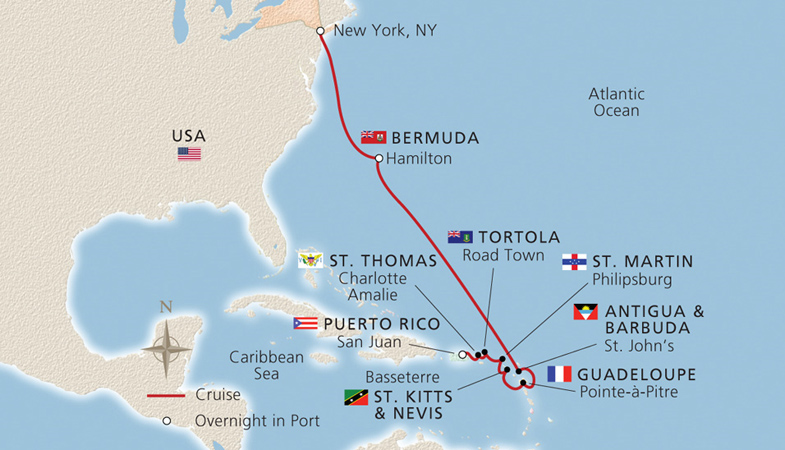 DISCLAIMER
This information has been compiled from various sources. Whilst every effort has been made to provide accurate information, the cruise lines can and do change their itineraries. Cruise Ship Speakers cannot be held liable for any inaccuracies that these programs may contain. Please refer to the up-to-date information provided by the cruise lines themselves. Please notify the Web Administrator if there are any inaccuracies.

Available Candidates
Click on the photo or name for full profile details.

The following people have indicated their availability for this cruise or sectors of this cruise.
The list is in ORDER by General Discipline (ie. Art Instructors, Bridge Directors, Craft Instructors, Destination Lecturers, Enrichment Speakers, etc).
Please contact the candidates directly if you would like to engage any of them. There are NO fees to do this.
Alternatively, we can arrange the bookings on your behalf. Please advise us of your choice(s) for this cruise.

| | | |
| --- | --- | --- |
| | | Dr Norman Berdichevsky is a Freelance lecturer, teacher, translator, writer, researcher, editor, cruise enrichment speaker, interpreter, tutor, and community events manager with sophisticated communications skills; He has forty-five years' experience teaching at university, college, and junior college levels in the United States, Denmark, Spain and Israel – 6 published books, more than 300 articles in a variety of American, British, Danish, Spanish and Israeli journals; fluent in Hebrew, Danish, Spanish and Esperanto and has conducted many cruise enrichment lectures. |


Keith Buchanan
Wildlife & The Environment
BA, MSc



Coming from:
Hexham, Northumberland UK

Keith is an environmental consultant working on biodiversity and landscape issues. He started his career as a zoologist, managing nature reserves, and later worked in the UK agriculture ministry. Keith has led wildlife watching trips in the UK, France, Spain, Portugal, Bulgaria, Greece, Estonia, The Canaries and Iceland. He has participated in biological expeditions in Madagascar, Indonesia, Central and South America. He has lectured on cruise ships about the wildlife and environmental issues in Scandinavia, The Mediterranean, South East Asia, Australia and South America.


Jeff Fredrickson
Enrichment Speaker - History
Viking Resident Historian



Coming from:
tba, tba USA

No Mini Biography provided yet.


Martin Frost
Enrichment Speaker - Former Congressman




Coming from:
tba, tba USA

This person has either:
- not yet subscribed
- not yet been contacted regarding a subscription, or
- has let their subscription lapse
Please suggest that they subscribe so they can participate in this facility for your benefit.


Dr James Howard
Destination & Special Interest Speaker




Coming from:
Owensboro, Kentucky USA

Dr. Howard was Associate Professor of Geology at Ohio University from 1966 until 1972. In 1972 he left full-time teaching and became a full-time Environmental Consultant. After entering the consulting field, he also lectured and taught at approximately 15 different colleges and universities in the United States and the Caribbean. He has extensive consulting and traveling experience and is a regular cruise ship speaker.


Sandra Millikin
Architectural & Art History
BA (Hons), Mphil (Art History)



Coming from:
Uffington, Oxon UK

Sandra Millikin is an American who has lived in England for over 40 years. She was educated at Smith College, Northampton, Massachusetts, USA and at the Courtauld Institute in London where she studied under the famous English architectural historian Sir John Summerson. She was assistant Curator at the Royal Institute of British Architects Drawings collection, where she contributed to the catalogue of the collection which is now housed in the Victoria and Albert Museum in London. Sandra has given talks on architectural history world wide on cruise ships and particularly enjoys days at sea as she is also a keen bridge player. She has also acted as Bridge Director on cruises.


Dr Karen Woodman
Destination History & Culture




Coming from:
Brisbane, Queensland Australia

Dr Karen Woodman is a retired university professor, who is an entertaining cruise enrichment speaker on topics such as history, education, street art, culture, dance, language, and food as they relate to cruise destinations. Karen is also an avid social dancer who enjoys sharing her love of dance, the benefits of social dance, and the mind-body connection. She has traveled extensively, including North and South America, the South Pacific, Australia and New Zealand, the Caribbean, Cuba, Europe, Scandinavia, and South-East Asia.