Enrichment Requirement

Cruise Itinerary


CRUISE ITINERARY - SU190413 World Cruise 2019 Sector 5
Embarkation:
Durban South Africa
Date: Saturday, April 13, 2019
Disembarkation:
Greenwich, London UK
Date: Saturday, May 11, 2019
No of Nights:
28

Only Speakers focusing on History or the Arts who can relate their talks to the itinerary and ports of call should register their interest.
Please submit your proposed lecture topics for consideration.
| | | |
| --- | --- | --- |
| Day 1 | EMBARK Durban South Africa | |
| Day 2 | Durban South Africa | |
| Day 3 | East London South Africa | |
| Day 4 | Port Elizabeth South Africa | |
| Day 5 | At sea | |
| Day 6 | Cape Town South Africa | |
| Day 7 | Cape Town South Africa | |
| Day 8 | At sea | |
| Day 9 | Luderitz Namibia | |
| Day 10 | Walvis Bay Namibia | |
| Day 11 | At sea | |
| Day 12 | At sea | |
| Day 13 | At sea | |
| Day 14 | At sea | |
| Day 15 | At sea | |
| Day 16 | At sea | |
| Day 17 | At sea | |
| Day 18 | Dakar Senegal | |
| Day 19 | At sea | |
| Day 20 | At sea | |
| Day 21 | Santa Cruz de Tenerife, Canary Islands Spain | |
| Day 22 | At sea | |
| Day 23 | Casablanca Morocco | |
| Day 24 | At sea | |
| Day 25 | Vigo Spain | |
| Day 26 | At sea | |
| Day 27 | At sea | |
| Day 28 | Greenwich, London UK | |
| Day 29 | DISEMBARK Greenwich, London UK | |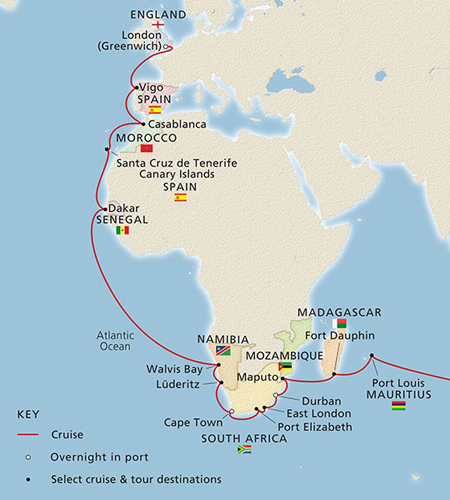 DISCLAIMER
This information has been compiled from various sources. Whilst every effort has been made to provide accurate information, the cruise lines can and do change their itineraries. Cruise Ship Speakers cannot be held liable for any inaccuracies that these programs may contain. Please refer to the up-to-date information provided by the cruise lines themselves. Please notify the Web Administrator if there are any inaccuracies.

Available Candidates
Click on the photo or name for full profile details.

The following people have indicated their availability for this cruise or sectors of this cruise.
The list is in ORDER by General Discipline (ie. Art Instructors, Bridge Directors, Craft Instructors, Destination Lecturers, Enrichment Speakers, etc).
Please contact the candidates directly if you would like to engage any of them. There are NO fees to do this.
Alternatively, we can arrange the bookings on your behalf. Please advise us of your choice(s) for this cruise.

Emily Mixon
Arts & Crafts Instructor
over 25 years experience teaching in arts & crafts



Coming from:
The Villages, Sumter County, Florida USA

Emily Bozeman Mixon has been involved in Arts and Crafts for over 40 years. She attended many crafts shows as a participant for over 15 years traveling from Tennessee to as far away as Michigan to sell her wares. She managed two craft supplies stores for a craft supply company located in Memphis, Tennessee. In 1992 Emily began teaching arts & crafts on cruise ships for Costa, Cunard, Celebrity and Holland America and has been doing so ever since. She has taught many classes with 100 or more people in attendance and others with 25-35 people in attendance.


George Sranko
Nature, Wildlife & Human interest
BSc Biology (UBC), MA (Hons) Env Governance (Griffith)



Coming from:
Victoria, British Columbia Canada

George is known for his dynamic and entertaining presentation style. He has a BSc in biology from UBC in Vancouver and an MA in ecological governance from Griffith University, Queensland Australia. He was born in Australia and has dual Canadian / Australian citizenship. He has been featured as an enrichment and destination lecturer on cruise ships throughout the world. Close encounters with snorting grizzly bears, erupting volcanoes, drooling Komodo dragons, and trumpeting elephants have all added spice to George's presentations.


| | | |
| --- | --- | --- |
| | | Sam and Candy have directed and acted in theater for over 30 years. Their main goal now is to keep the movie musical alive. They have over 15 lectures dealing with the History of the Movie and Broadway Musical. They teach these courses at Rutger's University School of Continuing Education and various libraries and centers in NJ... "We promise you will leave our lectures with your toes tapping and a song in your heart." |


Judith Cranswick
Crime Writer, Tutor & Destination Speaker




Coming from:
Swindon, - UK

Judith has two great passions – writing and travel. She has travelled extensively throughout Europe, China, Indochina and Japan, Asia, India, Africa and Central and South America. Judith is an award-winning novelist and author of the Fiona Mason Mysteries and several stand-alone psychological thrillers. Travel has always been the inspiration for Judith's novels. Judith is an experienced speaker and in addition to writing her novels, she now works part time teaching Tai Chi and cruise ship lecturing.


John Hutchinson
Aviation History
Former Concorde Pilot



Coming from:
Royston, Hertfordshire UK

John joined the RAF in 1955 and spent eight years in the service, flying the Avro Shackleton in Singapore and then as a Flying Instructor and Examiner on the Jet Provost. This was followed by three years in corporate aviation flying a variety of light single and twin engine aircraft. He joined BA in 1966, flew Boeing 707's and Boeing 747's before joining the Concorde fleet in 1977 where he spent the next 15 years until retirement. John presents a series of talks on his Concorde experiences.


Andrew Lambert
Military & Aviation Historian
Air Commodore, MPhil



Coming from:
Lapford, Devon UK

Air Commodore Andrew Lambert flew Phantoms and went on to run the RAF's "Top Gun"¯ school. A planner for the 1991 Gulf War, he then commanded a Tornado fighter squadron on operations over Bosnia. As an Air Commodore he commanded in the Falklands and the Iraqi Northern No Fly Zone. A Military Historian, he has also published a number of papers on the Psychological Impact of Air Power and Coercion and British Defence Policy.


Professor Ed Lynch
International Relations & Foreign Policy




Coming from:
Roanoke, Virginia USA

Dr. Ed Lynch is Chair of Political Science at Hollins University in Roanoke, Virginia. He is a recognized expert on foreign affairs, international relations and diplomacy, especially that of the Mediterranean world. He has sailed with several cruise lines as an expert speaker, traveling to South America, the Caribbean, Australia, Europe, Southeast Asia, India and the Middle East. Ed is a frequent commentator on political affairs for television, radio and newspapers. His travel adventures include visiting 20 countries in one year, experiencing a minor earthquake in Guatemala, and nearly getting killed in Ecuador, protecting a fellow traveller.


John Maclean
Astronomy & Astrophysics
FRAS (Fellow of the Royal Astronomical Society)



Coming from:
Exeter, Devon UK

John is an experienced Science Communicator in the fields of Astronomy and Astrophysics and is an award winning Astro Photographer. He has a special interest in Cometary science and is a member of the UK Meteor Monitoring Network as well as participating as a communicator for NASA and ESA space missions. John is an experienced presenter with an engaging and humorous style accompanied with extremely professional graphic and audio presentations. John has the ability to communicate scientific concepts in a way that the audience both enjoys and understands. He is also able to provide "Stargazing" nights on board and can lead Aurora expeditions.


Paulette Mitchell
Cookbook Author & Enrichment Speaker




Coming from:
Minneapolis, Minnesota USA

Paulette Mitchell, the internationally-known author of 13 cookbooks, presents lectures featuring her photos from 130 countries. She explores off-the-beaten paths capturing destinations' intrinsic allure in the elements of cultures and cuisines. She advises guests on insightful photo composition. Among her favorite subjects are the enigmatic faces of people. Paulette's lectures offer firsthand advice on seeing the world as a traveler rather than as a tourist. She can also provide destination-specific Signature Menus, cooking demonstrations, and classes featuring cuisines of the ports.


Robin Petch
Naturalist & Cetaceans Expert
Whales, Dolphins & Marine Conservation



Coming from:
North Ferriby, East Yorkshire UK

Robin has been involved with the study and conservation of whales, dolphins and the marine environment for nearly 25 years. He now shares his wide knowledge and experience with cruise ship passengers in lively and informative lectures with stunning photographs and video. His experience as an educator enables him to adapt his talks to suit audiences of all types and age ranges. On some cruises, Robin's interest in Seals and Seabirds, Pirates and Privateers and Nautical Sayings and Superstitions adds an extra dimension to his talks.


John Thomas
Motion Pictures and Television
Producer/Director/Professor; Feature Films, Documentaries, Celebs



Coming from:
Houston, Texas USA

John has worked 45 years in Hollywood, including the production of nearly 40 documentaries, commercials and 7 feature films as producer/director/writer and editor. He has worked at the major Hollywood studios, and directed many well-known stars. As a stand up comedian, John peppers his movie presentations with his trademark, easy-going and unassuming observational humor. Unlike other speakers who just talk about movies, John is an actual movie maker who can authoritatively answer audience questions, and provide honest answers along with real world illustrations and examples.


Marshall Ulrich
Extraordinary Life
Adventurer, Mountaineer, Extreme Athlete



Coming from:
Evergreen, CO USA

The author of Running on Empty, Marshall Ulrich is a versatile, world-class extreme endurance athlete: an ultrarunning icon, Seven Summits mountaineer, and competitive adventure racer. His prolific athletic career has earned him numerous wins, records, and firsts on some of the toughest courses in the world and taken him to the top of the highest mountains on every continent—all in his forties and fifties. Dubbed by Outside magazine as an Endurance King, he defies the ideas of "too far," "too old," and "not possible." Revered among athletes, Marshall Ulrich is also an acclaimed speaker.


Dr Karen Woodman
Destination History & Culture
B.Sc., M.A., Ph.D.



Coming from:
Brisbane, Queensland Australia

Dr Karen Woodman is a retired university professor, who is an entertaining cruise enrichment speaker on topics such as history, education, street art, culture, dance, language, and food as they relate to cruise destinations. Karen is also an avid social dancer who enjoys sharing her love of dance, the benefits of social dance, and the mind-body connection. She has traveled extensively, including North and South America, the South Pacific, Australia and New Zealand, the Caribbean, Cuba, Europe, Scandinavia, and South-East Asia.