Enrichment Requirement

Cruise Itinerary


CRUISE ITINERARY - SU190103 World Cruise 2019 Sector 1
Embarkation:
Miami, Florida USA
Date: Thursday, January 3, 2019
Disembarkation:
Buenos Aires Argentina
Date: Friday, January 25, 2019
No of Nights:
22

Only Speakers focusing on World Affairs who can relate their talks to the itinerary and ports of call should register their interest.
If you are shortlisted please be prepared to submit your proposed talks if requested.
| | | |
| --- | --- | --- |
| Day 1 | EMBARK Miami, Florida USA | |
| Day 2 | At sea | |
| Day 3 | At sea | |
| Day 4 | San Juan Puerto Rico | |
| Day 5 | At sea | |
| Day 6 | St Georges Grenada | |
| Day 7 | At sea | |
| Day 8 | Îles du Salut French Guiana | |
| Day 9 | At sea | |
| Day 10 | At sea | |
| Day 11 | At sea | |
| Day 12 | Recife Brazil | |
| Day 13 | At sea | |
| Day 14 | Salvador da Bahia Brazil | |
| Day 15 | At sea | |
| Day 16 | Armaçăo dos Búzios Brazil | |
| Day 17 | Rio de Janeiro Brazil | |
| Day 18 | Rio de Janeiro Brazil | |
| Day 19 | At sea | |
| Day 20 | At sea | |
| Day 21 | Montevideo Uruguay | |
| Day 22 | Buenos Aires Argentina | |
| Day 23 | DISEMBARK Buenos Aires Argentina | |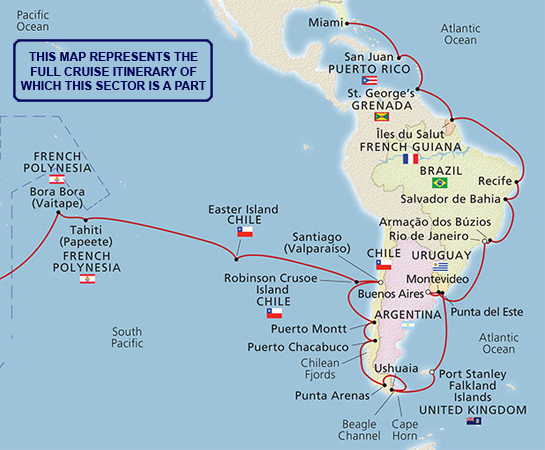 DISCLAIMER
This information has been compiled from various sources. Whilst every effort has been made to provide accurate information, the cruise lines can and do change their itineraries. Cruise Ship Speakers cannot be held liable for any inaccuracies that these programs may contain. Please refer to the up-to-date information provided by the cruise lines themselves. Please notify the Web Administrator if there are any inaccuracies.

Available Candidates
Click on the photo or name for full profile details.

The following people have indicated their availability for this cruise or sectors of this cruise.
The list is in ORDER by General Discipline (ie. Art Instructors, Bridge Directors, Craft Instructors, Destination Lecturers, Enrichment Speakers, etc).
Please contact the candidates directly if you would like to engage any of them. There are NO fees to do this.
Alternatively, we can arrange the bookings on your behalf. Please advise us of your choice(s) for this cruise.

Emily Mixon
Arts & Crafts Instructor
over 25 years experience teaching in arts & crafts



Coming from:
The Villages, Sumter County, Florida USA

Emily Bozeman Mixon has been involved in Arts and Crafts for over 40 years. She attended many crafts shows as a participant for over 15 years traveling from Tennessee to as far away as Michigan to sell her wares. She managed two craft supplies stores for a craft supply company located in Memphis, Tennessee. In 1992 Emily began teaching arts & crafts on cruise ships for Costa, Cunard, Celebrity and Holland America and has been doing so ever since. She has taught many classes with 100 or more people in attendance and others with 25-35 people in attendance.

Jim Clement
Destination Lecturer & Maritime Historian
Baltic, Mediterranean. Asia, Caribbean,Latin America, Panama, Norway,



Coming from:
Largo, Florida USA

Jim is a retired USA Diplomat who lived in 13 countries and has given Destination/Maritime History Lectures on more than 120 cruises in Europe, Asia, S. America. He graduated from the U.S. Naval Academy (BSc) and University of Chicago (MBA). He was a US Navy Submarine Officer, VP International for Fortune 500 companies. He was a University Professor for History, Geography, Logistics, and International Marketing. Having lived and worked in Panama and transited the Panama Canal 30 times and Suez Canal 4 times, Jim can give the ship's bridge commentary about the history of the Canal in English or Spanish. He has also narrated bridge commentary about Glaciers in Chile and Norway.

Bill Simpson OBE
Military/Aviation Historian, Author & Port Speaker
OBE



Coming from:
Poole, Dorset UK

Bill Simpson served in the Royal Air Force for 25 years. Responsible for air transport operations in Northern Ireland, he was awarded an MBE in 1979. He then commanded two RAF Stations, receiving an OBE from Queen Elizabeth in 1988. Bill's acclaimed biography 'The Prince' was published by HarperCollins in 2006 and he now writes historical novels. Bill is an experienced enrichment and destination speaker having completed 30 cruises over 5 years and he has employed his passion for - and comprehensive knowledge of - military & aviation history to great effect. In March 2017, Bill was selected to join Viking Ocean as a Resident Historian.

| | | |
| --- | --- | --- |
| | | Dr Norman Berdichevsky is a Freelance lecturer, teacher, translator, writer, researcher, editor, cruise enrichment speaker, interpreter, tutor, and community events manager with sophisticated communications skills; He has forty-five years' experience teaching at university, college, and junior college levels in the United States, Denmark, Spain and Israel – 6 published books, more than 300 articles in a variety of American, British, Danish, Spanish and Israeli journals; fluent in Hebrew, Danish, Spanish and Esperanto and has conducted many cruise enrichment lectures. |

Jean Fullerton
Social History & Creative Writing
MSc



Coming from:
Bedford, Bedfordshire UK

Jean was born and raised within the sound of Bow Bell's in East London where her family have been for almost two hundred years. She has spent most of her working life as a nurse in the East End of London, first as a Sister in charge of a team, and then as a District Nurse tutor. She started writing ten years ago and enjoys all eras of history but is fascinated by the 18th and 19th century and many of her books have been set in this period.

Dr Mike Gibson
Music & Destinations
PhD MPhil FRCP



Coming from:
Southampton, Hants UK

An RAF medical air commodore, CEO of an occupational health company & a member of the Tribunal service, Mike was Honorary Surgeon to HM the Queen for 5 years. He has published widely with passions including history, bagpipes and travel.

Gary Koverman
Forensic Science




Coming from:
Las Cruces, New Mexico USA

Gary Koverman is a forensic scientist and has worked for over 30 years in forensic laboratories in Ohio, Colorado and New Mexico. He has examined many world class crimes and is still working in his own private business in New Mexico. His expertise in a wide variety of forensic fields gives depth and understanding to many forms of physical evidence. Gary has lectured various law enforcement police agencies in the area of forensic science and has taught at universities in Ohio, Colorado, and New Mexico. He is also a great student of history and enjoys seeking out relevant historical events with a fresh forensic perspective for his talks.

Andrew Lambert
Military & Aviation Historian
Air Commodore, MPhil



Coming from:
Lapford, Devon UK

Air Commodore Andrew Lambert flew Phantoms and went on to run the RAF's "Top Gun"ť school. A planner for the 1991 Gulf War, he then commanded a Tornado fighter squadron on operations over Bosnia. As an Air Commodore he commanded in the Falklands and the Iraqi Northern No Fly Zone. A Military Historian, he has also published a number of papers on the Psychological Impact of Air Power and Coercion and British Defence Policy.

Paulette Mitchell
Cookbook Author & Enrichment Speaker




Coming from:
Minneapolis, Minnesota USA

Paulette Mitchell, the internationally-known author of 13 cookbooks, presents lectures featuring her photos from 130 countries. She explores off-the-beaten paths capturing destinations' intrinsic allure in the elements of cultures and cuisines. She advises guests on insightful photo composition. Among her favorite subjects are the enigmatic faces of people. Paulette's lectures offer firsthand advice on seeing the world as a traveler rather than as a tourist. She can also provide destination-specific Signature Menus, cooking demonstrations, and classes featuring cuisines of the ports.

Prof. Dr. Daniel Nijensohn
Cultural Historian
Professor of Neurosurgery, MD, MS, PhD, FACS, FAANS (L)



Coming from:
Fairfield, Connecticut USA

Dr. Daniel E. Nijensohn was born and raised in Mendoza, Argentina, where he graduated in the National University of Cuyo Medical School with an MD degree. He interned at the University of Buenos Aires teaching hospitals, followed by a surgical internship at Baylor College of Medicine, Texas Medical Center. He subsequently moved to Rochester, Minnesota where he trained as a neurosurgeon at the Mayo Clinic. Dr. Nijensohn is an Honorary (Emeritus) Professor, Department of Neurosurgery, Yale University. He has lectured extensively including on about 30 ocean cruises. His interests include History, Geography, Biology, the Arts, Science, World Affairs and/or Extraordinary Lives.

Robin Petch
Naturalist & Cetaceans Expert
Whales, Dolphins & Marine Conservation



Coming from:
North Ferriby, East Yorkshire UK

Robin has been involved with the study and conservation of whales, dolphins and the marine environment for nearly 25 years. He now shares his wide knowledge and experience with cruise ship passengers in lively and informative lectures with stunning photographs and video. His experience as an educator enables him to adapt his talks to suit audiences of all types and age ranges. On some cruises, Robin's interest in Seals and Seabirds, Pirates and Privateers and Nautical Sayings and Superstitions adds an extra dimension to his talks.

Michael Turner
The Life and Voyages of Sir Francis Drake
BEd. Hons



Coming from:
Burnham on Sea, Somerset UK

Michael Turner from Burnham-on-Sea, Somerset, England began teaching physical education and geography to secondary school students in 1982. During the holidays, he continued backpacking and hitch-hiking in 83 countries taking photographs to enhance his lessons. His other reason for adventurous travel is to be the only person in the world to photograph the life & voyages of Sir Francis Drake. This has taken him to 46 countries; which makes his illustrated talks unique. Michael has lectured to the Royal Geographical Society, London, the Old Bodleian Library, Oxford and to the Ashridge Circle, Eastbourne. Michael appeared on television and radio documentaries for the BBC and History Channel.

Dr. Lori Verderame
Art & Antiques Appraiser, TV Personality
World Historian & Viking Resident Historian



Coming from:
Trumbauersville, Pennsylvania USA

A lively, educated, and entertaining speaker, Dr. Lori Verderame is an award winning TV personality, world history and art/architectural history expert, and highly sought-after keynote speaker on land and at sea. A Connecticut native and longtime resident of Bucks County, Pennsylvania, Dr. Lori earned her Ph.D. in World Art and Architectural History from Pennsylvania State University, PA where she also served on the university's faculty. She is an author of many books, syndicated columnist, and travel blogger. Dr. Lori provides insider tips about world travel, fine art and antiques history, and must-see landmarks the world over on her social media channels and YouTube channel.

Professor Jon A. Wiant
World Affairs, Intelligence & Military History
SES (Ret.), Adjunct Professor of Intelligence Studies



Coming from:
Falls Church, Virginia USA

Jon Wiant is an authority on the intelligence and international affairs. His career spanned the Cold War and the global national security challenges that followed. He served as Deputy Assistant Secretary of State for Intelligence and the NSC Director for Intelligence Policy as well as senior positions at CIA and Defense. In retirement, this recipient of the Intelligence Distinguished Service Medal has taught at Washington universities. Cruise passengers will be intrigued by his talks on intelligence and international affairs.