Enrichment Requirement

Cruise Itinerary


CRUISE ITINERARY - ST200122 In Search of the Northern Lights
Embarkation:
Bergen Norway
Date: Wednesday, January 22, 2020
Disembarkation:
Tilbury UK
Date: Monday, February 3, 2020
No of Nights:
12

Only Speakers focusing on Science who can relate their talks to the itinerary and ports of call should register their interest.
Please submit your proposed lecture topics for consideration.
| | | |
| --- | --- | --- |
| Day 1 | EMBARK Bergen Norway | |
| Day 2 | Bergen Norway | |
| Day 3 | At sea | |
| Day 4 | Narvik, North Cape Norway | |
| Day 5 | Alta Norway | |
| Day 6 | Alta Norway | |
| Day 7 | Tromsø Norway | |
| Day 8 | Tromsø Norway | |
| Day 9 | Bodø Norway | |
| Day 10 | At sea | |
| Day 11 | Stavanger Norway | |
| Day 12 | At sea | |
| Day 13 | DISEMBARK Tilbury UK | |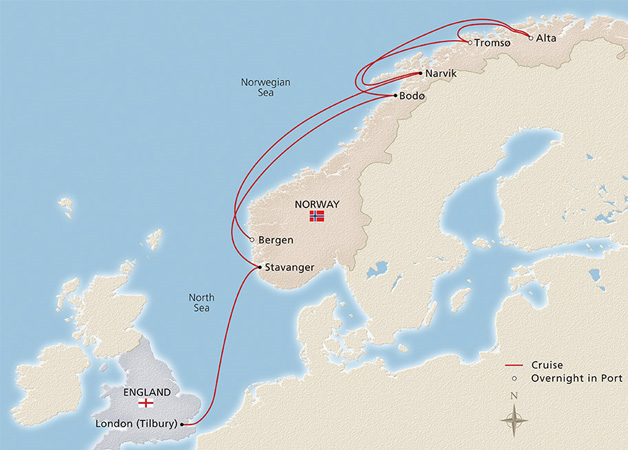 DISCLAIMER
This information has been compiled from various sources. Whilst every effort has been made to provide accurate information, the cruise lines can and do change their itineraries. Cruise Ship Speakers cannot be held liable for any inaccuracies that these programs may contain. Please refer to the up-to-date information provided by the cruise lines themselves. Please notify the Web Administrator if there are any inaccuracies.

Available Candidates
Click on the photo or name for full profile details.

The following people have indicated their availability for this cruise or sectors of this cruise.
The list is in ORDER by General Discipline (ie. Art Instructors, Bridge Directors, Craft Instructors, Destination Lecturers, Enrichment Speakers, etc).
Please contact the candidates directly if you would like to engage any of them. There are NO fees to do this.
Alternatively, we can arrange the bookings on your behalf. Please advise us of your choice(s) for this cruise.

| | | |
| --- | --- | --- |
| | | Kathy gained a Doctorate in Agricultural History & Ecological Management, from Imperial College London, in 2004. She has many year's experience both as a civil servant and in private consultancy, organising lectures, activity workshops and study trips in England. Kathy is a member of the Speakers Club of Great Britain and is also an experienced destination lecturer. She has a passion for travel, meeting new people and seeing new places. Kathy has a range of Presentations on; Destinations, British traditions, and the countryside, which can be tailored to destinations or seasons as required. |


Michael Hick
History & Geopolitics




Coming from:
Houston, Texas USA

Michael Hick was born and educated in England. As a young school-boy he was taken all over Europe with his parents who were on post-war business in the war-torn continent. Michael graduated in History, Geography and English Literature and then joined the Royal Navy serving throughout the Mediterranean, the Baltic and the West Indies. Then, during a long career at Lloyd's of London, he traveled world-wide doing business in most countries. Following a successful global business career Michael became a Professional Speaker for business audiences and has won numerous speaking awards. Since 2005 he has worked with almost every cruise line specializing in destination history talks.


| | | |
| --- | --- | --- |
| | | Jeremy has spent the last 25 years as an IT Training Consultant working on Microsoft Office products and large Finance/ERP systems. He was born in Accra, Ghana and spent the first ten years of his life there, in South Africa, Nigeria and Kenya where his father was in the Colonial Services. He has travelled extensively throughout the world having visited over 70 countries. Jeremy has recently completed a 3 day Destination Speaker Course in the UK and is building his destination presentation portfolio. |


Fenella Bazin
The Vikings & Norway
RBV, PhD, GRSM, DipEd, LRAM



Coming from:
Ramsey, Isle of Man UK

Fenella is an accredited NADFAS lecturer. Recently retired from her role as Director of Postgraduate Studies in the Centre for Manx Studies, Dr Fenella Bazin's enthusiasm for Norway enhances the experience of passengers to northern waters, introducing them to aspects as varied as the everyday life of Vikings, wartime Norway, and the natural wonders of this spectacular journey. She also performs and listens to the Music of the Renaissance and Baroque eras.


Michael Bowman
Geology, World Energy & Geopolitics
Professor of Petroleum Geology, University of Manchester



Coming from:
Slaithwaite, West Yorkshire UK

Mike Bowman retired from BP in March 2011. He has an Honorary Professorial Chair in Geology at the University of Manchester. Until late 2017 he was Chair of Petroleum Engineering at Texas A&M University Qatar. Mike is a geologist by training having completed a PhD at the University of Sheffield. During his 30 years with BP he was involved in a wide range of roles and jobs from specialist geologist to senior manager with postings around the world. Mike presents a series of illustrated talks covering the principles of Geology, route related topics and how geology impacts the world today.


Elizabeth Cassell
Social Anthropologist - Scandinavia & The Baltic
Arctic Peoples - Inuit, Sami and Russian Indigenous People, Canada



Coming from:
Wivenhoe, Essex UK

Elizabeth is a social anthropologist who worked as a commercial property partner in London before entering academic life. After spending a year of research at the renowned Scott Polar Research Institute, she was inspired to pursue her long-standing interest in Arctic peoples. She has travelled the length of the west coast of Greenland, researched the history of settlement in Eastern Canada and lived with the Innu people. She presents a series of lectures on the indigenous peoples of the Arctic, beautifully illustrated with film, sound and her own photographs.


John Maclean
Astronomy & Astrophysics
FRAS (Fellow of the Royal Astronomical Society)



Coming from:
Exeter, Devon UK

John is an experienced Science Communicator in the fields of Astronomy and Astrophysics and is an award winning Astro Photographer. He has a special interest in Cometary science and is a member of the UK Meteor Monitoring Network as well as participating as a communicator for NASA and ESA space missions. John is an experienced presenter with an engaging and humorous style accompanied with extremely professional graphic and audio presentations. John has the ability to communicate scientific concepts in a way that the audience both enjoys and understands. He is also able to provide "Stargazing" nights on board and can lead Aurora expeditions.


Anita Mays
Aviation
Pilot on Executive Jets; Humorous tales of venues and passengers



Coming from:
Sunninghill, Berks UK

Anita Mays is the youngest of four and was born in Nigeria to Yorkshire Parents. She spent most of her young life in Africa while attending boarding school in England where she excelled in sports. At Birmingham university and Aix-En-Provence, she attained an honours degree in English and French. She is a qualified English teacher, speaks French & Italian, loves keep fit and many sports including recreational flying. After being turned down by many airlines to become an airhostess, Anita became an instructor then a qualified commercial pilot. She has enjoyed a remarkable and colourful career, flying executive jets, cooperate, airline, freight and some film work.


| | | |
| --- | --- | --- |
| | | After training at the Royal Military Academy Sandhurst, Philip served 30 years in the British Army retiring in 1993 in the rank of brigadier. He commanded the 4th Royal Tank Regiment, the British Army of the Rhine's reconnaissance forces, the tri-national Berlin Relief Force and was a director of operations at the British Joint Force Headquarters during the 1st Gulf War. He attended the Army Staff College as both a student and instructor and graduated from the Royal College of Defence Studies. He was awarded the CBE in 1986. As a guest speaker he gives talks on military and modern European history. |


| | | |
| --- | --- | --- |
| | | Jonathan H. Ward is an astronomer, author, speaker, and space historian. Jonathan's joy of bringing the space program to life for the public began in high school, when he served as a tour guide at the Smithsonian's National Air and Space Museum during the Apollo era. Today he is a Fellow of the Royal Astronomical Society, a Solar System Ambassador for NASA's Jet Propulsion Laboratory, and a frequent speaker on astronomy and space exploration to audiences ranging from schools to retirement communities to national conferences. |


| | | |
| --- | --- | --- |
| | | Caroline is a consultant archaeologist living in Orkney. In 2015 she retired from lecturing in the Department of Archaeology at the University of Aberdeen. She is particularly interested in communities living in northern environments, from the Stone Age to the Viking Period. Her research has taken her to many remote communities from Arctic Norway to the Beagle Channel and Central Asia. Lecturing and communication is not just an important part of her work, it is something that she loves doing whether she is speaking to an academic audience or a local society. |