Enrichment Requirement

Cruise Itinerary


CRUISE ITINERARY - ST191227 Iconic Western Mediterranean
Embarkation:
Civitavecchia (for Rome) Italy
Date: Friday, December 27, 2019
Disembarkation:
Barcelona Spain
Date: Friday, January 3, 2020
No of Nights:
7

Only Speakers focusing on History or the Arts who can relate their talks to the itinerary and ports of call should register their interest.
Please submit your proposed lecture topics for consideration.
| | | |
| --- | --- | --- |
| Day 1 | EMBARK Civitavecchia (for Rome) Italy | |
| Day 2 | Livorno (for Florence) Italy | |
| Day 3 | Livorno (for Florence) Italy | |
| Day 4 | Monte Carlo Monaco | |
| Day 5 | NEW YEARS EVE St Tropez France | |
| Day 6 | Marseilles France | |
| Day 7 | Barcelona Spain | |
| Day 8 | DISEMBARK Barcelona Spain | |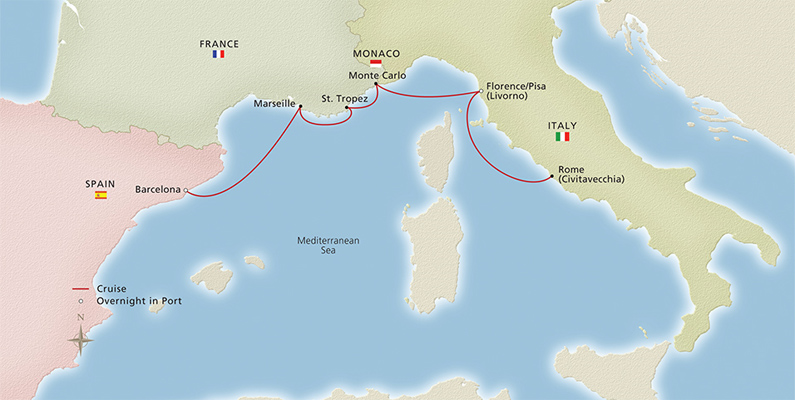 DISCLAIMER
This information has been compiled from various sources. Whilst every effort has been made to provide accurate information, the cruise lines can and do change their itineraries. Cruise Ship Speakers cannot be held liable for any inaccuracies that these programs may contain. Please refer to the up-to-date information provided by the cruise lines themselves. Please notify the Web Administrator if there are any inaccuracies.

Available Candidates
Click on the photo or name for full profile details.

The following people have indicated their availability for this cruise or sectors of this cruise.
The list is in ORDER by General Discipline (ie. Art Instructors, Bridge Directors, Craft Instructors, Destination Lecturers, Enrichment Speakers, etc).
Please contact the candidates directly if you would like to engage any of them. There are NO fees to do this.
Alternatively, we can arrange the bookings on your behalf. Please advise us of your choice(s) for this cruise.

Claudia Puma
Arts and Crafts Tutor




Coming from:
Hamburg, Michigan USA

Claudia Puma's life pursuit has been in the arts and crafts field, her love of color and design took many forms over the past 40 years. For over 38 years she participated in some of the best art fairs in Michigan, Ohio, Indiana, and Illinois. She won awards for her designs in Quilting and in jewelry design, Creative Designs was a very appropriate name for her business. Claudia began teaching on cruise ships in 1986 and has taught on Costa, Celebrity, Cunard, and Carnival, and has traveled extensively in the Mediterranean, Central American, Caribbean, and USA. Traveling the world is a passion for Claudia, teaching classes on cruise brings her two passions together.


Gillian Taylor
Destination & Ports Speaker




Coming from:
Brentwood, Essex UK

Gill Taylor, originally from London, is a qualified French linguist. Her love of languages and international cultures was deepened by her years living in Hong Kong where her public speaking experience also began. Following her travels in the Far East she has more recently spread her wings in almost every continent. Her years of English language teaching have prepared her well for destination speaking and it is a great pleasure for her, mixing facts and figures with self-deprecating London humour so that audiences are well informed and also entertained.


Karin Bucannan
Art Enrichment Speaker & Craft Instructor
Art & Architecture, Sculptures, Urban Furniture, Textiles.



Coming from:
East Malling, Kent UK

Karin is a Guest Speaker and free-lance artist specialising in embroidery and ceramic sculpture. She taught Art, Fashion & Textiles up to A'level for 30 years. During her teaching career she organised and led art trips to European cities for as many as 40 students and staff, and has since travelled to many destinations worldwide photographing a host of urban sculptures, historic and contemporary architecture, cultural textiles and street furniture like decorative fountains for her presentations and talks.


Margaret Cox
Forensic Anthropologist & Medical Historian
BA, BA Hons, Phd, MIFA, FSA



Coming from:
West Wellow, Hampshire UK

Professor Margaret Cox is an internationally experienced forensic anthropologist who has worked in such places as Iraq, Rwanda, Kosovo, Cyprus, Italy, Belgium and France. She retired from her role as Professor of Forensic Archaeology and Anthropology at Cranfield University and now undertakes consultancy work for governments. She has authored several academic books, appeared in numerous TV and radio documentaries. Her very popular lectures deal with archaeology & anthropology and the history of disease.


Judith Cranswick
Crime Writer, Tutor & Destination Speaker




Coming from:
Swindon, - UK

Judith has two great passions – writing and travel. She has travelled extensively throughout Europe, China, Indochina and Japan, Asia, India, Africa and Central and South America. Judith is an award-winning novelist and author of the Fiona Mason Mysteries and several stand-alone psychological thrillers. Travel has always been the inspiration for Judith's novels. Judith is an experienced speaker and in addition to writing her novels, she now works part time teaching Tai Chi and cruise ship lecturing.


Ken Dark
Archaeologist and Historian PhD FSA FRHist Soc
Classical and Medieval, Archaeology of Religion, World Archaeology



Coming from:
Reading, Berkshire UK

Ken Dark is a professional archaeologist and historian specialising in the Classical and medieval worlds and in early Christianity. Ken lectured for three years at the University of Oxford even before gaining his Cambridge PhD in archaeology and history, and then at the University of Cambridge for seven years. Moving to the University of Reading, he was Director of the Research Centre for Late Antique and Byzantine Studies for 15 years. Ken has over 30 years of experience of continuing education lecturing and guiding archaeological tours and has over 100 academic publications, including 11 books.


Adam Ford
Archaeologist, TV Presenter & Author
NO LONGER AVAILABLE FOR CRUISING



Coming from:
Ocean Grove, Victoria Australia

To be provided


| | | |
| --- | --- | --- |
| | | Sharing her passion for cross-cultural insights is central to the presentations by Lucy Hallman Russell. She holds four diplomas in piano, music history and harpsichord, with further studies in Italian, art history, pre-history and archaeology. As a performer and scholar, she has long taught at the University of Music Würzburg. Since 2006 lecturer on European culture (with her husband Ray) for National Geographic/Lindblad Expeditions, etc. Travels to 45 countries and fluency in several languages have given this charming, captivating speaker a special knowledge of all of Europe. |


Thomas Macan
Diplomacy & World Affairs
Retired Ambassador and Governor



Coming from:
Ambleside, Cumbria UK

Tom Macan is a retired British Diplomatic Service Officer with extensive experience of western and central Europe, the Caribbean, South Asia and the Portuguese-speaking world. His final post was that of Governor of the British Virgin Islands, having previously been Ambassador to Lithuania and Deputy High Commissioner to India. His history talks range from the Baltic region, South America, Mediterranean and the Caribbean.


Professor Thomas Mazour
Enrichment Speaker
World Affairs / Destinations / History / Travel / Sciences



Coming from:
Wallace, NC USA

Professor Mazour was a member of the International Atomic Energy Agency (IAEA) team that won the Nobel Peace Prize in 2005. In his 20 years with the IAEA in Vienna, Austria he worked in 36 countries on every continent but Antarctica, and collaborated with colleagues from over 90 different countries. After retirement from the IAEA, he joined the faculty of an online university whose mission is to help those in the workforce to receive suitable credit for their work experience and training, and to then complete courses needed to earn relevant degrees. He teaches online courses in leadership, communication and nuclear engineering.


Ray Carson Russell
General and Cultural History, International Affairs




Coming from:
Aub, Bavaria Germany

Ray Carson Russell studied history/international relations in Alabama, Munich and Rome, attaining a master's degree from the Univ. of Southern California Europe. Later he taught for American universities in Europe and published articles on democracy and issues of conflict and peace, as well as on travel and general cultural. Since 2006 lecturer (with his wife Lucy) for several cruise lines, incl. Nat. Geographic/Lindblad. Travels in 45 countries have brought considerable experience which enriches his work not only as a lecturer, but also as translator and writer of fiction.


John Sherlock
Architecture
MA (Oxon)



Coming from:
Horsham, West Sussex UK

John is a seasoned cruise speaker on architecture and its history, having worked with Swan Hellenic, Cunard, Voyages of Discovery and P&O. John has the knack of making his talks fun, even though there's a lot of content! When working at Windsor Great Park, he was selected to make a presentation to HM the Queen and HRH the Duke of Edinburgh at Windsor Castle.