Enrichment Requirement

Cruise Itinerary


CRUISE ITINERARY - ST190829 Mediterranean Odyssey
Embarkation:
Barcelona Spain
Date: Thursday, August 29, 2019
Disembarkation:
Venice Italy
Date: Tuesday, September 10, 2019
No of Nights:
12

Only Speakers focusing on World Affairs who can relate their talks to the itinerary and ports of call should register their interest.
Please submit your proposed lecture topics for consideration.
| | | |
| --- | --- | --- |
| Day 1 | EMBARK Barcelona Spain | |
| Day 2 | Barcelona Spain | |
| Day 3 | Toulon France | |
| Day 4 | Monte Carlo Monaco | |
| Day 5 | Livorno (for Florence) Italy | |
| Day 6 | Civitavecchia (for Rome) Italy | |
| Day 7 | Naples Italy | |
| Day 8 | At sea | |
| Day 9 | Corfu Town, Corfu Greece | |
| Day 10 | Dubrovnik Croatia | |
| Day 11 | Split Croatia | |
| Day 12 | Venice Italy | |
| Day 13 | DISEMBARK Venice Italy | |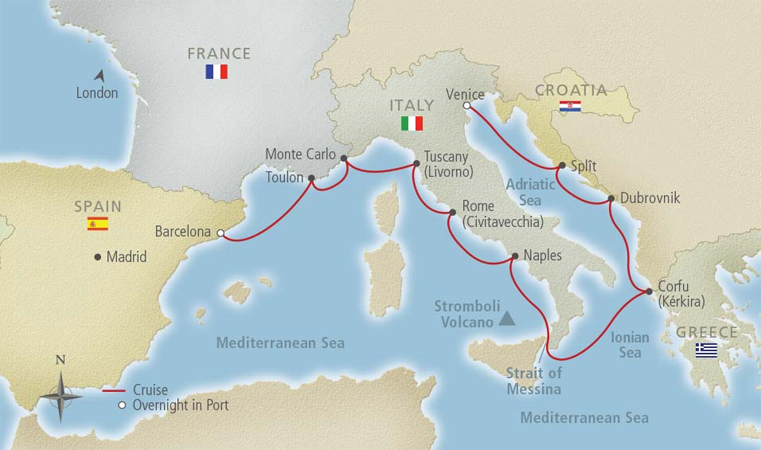 DISCLAIMER
This information has been compiled from various sources. Whilst every effort has been made to provide accurate information, the cruise lines can and do change their itineraries. Cruise Ship Speakers cannot be held liable for any inaccuracies that these programs may contain. Please refer to the up-to-date information provided by the cruise lines themselves. Please notify the Web Administrator if there are any inaccuracies.

Available Candidates
Click on the photo or name for full profile details.

The following people have indicated their availability for this cruise or sectors of this cruise.
The list is in ORDER by General Discipline (ie. Art Instructors, Bridge Directors, Craft Instructors, Destination Lecturers, Enrichment Speakers, etc).
Please contact the candidates directly if you would like to engage any of them. There are NO fees to do this.
Alternatively, we can arrange the bookings on your behalf. Please advise us of your choice(s) for this cruise.

| | | |
| --- | --- | --- |
| | | Jeff graduated with a B.Sc. in Geology and Geography from the University of Wales before being commisioned into the Royal Navy. He then gained added qualifications in Meteorology and Oceanography and during his career was promoted to Commander. Following his service he joined a Building Society as Head of Training and Development and then as as a Freelance Presenter and Consultant. Jeff is an experienced destination lecturer and he also has talks on global warming and military history. |


Stefan White
Destination, Port & Enrichment Speaker
Gardening, Golf & Wine Expert



Coming from:
Hurley, Berkshire UK

Stefan White is a young-at-heart and healthy Englishman, married and recently retired from a successful entrepreneurial business career. Having been appointed Enrichment Speaker by 3 different cruise companies, in 2009 he attended a course organised by The P&R Agency on becoming a Destination and Port Lecturer which he passed with distinction. He has a passion for golf, wine, gardening and travel and, in addition to his Destination and Port talks, he has developed a wide portfolio of varied, amusing and informative Enrichment talks, which he is happy to offer on sea days.


Edward Butler
History, Genealogy, Law & Travel
Award winning author of history/genealogy/family history books



Coming from:
San Antonio, Bexar, Texas USA

Judge Ed Butler was a Ford Foundation Scholar at Vanderbilt University School of Law, where he graduated with honors. For many years he was a Board Certified Civil Trial Attorney by both the Texas and National Boards. He is a retired federal judge; retired Naval Intelligence Commander; & former law school professor. His honors include the DAR Medal of Honor, SAR Gold Good Citizenship Medal, and he was selected to the Texas Genealogical Hall of Fame. He's listed in Who's Who in America & Who's Who in the World. He is a world traveler who has visited over 200 countries.


Judith Cranswick
Crime Writer, Tutor & Destination Speaker




Coming from:
Swindon, - UK

Judith has two great passions – writing and travel. She has travelled extensively throughout Europe, China, Indochina and Japan, Asia, India, Africa and Central and South America. Judith is an award-winning novelist and author of the Fiona Mason Mysteries and several stand-alone psychological thrillers. Travel has always been the inspiration for Judith's novels. Judith is an experienced speaker and in addition to writing her novels, she now works part time teaching Tai Chi and cruise ship lecturing.


Chris Jones
Art Appreciation / Art History




Coming from:
Haslington, Cheshire UK

Chris is an engaging speaker with a passion for Art and an eagerness to share his understanding with others. He has delivered his talks on Art History and Art Appreciation at Art workshops and on cruise ships. The aim of his talks is not only to provide some plain English explanations of the terminology used in the Art world, but also to help people to look at a painting rather than just see it. One small step in making Art Appreciation accessible to all.


Paulette Mitchell
Cookbook Author & Enrichment Speaker




Coming from:
Minneapolis, Minnesota USA

Paulette Mitchell, the internationally-known author of 13 cookbooks, presents lectures featuring her photos from 130 countries. She explores off-the-beaten paths capturing destinations' intrinsic allure in the elements of cultures and cuisines. She advises guests on insightful photo composition. Among her favorite subjects are the enigmatic faces of people. Paulette's lectures offer firsthand advice on seeing the world as a traveler rather than as a tourist. She can also provide destination-specific Signature Menus, cooking demonstrations, and classes featuring cuisines of the ports.


Jeremy Paterson
Classical & Ancient History
Viking Resident Historian



Coming from:
Newcastle upon Tyne, Tyne & Wear UK

Jeremy Paterson studied Classics and Ancient History at Oxford, where he was also President of the University Archaeological Society. Subsequently he was Craven Research Fellow at The British School at Rome, where he studied the ancient Roman wine trade. For most of his career he taught Ancient History at Newcastle University, where he was also Dean of Arts and chaired the University Teaching Committee. He has travelled extensively throughout the Mediterranean and Europe, and is a very experienced lecturer on cruises and on land-based tours.