Enrichment Requirement

Cruise Itinerary


CRUISE ITINERARY - ST190228 Atlantic Crossing
Embarkation:
Miami, Florida USA
Date: Thursday, February 28, 2019
Disembarkation:
Barcelona Spain
Date: Thursday, March 14, 2019
No of Nights:
14

Only Speakers focusing on World Affairs or Extraordinary Lives who can relate their talks to the itinerary and ports of call should register their interest.
Please submit your proposed lecture topics for consideration.
| | | |
| --- | --- | --- |
| Day 1 | EMBARK Miami, Florida USA | |
| Day 2 | At sea | |
| Day 3 | At sea | |
| Day 4 | Phillipsberg Saint Maarten | |
| Day 5 | At sea | |
| Day 6 | At sea | |
| Day 7 | At sea | |
| Day 8 | At sea | |
| Day 9 | At sea | |
| Day 10 | At sea | |
| Day 11 | Funchal Madeira | |
| Day 12 | At sea | |
| Day 13 | At sea | |
| Day 14 | Barcelona Spain | |
| Day 15 | DISEMBARK Barcelona Spain | |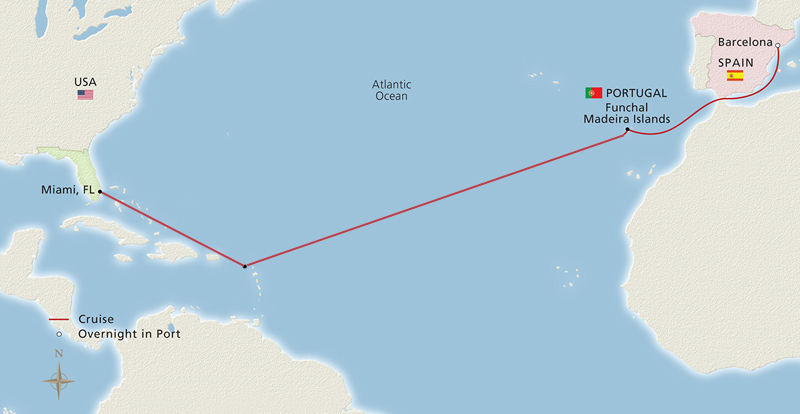 DISCLAIMER
This information has been compiled from various sources. Whilst every effort has been made to provide accurate information, the cruise lines can and do change their itineraries. Cruise Ship Speakers cannot be held liable for any inaccuracies that these programs may contain. Please refer to the up-to-date information provided by the cruise lines themselves. Please notify the Web Administrator if there are any inaccuracies.

Available Candidates
Click on the photo or name for full profile details.

The following people have indicated their availability for this cruise or sectors of this cruise.
The list is in ORDER by General Discipline (ie. Art Instructors, Bridge Directors, Craft Instructors, Destination Lecturers, Enrichment Speakers, etc).
Please contact the candidates directly if you would like to engage any of them. There are NO fees to do this.
Alternatively, we can arrange the bookings on your behalf. Please advise us of your choice(s) for this cruise.

Alan Walker
Destination & Enrichment Lecturer
Historian. Travel Writer & Speaker. Regional Analyst



Coming from:
Abergavenny, Monmouthshire UK

Alan is a Destination & Port Lecturer, Historian and Geographer and has undertaken extensive research and travel in the U.S.A. and Canada, the Caribbean, Latin America, the Mediterranean World including Egypt, Israel, Turkey and the Black Sea, South Africa, large cities of South-East Asia, Australia and the frozen worlds of Iceland. He has lectured on world voyages for many of the major cruise lines, and offers a comprehensive and interesting range of lectures in History, Geography and Environmental Studies.


Chris Bielby
Wildlife & Natural History
QGM, MA



Coming from:
Yarm, Cleveland UK

Chris has had a lifelong interest in Natural History. Since retiring from teaching after 32 years, he has sailed on adventure cruise ships as part of the Organisation Cetacea (ORCA) survey teams, giving presentations to passengers about Whales, Dolphins and Porpoises as well as Birds, Ecological issues, Butterflies & Wild Flowers. Chris tries to spend as much time on the outer decks with passengers, spotting all the wildlife.


Robb Robinson
Maritime & British Historian & Author
PhD



Coming from:
Cottingham, East Yorkshire UK

Robb is based at the Maritime Historical Studies Centre, part of the University of Hull. He is from a family which has been engaged in the business of seafaring for generations. He has contributed to a number of TV history programmes, is author of many articles and books and is Trustee of the British Commission for Maritime History. Robb talks on a wide range of maritime history and british history topics.


Nicholas Rodger
Naval & Maritime Historian & Author
Professor of Naval History



Coming from:
Oxford, Oxfordshire UK

Nicholas is a naval historian, educated at Ampleforth College and University College, Oxford, after which he spent seventeen years as a Assistant Keeper in the Public Record Office. After several years Professor of Naval History in Exeter University, in 2008 he became a Senior Research Fellow of All Souls College, Oxford. He has appeared in many television productions and lectured to different audiences all over the world.


Harry M Strong
Ocean science & Meteorology
BS, MS, MPA, PSIA



Coming from:
Oak Hill, Fairfax USA

Harry M Strong worked for a nonprofit corporation for 38 years, spending the last 15 years supporting the National Oceanic and Atmospheric Administration (NOAA) in Washington, D.C., addressing a broad range of environmental issues. He is the President of HMS Consulting, LLC, has been a special interest speaker and visiting scientist on numerous cruise ships, speaking on "Our One Ocean". This series of talks is crafted to entertain, inform and educate the ship's guests on various ocean topics, emphasizing that our "global society" has but "One Ocean" and we all share in its fruits, its opportunities, its problems, its heritage and its potential.