Enrichment Requirement

Cruise Itinerary


CRUISE ITINERARY - SK191216 Mid Atlantic Crossing
Embarkation:
Barcelona Spain
Date: Monday, December 16, 2019
Disembarkation:
Miami, Florida USA
Date: Friday, December 27, 2019
No of Nights:
11

Only Speakers focusing on Science or World Affairs who can relate their talks to the itinerary and ports of call should register their interest.
If you are shortlisted please be prepared to submit your proposed talks if requested.
| | | |
| --- | --- | --- |
| Day 1 | EMBARK Lisbon Portugal | |
| Day 2 | At sea | |
| Day 3 | At sea | |
| Day 4 | Ponta Delgada Azores | |
| Day 5 | At sea | |
| Day 6 | At sea | |
| Day 7 | At sea | |
| Day 8 | At sea | |
| Day 9 | Hamilton Bermuda | |
| Day 10 | CHRISTMAS DAY At sea | |
| Day 11 | At sea | |
| Day 12 | DISEMBARK Miami, Florida USA | |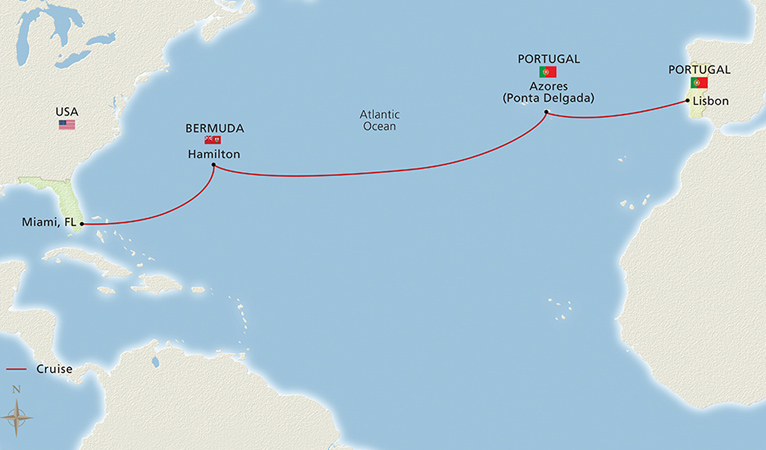 DISCLAIMER
This information has been compiled from various sources. Whilst every effort has been made to provide accurate information, the cruise lines can and do change their itineraries. Cruise Ship Speakers cannot be held liable for any inaccuracies that these programs may contain. Please refer to the up-to-date information provided by the cruise lines themselves. Please notify the Web Administrator if there are any inaccuracies.

Available Candidates
Click on the photo or name for full profile details.

The following people have indicated their availability for this cruise or sectors of this cruise.
The list is in ORDER by General Discipline (ie. Art Instructors, Bridge Directors, Craft Instructors, Destination Lecturers, Enrichment Speakers, etc).
Please contact the candidates directly if you would like to engage any of them. There are NO fees to do this.
Alternatively, we can arrange the bookings on your behalf. Please advise us of your choice(s) for this cruise.

Jim Clement
Destination Lecturer & Maritime Historian
Baltic, Mediterranean. Asia, Caribbean,Latin America, Panama, Norway,



Coming from:
Largo, Florida USA

Jim is a retired USA Diplomat who lived in 13 countries and has given Destination/Maritime History Lectures on more than 120 cruises in Europe, Asia, S. America. He graduated from the U.S. Naval Academy (BSc) and University of Chicago (MBA). He was a US Navy Submarine Officer, VP International for Fortune 500 companies. He was a University Professor for History, Geography, Logistics, and International Marketing. Having lived and worked in Panama and transited the Panama Canal 30 times and Suez Canal 4 times, Jim can give the ship's bridge commentary about the history of the Canal in English or Spanish. He has also narrated bridge commentary about Glaciers in Chile and Norway.

Anita Mays
Aviation
Pilot on Executive Jets; Humorous tales of venues and passengers



Coming from:
Sunninghill, Berks UK

Anita Mays is the youngest of four and was born in Nigeria to Yorkshire Parents. She spent most of her young life in Africa while attending boarding school in England where she excelled in sports. At Birmingham university and Aix-En-Provence, she attained an honours degree in English and French. She is a qualified English teacher, speaks French & Italian, loves keep fit and many sports including recreational flying. After being turned down by many airlines to become an airhostess, Anita became an instructor then a qualified commercial pilot. She has enjoyed a remarkable and colourful career, flying executive jets, cooperate, airline, freight and some film work.

Fiann Paul
World Record Breaking Rower




Coming from:
tba, tba Iceland

This person has either:
- not yet subscribed
- not yet been contacted regarding a subscription, or
- has let their subscription lapse
Please suggest that they subscribe so they can participate in this facility for your benefit.

John Turkington
Art & Cultural Historian
Vikings / Art history and philosophy



Coming from:
Blackburn, Lancashire UK

John is now retired but spent the whole of his working life in education, ending his career as a headteacher with an added role as an Information Technology adviser. He has a degree in philosophy, an MA in research and various teaching diplomas. John has a wide, eclectic mix of interests including theatre, music, and painting in watercolours combined with extensive reading. He has an extensive series of talks on Vikings as well as art history and philosophy.